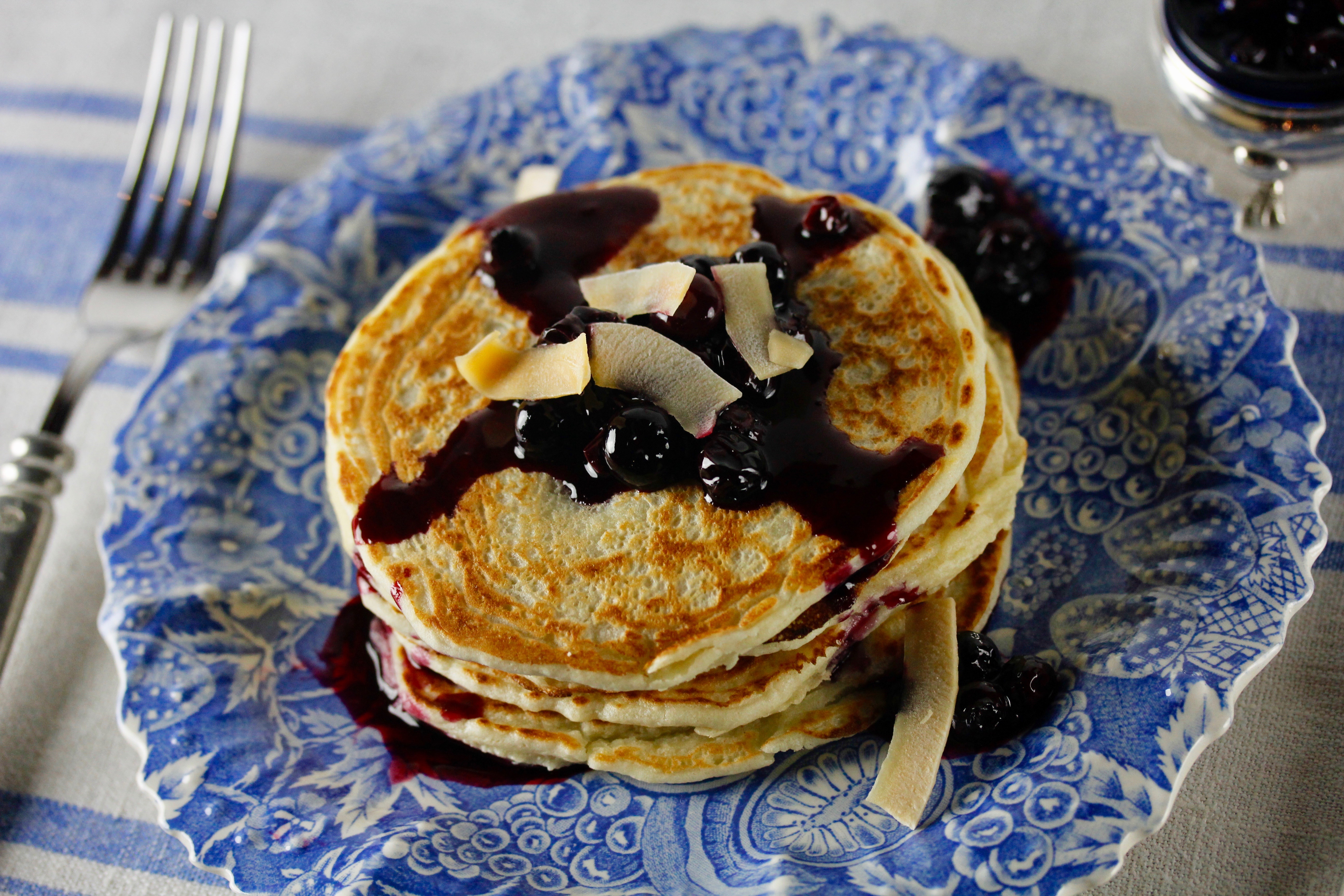 Here is a great 4th of July breakfast idea! You know the feeling when you need a meal that is more than fuel, something that hits a spot in your soul that changes your whole outlook for the rest of the day? Pancakes. Blueberries. Fresh coconut. The blueberries are not in the pancakes, as you might expect, but in a lovely not-too-sweet compote poured on top, and coconut milk in the batter is the subtle reminder that coconut is part of the goodness here.
This is a recipe to be saved and savored. And don't just think of it as breakfast. You know you're loved if you come home after a long, hard day and someone's got coconut blueberry pancakes waiting for you. This is true love.
Coconut Pancakes with Blueberries
Serves: Makes 24 medium pancakes
Prep time: 25 minutes – tops

Ingredients
For the blueberry compote:
2 pints blueberries
6 tablespoons cold water
1 tablespoon arrowroot
½ cup sugar
½ teaspoon cinnamon
Juice of 1 ½ lemons, and their zest
For the pancakes:
1 ¾ cup flour
1/8 cup coconut flour
2 beaten eggs
½ teaspoon salt
1 ½ cups coconut milk
4 tablespoons cooking oil
Directions
Mix arrowroot in water in a medium saucepan. Add sugar, cinnamon, lemon zest and juice, and blueberries. Simmer for several minutes on low heat until sauce thickens. Set aside.
Mix flours and salt in a bowl. Create a well in the center and stir in eggs, followed by coconut milk to make a nice smooth batter. If it seems too thick, add a little water.
Put a heavy frying pan on medium heat and add a tablespoon of oil. When it's hot spoon some batter into the pan and allow to cook until golden brown. Flip and repeat until you have four pancakes finished, and cover them as you make the rest.
Serve with blueberry compote and fresh coconut flakes on the top.