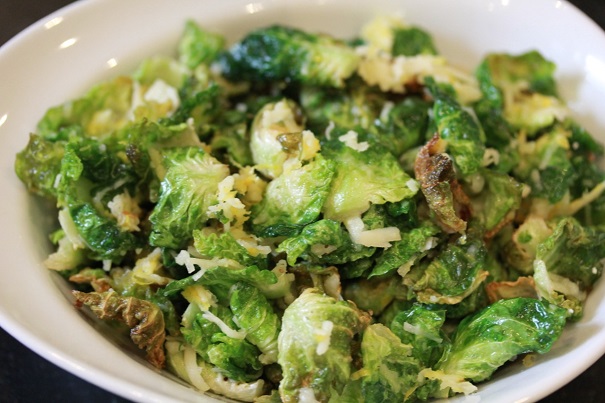 Brussels sprouts are still having their moment. This long-maligned veg has found its audience, with new recipes popping up on the best food blogs and cooking magazines. This recipe is an old favorite, adapted from the Cheesemonger's Seasons, a great cookbook for putting fruits, vegetables, and cheeses together in unexpectedly delicious ways.
I substituted the Podda cheese, which I had trouble finding, with manchego (sheep's milk) cheese, but you can also use gruyere. It takes a little time to "leaf" the Brussels sprouts, but the combination of honey and cheese makes the sprouts simultaneously crispy and melty in a heavenly way – and make more than you think you'll need, because everyone will want seconds.
Crispy Brussels Sprouts with Cheese and Honey

Serves: 4
Prep time: 45 minutes
Ingredients
2 pounds Brussels sprouts
3 ounces manchego cheese, finely grated
½ cup honey
zest of two lemons
sea salt and pepper to taste
canola oil for frying
Directions
Trim the bottoms of the Brussels sprouts and discard. Separate remaining leaves, peel them off until you reach the hearts of the sprout. I use the hearts of the sprout as well, adding them to the leaves.
In a large saucepan, pour two inches of oil and heat to 350 degrees. Fry the leaves in batches, for about 30 seconds each, until they are crisp. Remove from oil with a mesh skimmer and drain on paper towels. Sprinkle cheese on to the leaves while they are still warm.
Warm the honey in a small saucepan over low heat. When all leaves are fried and sprinkled with cheese, transfer to a serving bowl and toss with lemon zest and salt and pepper. Drizzle with the honey. Serve immediately.