Today!  A Recipe from White House Executive Chef Cris Comerford
I'm delighted to share a recipe from my friend Cris Comerford, the quiet force behind the amazing food in the White House kitchen since 2005.  Cris is the first woman to serve as Executive Chef at the White House, where she has worked since 1995, mastering the intricacies of planning, shopping, cooking, and presenting thousands of beautiful meals to the President, his family, and his guests each year.
Cris has the unruffled demeanor of an individual who is very, very good at what she does.  She's like a general whose well-trained troops work together seamlessly day after day to provide everything from family meals to elaborate State Dinners at the White House.  There is no detail too small for Cris; she has the painstaking task of finding the perfect recipes for each dish served in the Residence, and then seeing them through to their execution and presentation.  And she is always abreast of the newest types of produce and other ingredients coming into vogue, keeping the White House offerings on par with the great restaurants in the country.  There is artistry in everything she does; she would never serve just a salad.  It could be "Hearts of Organic Romaine, Caesar dressing with Parmesan Cracker", or "Lola Rosa, Endive and Chicory with Pomegranate Dressing, Cumin-toasted Pumpkin Seeds and Shaved Goat Cheese", but each meal – each course – is unique and carefully considered.
The dedicated kitchen staff at the White House work at a tremendous pace while always creating a beautifully finished product, thanks in no small part to Cris' leadership.  This recipe is typical of her work – perfectly seasonal, healthy, and delicious.   With thanks to Cris and the White House kitchen staff whose service to their country is unwavering – and delicious.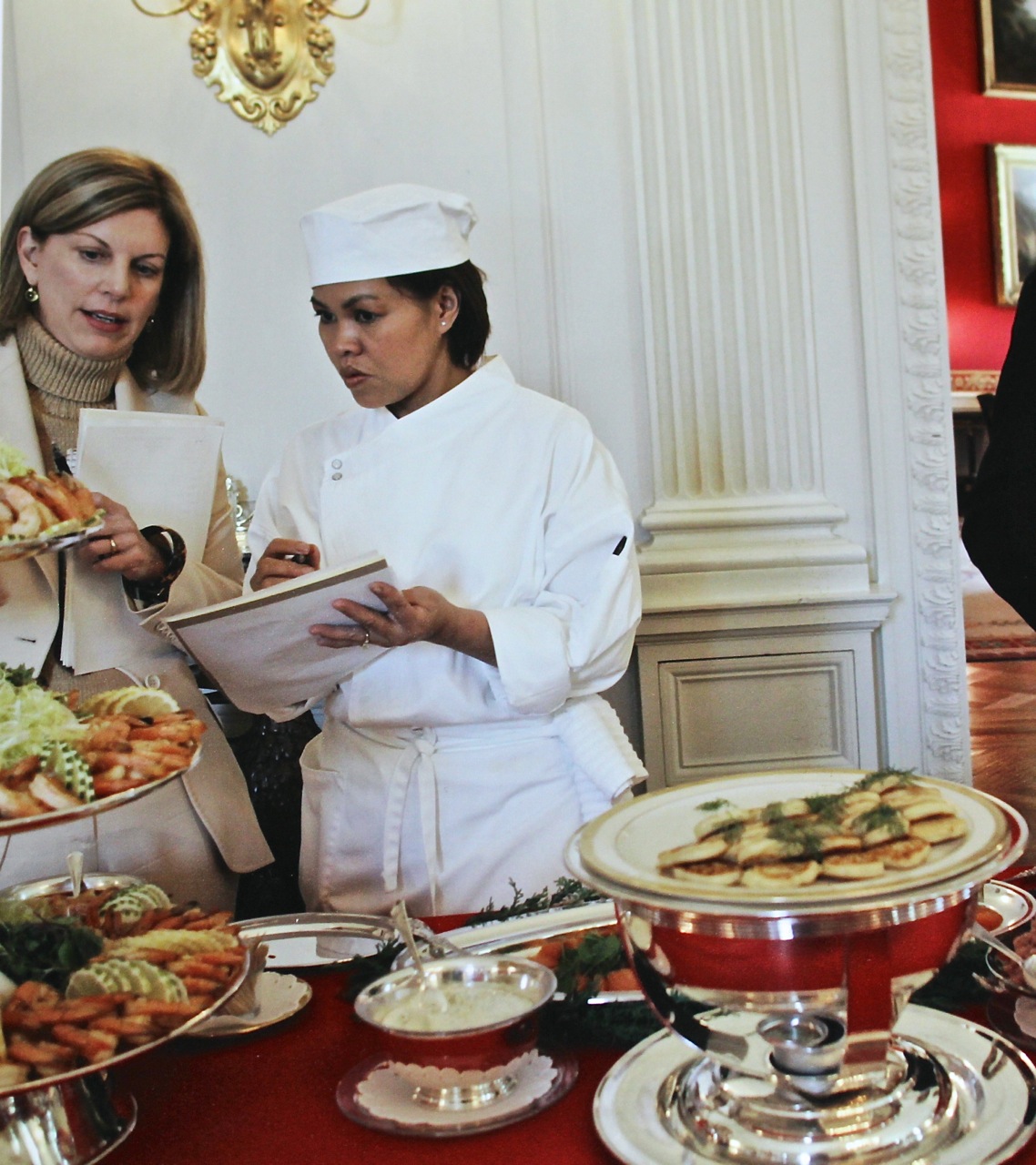 Serves 4
Prep Time: One hour
For the Crabcakes:

Ingredients
1 lb.  jumbo lump crabmeat,  cleaned,  shells picked
1 Tbsp.  sour cream
1     Tbsp.  mayonnaise
4   oz  lowfat shredded mozzarella cheese
¼ c.  Italian parsley, chopped coarsely
¼ c.  scallions, chopped
1 lemon, zest and juice
1 Tbsp.  Dijon mustard
1 tsp.   Worcestershire sauce
1 tsp.  Tabasco  sauce
salt and pepper to taste
1        c.  seasoned flour
2        eggs,  beaten
3        c.  panko bread crumbs
oil for pan frying
Method:

Directions
For the Crab Cakes:  In a large mixing bowl, place the crab meat, sour cream, mozzarella, mayonnaise, parsley and scallions. 
Toss gently. 
Add the zest and juice of one lemon, mustard, Worcestershire sauce and tabasco sauce. 
Mix gently and season with salt and pepper. 
Form into 2 ounce crab balls and set aside.
Coat the crab balls in flour, then egg, then breadcrumbs. 
Form into ¾ inch thick patties and set aside. 
Shallow fry the patties in 350 degree oil for about 3 minutes per side. 
Keep warm.


For salad:

Ingredients
8 oz.  green and wax beans,  stringed and cut into 2-inch lengths
1 fresh ears of corn,  removed from cob1   pint  mixed tomatoes
1 zucchini,   sliced into ½ inch half moons
4 oz.  lima beans
1  bunch watercress,  washed,  leaves picked
1 tsp.  tarragon,  chopped
For the dressing:
1 small shallot, minced
1 Tbsp  Dijon mustard
¼  c.apple cider vinegar
2  Tbsp.  local  honey
¼ cup  olive oil
Salt and pepper to taste
For the garnish:
1 c. candied pecans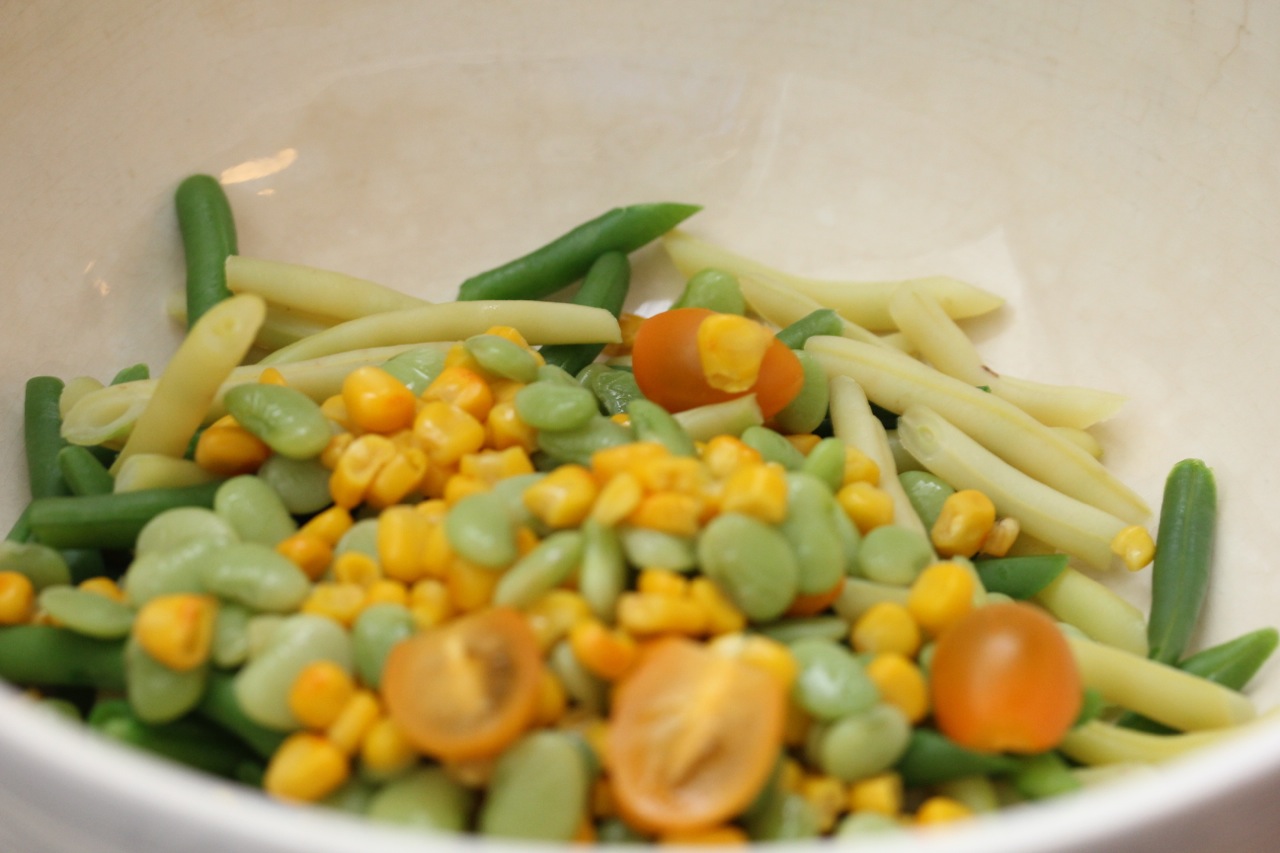 Directions
Blanch green, wax, and lima beans, and corn kernels, for two minutes in boiling water, then plunge into ice water.
In a separate large mixing bowl, toss the blanched vegetables as well as the corn, tomatoes, zucchini, watercress and tarragon with the dressing.
To Assemble:  Place two crab cakes on each plate and surround with heaping amount of salad.  Garnish with candied pecans and serve.