It's easy to get carried away by the Fourth of July. The weather is good, the produce is plentiful and luscious – and, hey, it's a long weekend.  What's not to love?  It's wholly joyful, and a day that should be shared with others, whether you're at the beach, in a backyard, or on a rooftop deck. Over the next few posts I'll be offering up the makings of an easy picnic, beginning with my Great-Grandmother Rogers' fried chicken recipe.
I didn't meet my great-grandmother until I was seven; she lived in Georgia, and we visited only occasionally from Ohio. From the first, I was charmed by her quietly affectionate welcome. And I remember watching her fry chicken in a black iron skillet while she asked me about school and turned the floured legs and breasts in the bubbling oil. She barely looked at the pan as she spoke in her soft southern accent, the act of frying a chicken so instinctual to her. As soon as it was done, she gave me the first piece, a crispy, glistening leg that I nibbled as she finished frying the rest. It was transformative – a Proustian moment – and I remembered it so fondly that I wrote her a letter when I was 17 and asked her for the recipe.  Her response (a bit of which is seen below) has been a treasure in my recipe box ever since, though I have made a few adjustments to the original recipe.
There are lots of great recipes for fried chicken, and as much as I love this one, I'm always open to trying that one ingredient or quick trick that gives a dish a little extra oomph! If you have a special fried chicken recipe you'd like to share, email me at [email protected]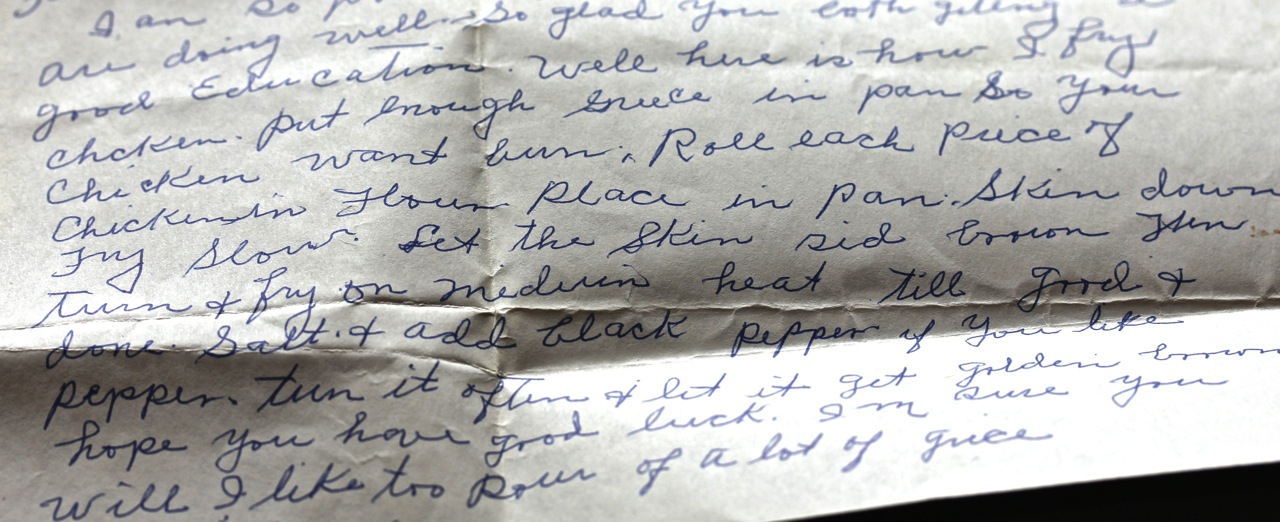 This recipe uses yogurt instead of the more traditional buttermilk marinade. Not something great-grandma would have done, but it makes the chicken so tender!
Serves 4
Cooking time: overnight for yogurt marinade, thirty minutes for frying chicken

Ingredients
3-pound fryer cut into pieces*
1 pint plain yogurt
Juice of one lemon
One cup flour
2 Tablespoons corn meal
1 teaspoon cayenne pepper
1 Tablespoon of salt and 1/2 teaspoon pepper in yogurt mixture
2 teaspoons salt and 1/2 teaspoon pepper in flour and corn meal mixture
Canola oil for frying
*Note: fryers are young chickens, usually not more than seven weeks old, so their smaller size is ideal for frying.

Directions
Mix together yogurt, lemon juice, cayenne, salt and pepper.
Put chicken into a shallow bowl, small enough that the pieces are all covered when the yogurt mixture is poured over them, and marinate overnight.
Drain chicken pieces and discard yogurt.
Mix flour, corn meal, salt and pepper, and spread on a dinner plate.
Fill large frying pan with 1/2 inch of oil and heat to medium high temperature – hot but not smoking.
Dip chicken pieces into flour mixture to coat evenly.
Depending upon the size of your skillet, place three or four pieces of chicken into the oil, so that they are not touching each other.
Fry pieces for about six minutes on one side, then flip and give them six minutes on the other, mindful that the small pieces will cook more quickly and will need to be removed from the heat sooner.
This is the only tricky part – if you leave the chicken in the oil too long the coating will become soggy, but it needs to be cooked through – pink chicken is stomach-turning.
So make sure the oil doesn't lose too much heat while cooking (by raising the heat a bit after you've put a batch of chicken into the oil), and don't be afraid to poke the tip of a sharp knife into a piece of chicken to be sure it's cooked through.
If you're not serving the chicken immediately, you can let it keep in a slightly-warm (220 degrees) oven until serving. This will make it crispier – but place it on paper towels to absorb the grease.