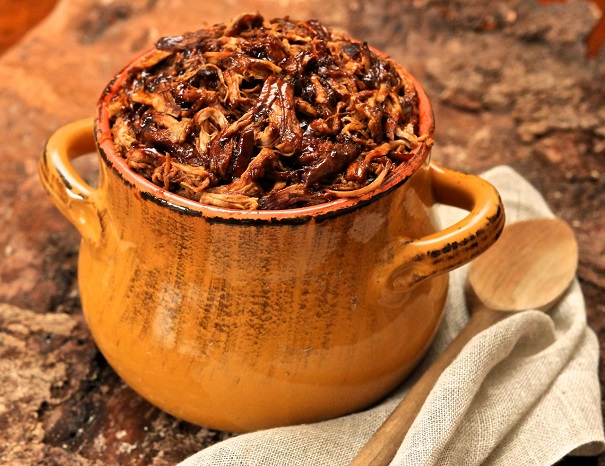 Serves: 6
Prep time: 30 minutes of preparation, 2 hours cooking time
For the pork:
Ingredients
2-pound pork tenderloin
1 teaspoon salt
1 teaspoon pepper
¼ cup brandy
½ cup chicken or pork stock
1 medium white onion, thinly sliced
4 cloves garlic, thinly sliced
For the barbecue sauce:
Ingredients
3 teaspoons canola or vegetable oil
½ small onion, finely chopped
2 cloves of garlic, minced
¾ cup cider vinegar
¼ cup ketchup
¼ cup molasses
¼ cup brown sugar
1 1/2 tablespoons of fresh ginger
½ teaspoon cayenne (but add more if you like it spicy)
Directions
Saute onions and garlic in a heavy saucepan for 2 minutes.
Add ginger and the rest of the barbecue sauce ingredients. Let is simmer uncovered, stirring occasionally until thickened.
For the pork:
Directions
Place sliced onion and garlic at the bottom of a baking pan big enough to accommodate the pork loin.
Sprinkle salt and pepper on the meat and place it in the pan, on top of the onions and garlic.
Pour brandy and broth over the loin. Cover with aluminum foil and bake for 20 minutes at 400 degrees.
Uncover and add half of the barbecue sauce to the loin. Cover and continue cooking at 300 degrees for 2 hours, or until pork is tender enough to be shredded easily.
Shred pork and mix in pan drippings and remaining barbecue sauce.