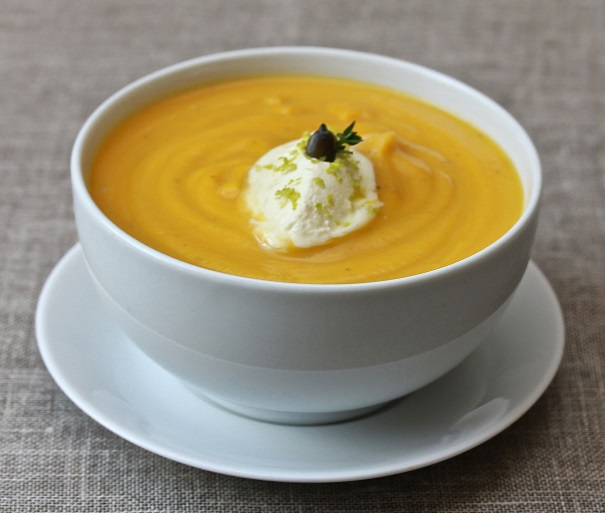 Serves: 6
Prep time: 1 hour

Ingredients
1 4-5 pound butternut squash
3 tablespoons butter or olive oil, plus more olive oil for roasting the squash
1 onion, chopped
1 teaspoon curry powder
1 quart chicken stock
1 tablespoon salt
½ teaspoon white pepper
½ cup cream
½ cup maple syrup

For the lime cream:
½ cup whipping cream
1 teaspoon sugar
zest and juice of one lime
Directions
Cut squash into six large pieces. Scrape seeds out and discard.  Brush with melted butter or olive oil and roast in the oven at 375 degrees for 20 minutes.

Let cool and peel.

In a heavy-bottomed pan, melt butter and sauté onions until wilted. Add curry and stir, making sure not to burn.
Add squash and chicken stock.
Let soup simmer, season with salt and pepper.
Add in maple syrup and remove from heat.  Puree soup in food processor, or with a hand processor.
Add cream and return to stove to heat.

For lime cream:
Whip cream and sugar until firm.
Add lime juice and whip again until soft peaks form. Gently fold in lemon zest.
To serve, pour soup into bowl and top with a dollop of cream.