Adapted from the Vosges website
Serves: 4
Prep time: 2 ½ hours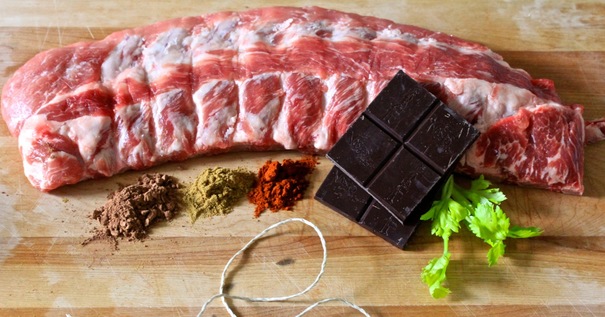 3 pounds baby back ribs
For the dry rub:
Ingredients
¼ cup peppercorns
1/3 cup salt
1/3 cup brown sugar
¼ cup cocoa powder
1 tablespoon paprika
1 teaspoon chipotle
1 teaspoon garlic salt
Barbecue Sauce:
Ingredients
2 tablespoons vegetable oil
1 medium onion, minced
1 dried ancho chili
1 cup apple cider vinegar
1 ½ teaspoons salt
1 ½ teaspoons crushed peppercorns, coarsely ground
28 ounce can of whole tomatoes
8 ounces tomato sauce
¼ cup of honey
2 tablespoons molasses
¼ cup dark brown sugar
1 tablespoon paprika
2 teaspoons cumin powder
2 ounces Vosges Red Fire Chocolate bar, or 2 ounces 55% cacao chocolate bar and an additional ancho chili
½ cup orange juice
1 cup cilantro, chopped
For the ribs:
Directions
Preheat over to 300 degrees.
Mix dry rub ingredients together and coat ribs on both sides.
Put ribs into a baking sheet, and fill with water half way up the pan.
Seal with foil and roast for two hours.
Finish on the grill by putting ribs on medium-heat grill, bone side down.
Cook for five minutes, then flip ribs and baste with chocolate barbecue sauce.
Baste and grill ribs until they are crispy and covered in sauce.
Cut into individual pieces to serve.

For the Barbecue Sauce:
Directions
Heat oil in a large saucepan at medium low heat.
Saute onions and ancho chile pepper about ten minutes, until the onion is golden.
Deglaze pan with apple cider and cook on high for 2 minutes.
Add all other ingredients, except cilantro, and bring to a boil, then reduce heat to simmer uncovered.
  Stir occasionally and allow to cook at very low heat for 2 hours until thickened and dark.

Puree sauce before basting.
Before serving, add cilantro.
Brush sauce on ribs just before serving.
Sauce can be kept in refrigerator for up to 2 weeks.