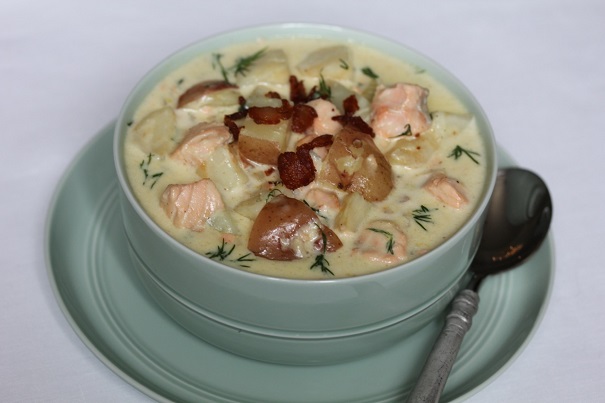 Serves: 6

Ingredients
Prep time: 45 minutes
4 ounces thick-sliced bacon, diced into ¼ inch pieces
1 medium yellow onion, finely chopped
1 ½ pounds celery root (about 2 medium celery roots), peeled and cut into ¼ inch dice
3 cups seafood broth or 3 eight-ounce bottles of clam juice (for those with shellfish allergies, like my husband ,I substitute chicken broth)
3 cups water
½ pound tiny new potatoes, scrubbed and halved
2 pounds skinless salmon fillet, cut into 1-inch chunks
1 1/2 cups heavy crème
3 Tablespoons butter, softened
3 Tablespoons flour
3 Tablespoons finely chopped fresh dill
2 Tablespoons finely chopped flat-leaf parsley
1 Tablespoon finely grated lemon zest
2 Tablespoons fresh lemon juice
¼ Teaspoon kosher salt
Ground white pepper
Directions
In a large skillet, cook the bacon over low heat until crisp; transfer to a paper towel-lined plate and pour off all but 2 tablespoons of the fat.
Add the onion to the skillet and cook until softened, about three minutes. Add the celery root, cover and cook, stirring occasionally until tender, about 15 minutes. Set skillet aside.
In a heavy saucepan, combine the broth and water. Bring to a boil and add potatoes. Simmer 8-10 minutes until potatoes are tender. Remove potatoes with slotted spoon and transfer to a platter.
Add the salmon to the saucepan, reduce the heat to low and simmer gently for four minutes, until firm; transfer the salmon to a platter with the potatoes.
Add the cream to the saucepan and simmer over medium-low heat, stirring frequently, until reduced by about one quarter, for 15-20 minutes.
In a small bowl, use a fork to blend the butter and flour into a smooth paste. Whisk the flour paste into the summering soup a little at a time, and keep simmering until the soup is smooth and slightly thickened. Keep cooking and stirring for about 3 minutes more, to cook off the taste of the flour.
Add the reserved celery root mixture, potatoes and salmon. Bring to a gentle simmer and cook for about 2 minutes more, just to warm through. Stir in the dill, parsley, lemon zest and lemon juice, salt and pepper to taste.
Ladle into bowls and scatter with bits of cooked bacon.