Today is Beatrix Potter's birthday, and in her honor I'm passing along her recipe for blackberry-apple upside down cake.  It's just the sort of homey pudding (to use the English word for it) that you could imagine the beloved author and illustrator serving with tea at her Hill Top farm.
As a child I always loved the stories of Peter Rabbit, Mrs. Tiggywinkle, Squirrel Nutkin, and the dangerous Mr. Tod, as did my own children.   Later I came to admire Beatrix Potter even more for the independent life she was able to create for herself through her writing and art, especially in an era when it was difficult for women to control the trajectory of their own lives.   Her first story, The Tale of Peter Rabbit, was initially rejected by all of the publishers she submitted it to.  She believed so strongly in the appeal of the adventurous little bunny that she published it herself, and it became one of the most popular children's stories of all time.   The gentle melding of reality and fantasy in her tales of farmyard and forest animals have delighted and entertained generations of children around the world.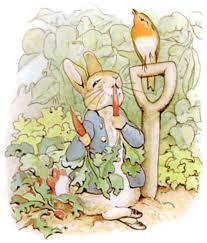 It's no small thing to bring joy to so many.  And you have to admire Potter's fearlessness and faith in her own imagination.  This recipe is adapted from Beatrix Potter's Country Cooking by Sarah Paston-Williams.
I used a springform pan to make it easier to remove the cake from the pan, but it wasn't really necessary.  Any round cake pan will work.   This is a good recipe for baking with children, as it's simple to assemble, with easy tasks for little hands – and a sweet story to tell along the way.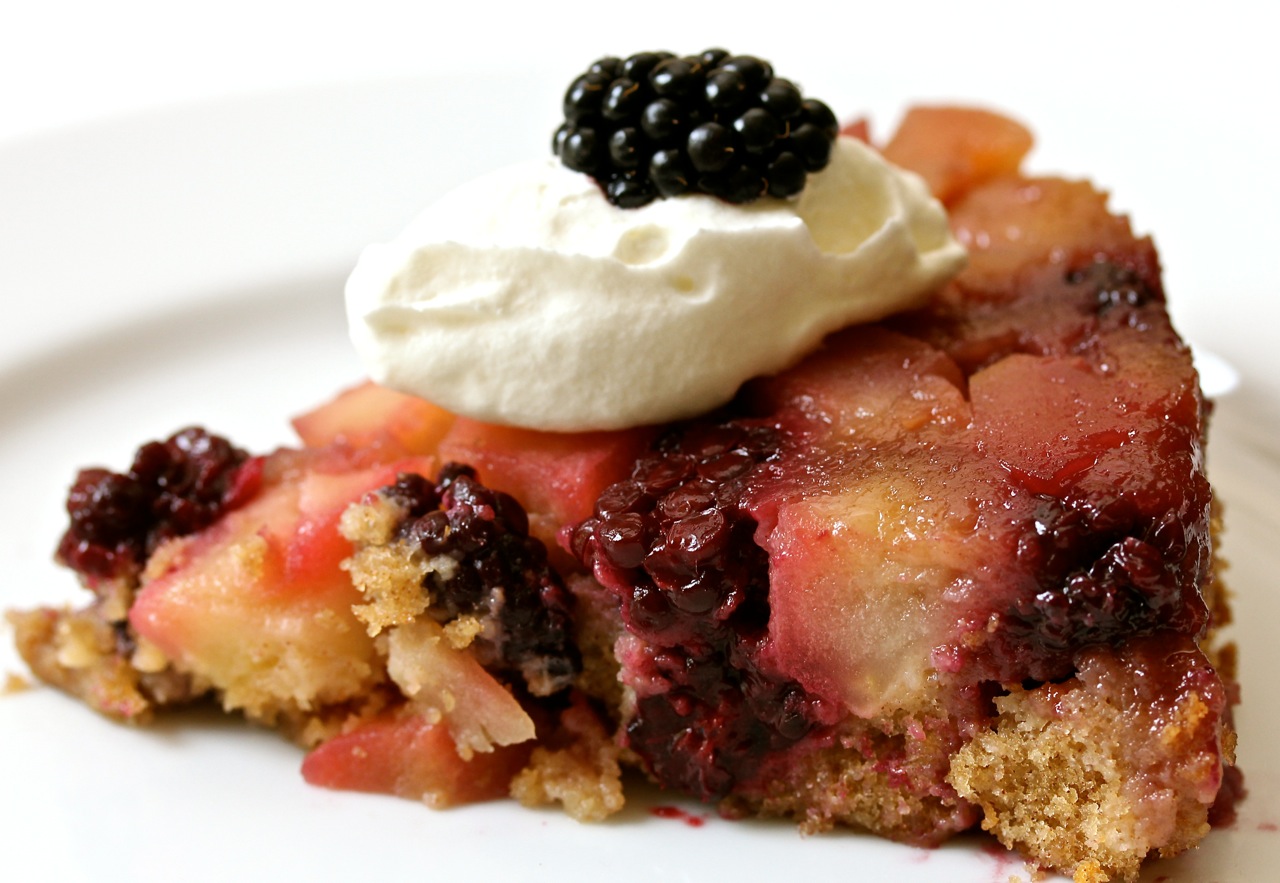 Beatrix Potter's Blackberry and Apple Upside Down Cake
Serves: 6
Prep time: one hour

Ingredients
2 Tablespoons softened butter for bottom of cake tin
3 Tablespoons honey
2 large, firm eating apples
1 pint blackberries
½ cup butter for cake batter
½ cup brown sugar
2 large eggs, beaten
¾ cup white self-raising flour
2 Teaspoons ground cinnamon
1 Tablespoon cold water
Directions
Preheat oven to 350 degrees.
Mix 2 tablespoons of butter with the honey and spread over the base of a round cake tin that is at least 2 inches deep.
Peel and core apples and chop into half-inch cubes.  Arrange apples and blackberries over the honey and butter in bottom of cake tin.
Cream ½ cup of butter with sugar until light and fluffy.  Slowly beat in eggs.
Sift the flour with the cinnamon and fold into the creamed mixture.  Stir in enough water to make a soft dropping consistency and cover the fruit evenly with the cake batter.
Bake for 30 minutes until golden brown.  Allow to cool for a few minutes before turning out on a warm plate.
Allow tin to sit on top of cake for several minutes to allow the juices to run into the cake.  Serve with sour cream or plain yogurt.