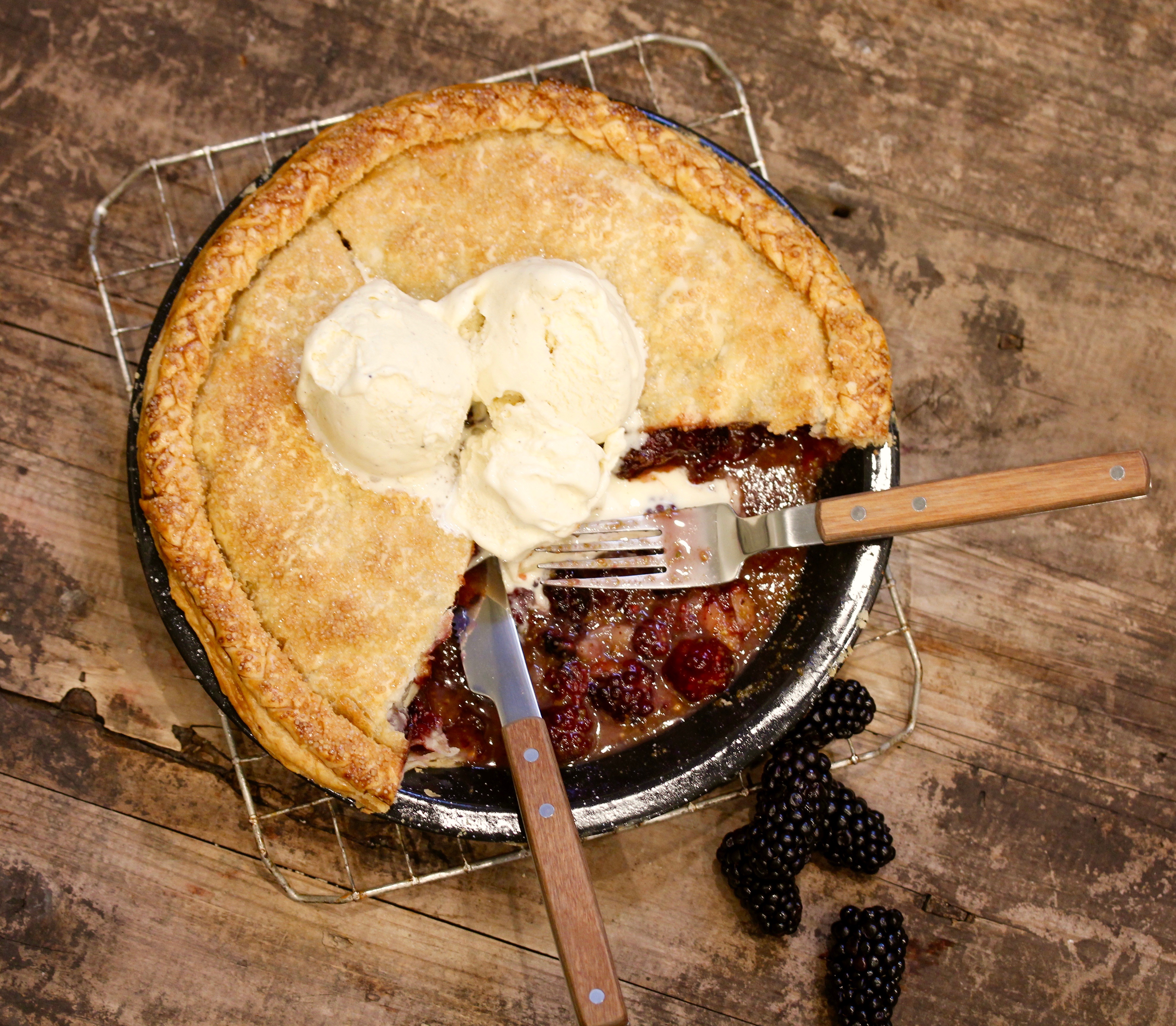 Do you all know who Donna Hay is? Her cookbooks are my favorite, because everything is beautiful and inventive. She takes a familiar recipe, adds an unexpected ingredient or two, and all of a sudden there's this amazing thing you can't wait to eat. Blackberry elderflower pie is one of her recipes.
Blackberry pie is a familiar summer dessert, but when zhuzshed up with a little elderflower liqueur and the addition of ground pistachios in the crust, it becomes a next-level blackberry pie. It got a very big response at home too, because pies are not a part of daily life for us.
Note: This is a wet pie, meaning you shouldn't expect the filling to sit nice and firm on the crust. That's not uncommon with fruit pies and the alternative is to use a lot more arrowroot or cornstarch to thicken the filling, but you will taste the thickener and it will dampen the flavor of the fruit, so I chose flavor over presentation here.
It's a good exercise to look back at your old, favorite recipes and make them again. You might be surprised by the memories they bring back for you and your family and friends. Food memories are some of the strongest and most positive memories we have. What are some of yours?
Blackberry Elderflower Pie
Adapted from Donna Hay Modern Baking
Serves: 6-8
Prep time: 2 hours
Ingredients
For the pie filling:
2 pounds blackberries
¼ cup elderflower cordial
1 cup superfine sugar
1/3 cup arrowroot
½ cup unsalted pistachios, finely ground
1 egg beaten
2 tablespoons raw or Demerara sugar
Vanilla ice cream for serving
For the pastry:
3 cups flour
1/3 cup superfine sugar
1 teaspoon sea salt
7 ounces cold butter, chopped
1 tablespoon apple cider vinegar
½ cup ice water
Directions
Make the pastry first: put flour, sugar and water in a large bowl and mix. Add butter and rub it into the flour mixture until the texture is like cornmeal. Add vinegar and water and mix to form a dough. Knead gently to bring the dough together, shape into two equal discs and wrap in plastic wrap. Refrigerate for 30 minutes.
Line a tray with non-stick baking paper and roll out each disc between 2 sheets of lightly-floured baking paper to ¼ inch thick. Refrigerate one disc and use the remaining sheet to line a pie tie. Trim and reserve excess dough. Refrigerate pastry crust in pie tin for 30 minutes, along with any excess dough.
Preheat oven to 350 degrees. Mix together blackberries, elderflower cordial, sugar and arrowroot in a bowl. Spread the ground pistachios in the base of the pastry case and top with blackberry filling. Cover with remaining pastry sheet and seal edges. Trim excess. Re-roll the leftover pastry dough and use to decorate the edge of the pie as you like.
Cut several small incisions in the top of the pie and brush with beaten egg. Sprinkle with sugar and bake for 1 hour until top is golden brown. Allow to sit for 20 minutes before cutting.
Serve with vanilla ice cream.