In keeping with the summer hors d'oeuvres theme, here is an American classic presented as an hors d'oeuvre.  When I was 12, we took a family car trip to California.  I ate fried shrimp everywhere they had it for three weeks straight.  And then I didn't eat it again for about thirty years, because fried shrimp in Amarillo or Dubuque in 1968 was not an informed menu choice.  But the memory of the shrimp binge has faded and I'm back to loving that crispy exterior with the steaming firm shrimp nestled inside.
Two things about this recipe: 1.) it has good value because of the way the shrimp are cut (sliced downward, but not completely through, so it makes a larger surface area for the batter and therefore a bigger serving of shrimp.  A medium-sized shrimp will seem like a jumbo when it's cut this way.   And 2.) the batter is so crispy that you can serve these hot, or let them sit around for a half an hour, and they will still be crunchy and flavorful, and just as good cold.   And the dogs love the shrimp tails.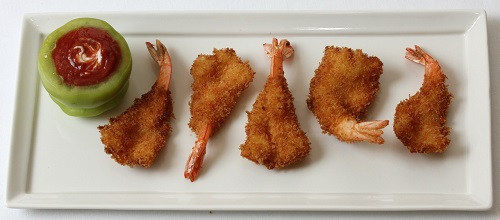 Serves: 4

Ingredients
12 pieces of medium shrimp
1/2 cup flour, seasoned with 1 teaspoon salt and 1/4 teaspoon freshly ground pepper
2 beaten eggs
1 cup Japanese panko crumbs
Canola oil for frying
Directions
Peel and butterfly shrimp.  Run the tip of your knife from the wide end of the shrimp on the underside and slice along, but not through, to the tail.
Season shrimp with salt and pepper.  Coat shrimp in flour, then dip in eggs, and coat with panko.
Heat 1 inch of canola oil in frying pan to medium-high heat, but the oil should not be smoking.
Drop shrimp into oil for a minute, then turn once and remove when golden brown. Allow to drain on paper towels.  Serve immediately with dipping sauce.
Horseradish Dipping Sauce
I'm a little embarrassed to be typing this up because cocktail sauce is such a common thing, but in the interest of thoroughness: take a cup of ketchup and combine with a tablespoon of fresh, finely-grated horseradish.  You can adjust the horseradish to your own taste – a tablespoon is a lot of heat, so start with less and add more until your eyes are watering at the appropriate level.  If you're using horseradish from a jar, I'd use less because it's not as strong as the fresh root.