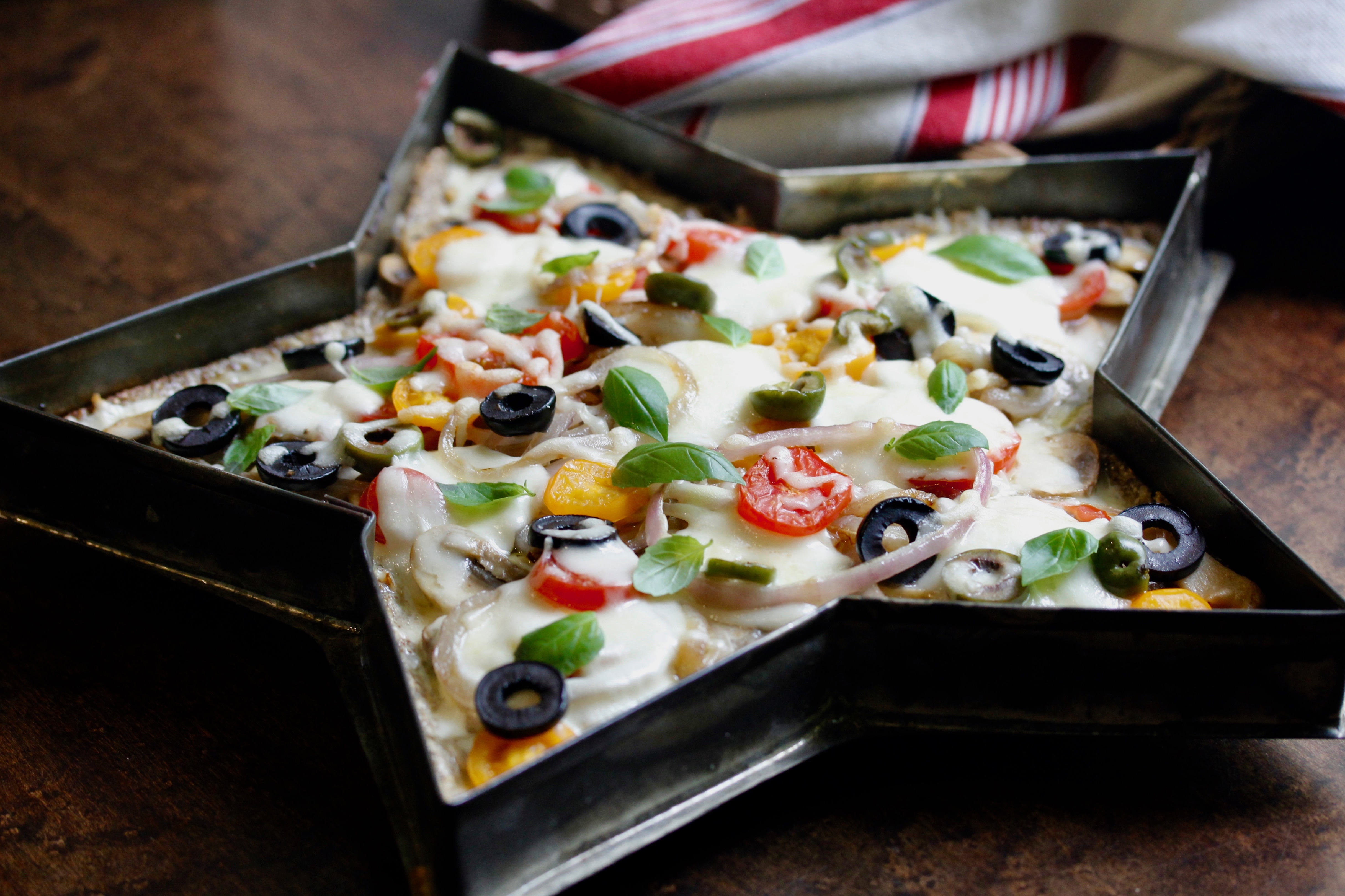 Okay, so a cauliflower pizza is hardly a new idea, but I was skeptical of a pizza crust made of cauliflower. Sounds more like the pizza box you throw away – cardboard with a smell of tomatoes clinging to it.
But a cauliflower pizza is very healthy, and with the addition of cheese it turned out to be a beautiful thing. It's not perfectly clean eating, but it's pretty healthy and everyone loves how it tastes. The transition to a more healthy diet can't be too painful or it's not sustainable. So eat things that are good for you when you can, but don't shy away from the occasional indulgence – like pizza. With this recipe you can have your pizza and eat it, too. (To save on prep time, make several batches of the crust and freeze some for another time.)
Over the years I've accumulated a lot of strange cooking supplies (like the star-shaped pan I used to make the pizza.) It can be fun for a kids' party, because the stars produce diamond-shaped pieces of pizza that's an inexpensive novelty. If you really like this idea, you can buy a star-shaped pan on Amazon, but it tastes just as good, no matter the shape of the pan!
Cauliflower Pizza
Adapted from GOOP
Serves: 3-4
Prep time: 1 hour plus baking time

Ingredients
For the crust:
4 cups cauliflower florets
½ cup quinoa flour
1 teaspoon garlic powder
1 teaspoon nutritional yeast
1 teaspoon salt
½ cup chia seeds
1 ½ cups water
For the toppings:
1 cup shredded fontina cheese
4 small mozzarella bocconcini
½ cup grated Parmesan cheese
2 teaspoons olive oil
½ cup sliced olives
2 cups sliced fresh mushrooms
1 cup thinly-sliced red onion
2 medium, thinly-sliced tomatoes
2 cloves garlic, minced finely
1 teaspoon crushed red pepper flakes
½ cup fresh basil leaves
For the chicken breast:
1 chicken breast, skinless and boneless
1 teaspoon salt
½ teaspoon garlic powder
½ teaspoon pepper
2 tablespoons olive oil
Directions
To make the crust:
In a small bowl, whisk chia seeds with 1 ½ cups water. Put mixture in refrigerator to set.
Preheat oven to 450 degrees. Process cauliflower in a food processor until cauliflower has a rice-like consistency. Bundle cauliflower in a cheesecloth to squeeze out excess liquid. Put cauliflower in a large bowl and add chia mixture, flour, garlic powder, yeast and salt. Mix dough well with your hands.
Spread dough to ½ inch thick on a baking sheet and bake for 20 minutes until crust is golden.
Allow crust to cool and sprinkle with fontina cheese.
To make the toppings:
Heat 1 teaspoon oil in a large pan at medium heat and saute onions, until slightly browned.
To assemble the pizza: Top fontina and crust with mozzarella, parmesan, tomatoes, garlic, pepper flakes, mushrooms, olives, and onions.
Put pizza back in oven and bake another 8 minutes. Allow pizza to cool slightly and sprinkle with basil.