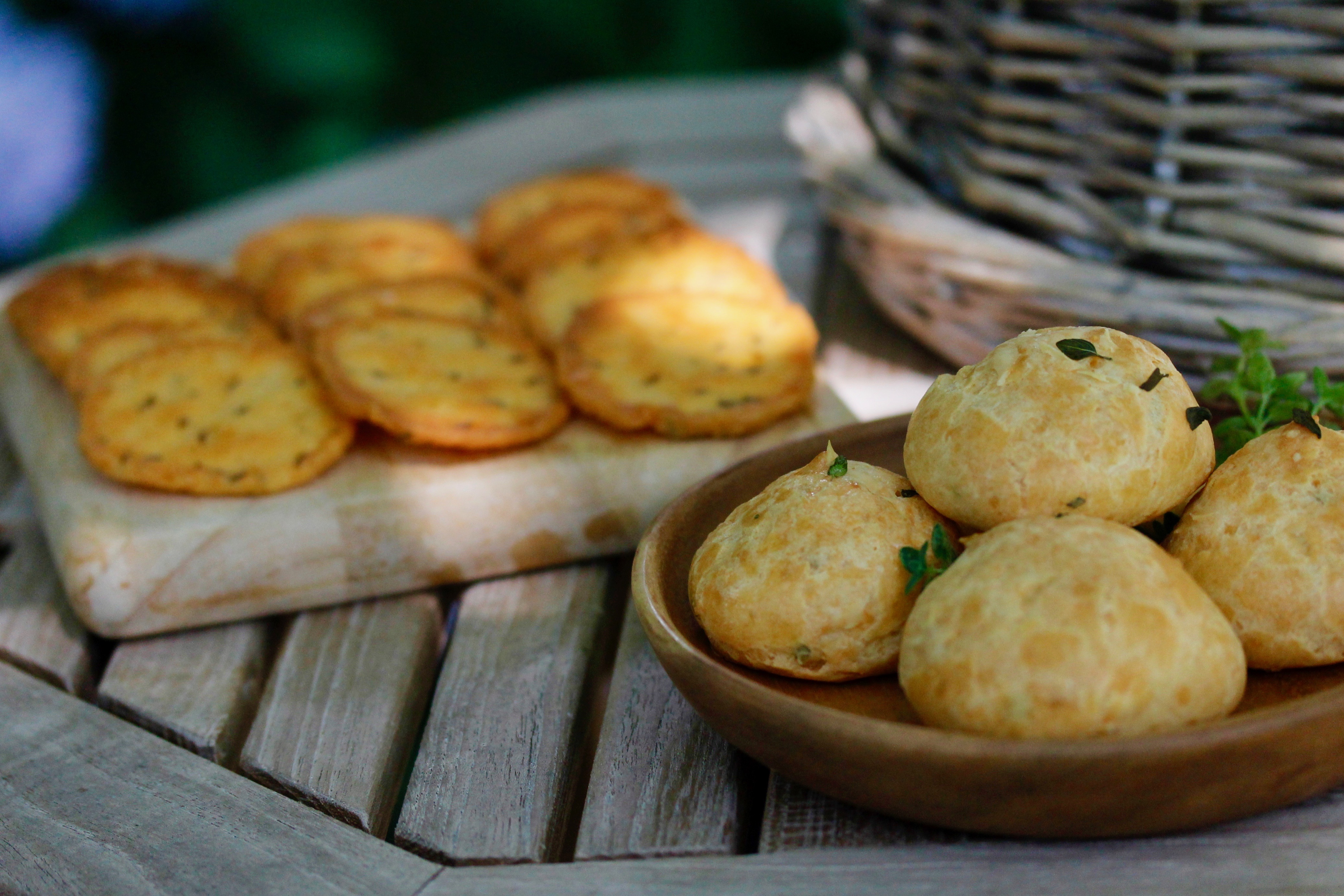 There's nothing like a warm-and-puffy or thin-and-flaky homemade hors d'oeuvre to go with a chilled glass of rose' or summer white wine. They're just so delectable when they're fresh out of the oven and melting blissfully on your tongue. Here are two recipes I love – and have made many times. They're both herb-y and very 'of-the-moment' in the catering world. And easy – did I say easy? Enjoy!
Cheddar Caraway Crisps
Serves: Makes about 4 dozen thin crackers
Prep time: 3 hours (including chilling)
Ingredients
½ stick (1/4 cup) unsalted butter, softened
½ pound sharp cheddar cheese, grated coarsely
1 egg yolk
½ cup flour
½ teaspoon salt
½ teaspoon dried mustard
½ teaspoon fresh black pepper
2 teaspoons caraway seeds plus 1 teaspoon for sprinkling on crackers before baking
Directions
Mix together butter, cheese and egg yolk in food processor. Add flour, mustard, and salt and pulse until combined loosely. Add caraway and pepper. Move dough to a sheet of wax paper and roll up into a log. Chill in refrigerator for several hours.
Preheat oven to 350 degrees and line a baking sheet with parchment paper.
Remove log from fridge, unwrap, and cut into thin slices. Arrange on baking sheet and sprinkle with additional caraway, pressing them gently into the dough. Bake for ten minutes. Allow crackers to cool on a baking rack 15 minutes before serving.
Dough can be made and frozen up to two months. Crackers can be baked and stored in an airtight container for one week, if reheated for 5 minutes at 350 degrees before serving.
Thyme Gougeres
Serves: Makes 4 dozen
Prep time: 1 hour
Ingredients
4 tablespoons unsalted butter
1 cup flour
1 cup water plus one tablespoon water
Pinch of cayenne pepper
Pinch of sea salt
½ cup Asiago cheese, grated
1 cup plus 3 tablespoons Gruyere cheese, grated
2 teaspoons thyme leaves, finely chopped, plus leaves for garnish
5 eggs
Directions
Preheat oven to 400 degrees. Put butter and cup of water into a saucepan and bring to a boil.
Remove from heat and add flour, cayenne, and salt. Mix well.
Return to heat, and stir constantly at medium heat until mixture forms a ball and a dry film forms on bottom and sides of pan.
Transfer mixture to a mixer with a paddle attachment and add Asiago, 1 cup of the Gruyere and 2 teaspoons thyme. Add four eggs, one at a time, scraping down sides of bowl to ingredients are fully incorporated.
Spoon dough into pastry bag (or use a teaspoon to drop quarter-sized dollops of dough) onto parchment-lined backing sheets.
Whisk together last egg with 1 tablespoons water. Brush egg wash lightly over the gougeres, to smooth tops. Sprinkle with the rest of the Gruyere and thyme leaves.
Bake until puffed and golden, with moist centers – about 20 minutes. Serve while warm.
Note: These do not reheat well – they're great cold – but reheating them will make them greasy.