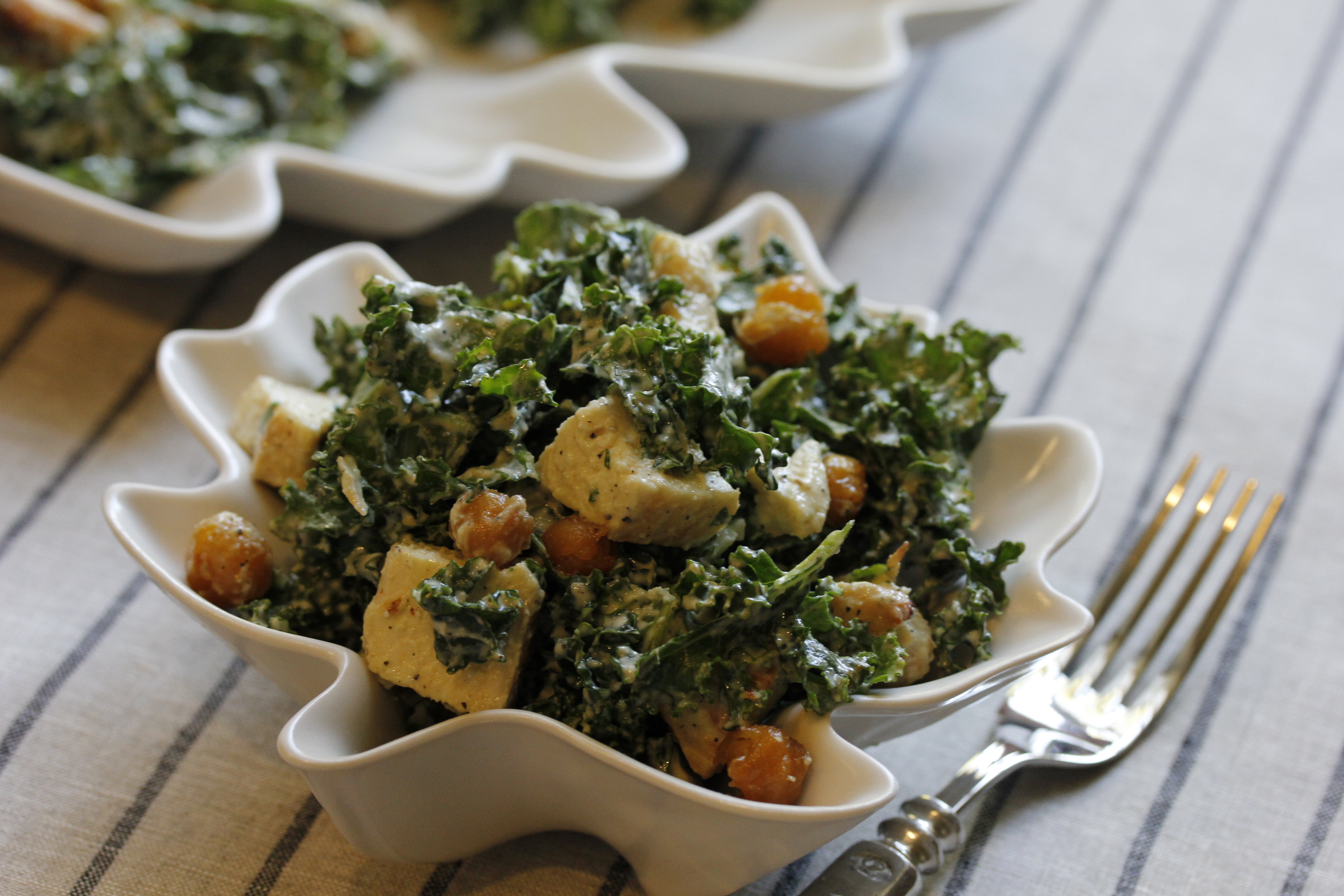 Surprise! This is a healthy recipe for a dinner salad that tastes like something you'd actually want to eat. It takes real effort to eat clean and eat really good food. There are so many recipes and cookbooks geared to the health-conscious eater now, but in the rush to be different some occasionally lose track of the 'being delicious' part. Or maybe you don't like a particular food, and there's no way it can ever be prepared that will make you like it, so you need more recipe ideas. (Don't ever look for anything with anise on this site – never gonna happen.) I'm here to try all the healthy recipes (except anise) so you don't have to. I know you have your standards.
This entree salad has so much flavor and substance that it's completely satisfying, full of great flavor and texture. The chickpeas are surprisingly crunchy, and those things that look like croutons? They're actually chunks of grilled chicken that stand up to the garlicky Caesar and kale base. You're going to love it!
Chicken Kale Caesar with Chickpeas
Adapted from GOOP
Serves: 2 for an entrée
Prep time: 30 minutes

Ingredients
1 bunch kale
1 cooked chicken breast, cubed
1 15-ounce can chickpeas
1 teaspoon salt
2 tablespoons olive oil
1 teaspoon garlic powder
To make the salad dressing:
1 cup cashews soaked overnight in 1 ½ cups of water
2 ½ tablespoons Dijon mustard
1 teaspoon pepper
1 teaspoon salt
2/3 cup of water
3 garlic cloves, crushed
2/3 cup olive oil
Juice of one lemon
3 anchovy filets (if you like them)
For the chicken breast:
1 chicken breast, skinless and boneless
1 teaspoon salt
½ teaspoon garlic powder
½ teaspoon pepper
2 tablespoons olive oil
Directions
Heat oven to 400 degrees. Drain and rinse chickpeas and dry with cloth. Transfer chickpeas to a baking tray and drizzle on olive oil, garlic powder and salt. Bake for 25 minutes until chickpeas are crunchy.
While the chickpeas are baking, combine chicken, salt, garlic powder, olive oil and pepper for grilling chicken and grill until chicken is cooked through. Cut chicken into cubes.
To make the dressing:
Drain cashews and liquify in blender with mustard, lemon juice, salt, pepper, optional anchovies, water, and olive oil. Blend until creamy.
Cut up rinsed and dried kale in a large bowl with 3 tablespoons of the dressing. Mix well, add chicken and croutons, salt, and pepper. Add additional dressing as desired, and serve.