A week of posts about great hosts wouldn't be complete without a recipe from Laura Bush. I learned a tremendous amount about hospitality when I worked for her.  There was no detail too small to consider, to make her guests feel comfortable and special, and she never stopped thinking about it.  Once, when we were hosting a group of Lincoln scholars at a lecture at the White House on Lincoln's Birthday, she called me over during the lecture and asked me to have the Lincoln Bedroom and Sitting Room opened up for guests to visit after the lecture.  The Lincoln Bedroom is in the family residence of the White House and not generally seen by the public.  The collective response of the guests, when they saw the rooms and viewed one of the few copies of the Emancipation Proclamation written in Lincoln's own hand, was unforgettable. Most of these people had spent their entire professional lives studying, and revering, Abraham Lincoln, and the gift she gave them that day was profound.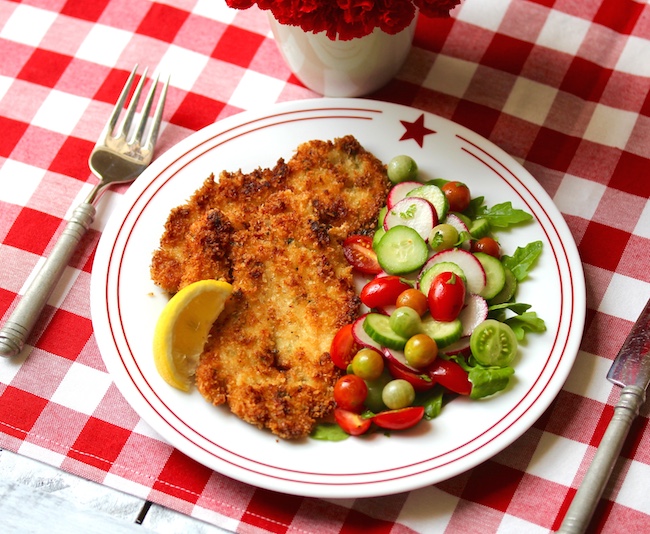 One of the key tenets of being a good hostess is to always make people feel welcome, even when their appearance is a complete surprise.  I love Mrs. Bush's recipe for chicken schnitzel because it's incredibly fast, easy and delicious – all in all, a great solution to last-minute dinner guests.
Chicken Schnitzel by Laura Bush
Serves: 4
Prep time: 20 minutes
Ingredients
2 chicken breasts, boneless and skinless
¼ cup canola oil
½ cup flour
1 teaspoon salt
1 teaspoon pepper
1 teaspoon garlic salt
2 eggs
½ cup milk
1/3 cup chopped parsley
2 cups Panko bread crumbs
Directions
Cut each chicken breast in half, lengthwise, and cut the two pieces in half again, to yield four pieces of chicken per breast.
Pound the chicken between two pieces of plastic wrap until it is very thin, about the thickness of a nickel.≈

To make the breading, mix flour, salt, pepper and garlic salt together in a bowl.
 Make an egg wash of the two eggs, milk, and chopped parsley.
 Put the bread crumbs in a third bowl.
Dredge chicken pieces in flour, then egg and finally bread crumbs.
Heat oil in a large skillet to medium heat and fry chicken until brown and crispy (about two minutes on each side).  Drain on paper towels.