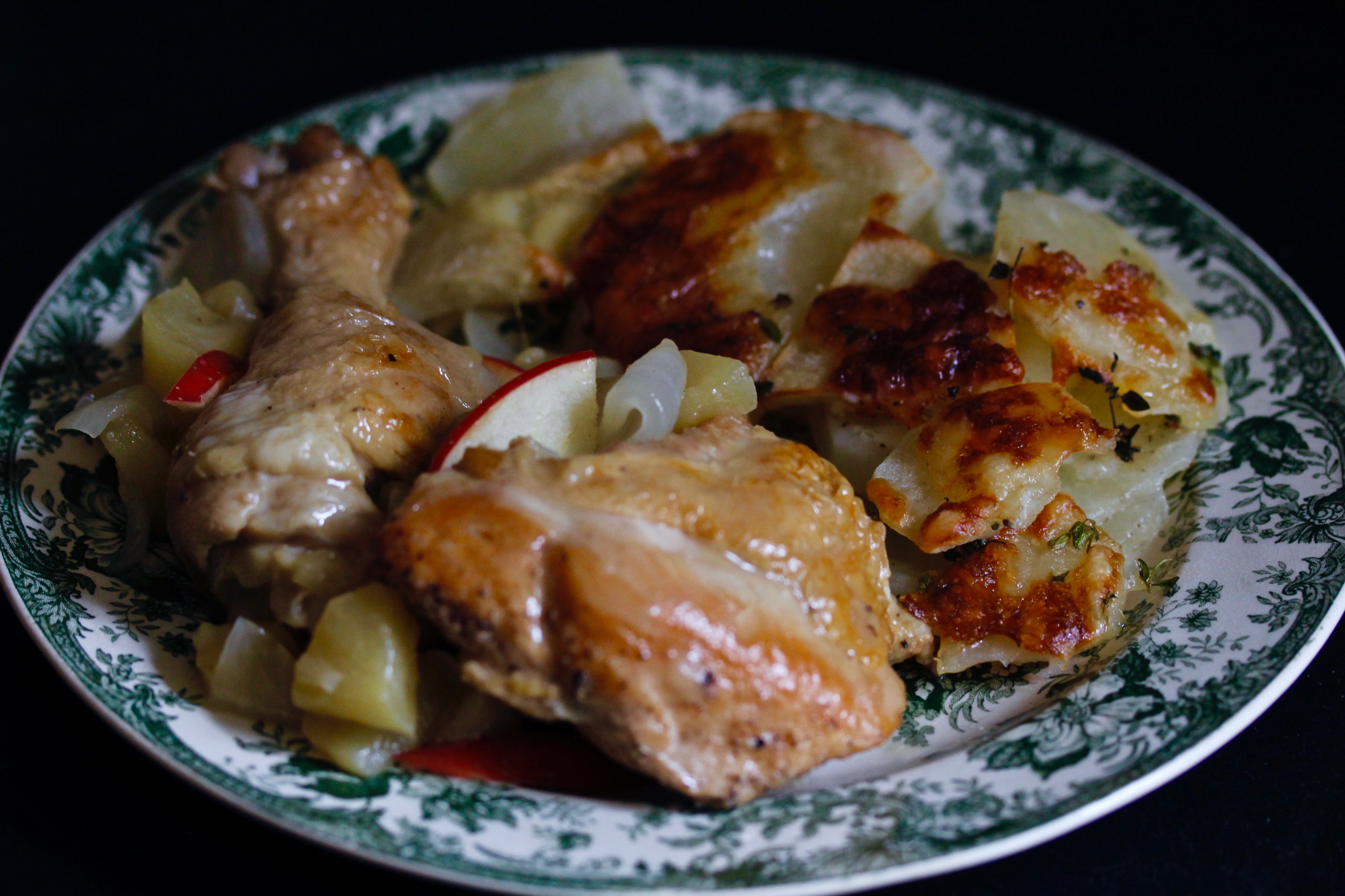 My uncle had an apple orchard that I loved because I could climb the trees – apple trees being invitingly low to the ground and accessible for a small person. The apples were McIntoshes and it was hard to wait for them to be ripe enough to eat because they're a particularly good eating apple. It was one of the pleasures of my childhood to climb a tree, pick an apple, and eat it while perched in the branches, but eating an apple is still a pleasure, primal and edifying.
This recipe for chicken with Calvados (apple brandy) and apples embodies the essence of the season with a sweet yet tangy sauce and chicken so tender it simply falls off the bone. There are so many versions of this recipe, often referred to as Poulet a la Normande for its French roots, but this is my favorite.
Chicken with Calvados and Apples
Serves: 4
Prep time: 1 hour

Ingredients
1-four-pound chicken cut into pieces
3 tablespoons of olive oil
1/2 cup Calvados
1 ¼ cups hard cider
1 large white onion, cut into 1″ chunks
1 ½ pounds of any good cooking apple, peeled and cut into roughly 1″ by 1″ pieces
Salt and pepper to taste
2 tablespoons cornstarch
3 tablespoons water
5 tablespoons of crème fraiche or sour cream
Directions
Wash and dry chicken pieces and season with salt and pepper.
In a deep skillet heat the oil to medium high and brown the chicken until it is a deep golden color – about six minutes and then flip to sear the other side.
When chicken is well browned, turn off the heat and add the Calvados. It will sizzle, and when the sizzling subsides turn heat down to medium low and allow to simmer to evaporate for four minutes.

Note: This is the stage at which the Calvados can be flambeed: Be certain there is nothing flammable near the stove. Warm the Calvados at medium heat, use a long kitchen match to light the Calvados and carefully pour it onto the chicken. Use caution – flames can shoot up from the liquor. Cook until flame subsides on its own. (There isn't much of a flavor difference between the two methods so I avoid the flambee because I'd like to keep my eyebrows intact. Yes, that's happened.)

Add cider and onions and bring up to medium heat and then down to a simmer. Add apples, cover pan and cook at a simmer for 35 minutes.
Remove chicken, onions and apples to a platter and cover to keep warm.
Add cornstarch to water and whisk out any lumps. Stir into the liquid left in the skillet and raise heat to a simmer to thicken.
Stir in crème fraiche or sour cream, a tablespoon at a time, and season with salt to taste.
Add chicken, onions and apples to sauce and serve.