Dinner parties can be stressful, and not just because of the planning and prep time required. Entertaining can be expensive. If your budget is keeping you from having friends over, here are a few things you can do to lessen the burden:
Choose a menu that isn't heavy on expensive cuts of meat or recipes with lots of exotic ingredients that you're unlikely to use again.
Discipline yourself to use the things you already own; there's no need to invest in new china or linens, or buy chairs or a kitchen table. Your friends are coming for you, not what you own.
This may sound like sacrilege, but flowers can take a bite out of dinner party budget, so don't have them. You can make a room festive and welcoming with inexpensive votive candles arranged on the table and strategically around the room.
Keep the dinner party small, and invite people you're comfortable with. That way, if you're anxious about some part of the meal going awry, you know you can all laugh it off. And it's less expensive to feed three people than it is to feed seven or nine. If you want more people, consider altering your food plan from a dinner to a cocktail party to reduce the cost. (This only works if your friends consume alcohol reasonably. )
Choose your alcohol carefully. Sangria or wine spritzers can stretch a cocktail budget nicely. Ask your local wine seller for recommendations of good but inexpensive wines; get to know your wine seller, and tell them you'll be getting back to them about the wine they recommend. (You don't want them offloading their bad stock on you, so if you establish a need for accountability you're likely to get better selections). And use smaller wineglasses. In this supersized food world, some wine goblets can hold half a bottle of wine, and that seems unnecessary.
Don't worry if your dishes don't match or you eat from a plate on your lap. It's all part of the fun, and can be very quirky and cool. Just relax and enjoy yourself.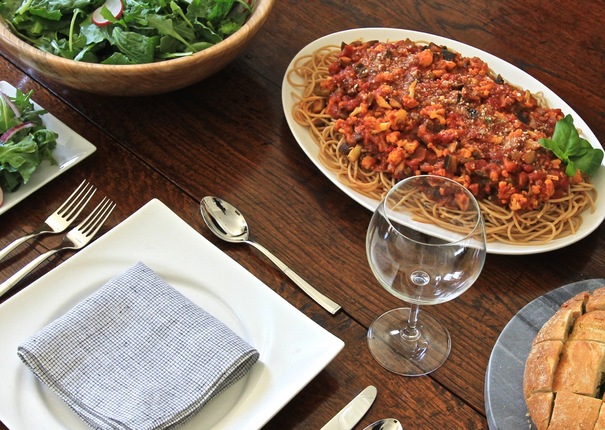 This meal uses inexpensive ingredients – not too many – requires no special pots, pans or serving plates, and involves a minimum of prep time. The sauce and the rocky road can be prepared a day ahead. Easy, peasy.
One note: as they say in the scouts, "Be Prepared." When your guests arrive, have your dishes and glasses ready to use, the meal prepped (as far as possible), and the wine open and ready to serve. My husband and I were invited to a friend's house for brunch one Sunday and arrived at the appointed time, starving, to find our host pulling up with a bag of groceries just as we knocked on his door. Two hours later we ate, and I made a general entertaining note for the future – hosts should arrive at their party before their guests and not expect them to cook the meal. It seems like something you shouldn't need to say, but in the interest of thoroughness, I throw it out there for consideration…
Vegetarian Spaghetti Sauce with Whole Wheat Pasta
Serves: 4-6
Prep time: one hour

Ingredients
1 pound whole grain spaghetti
For the sauce:
Ingredients
1 small eggplant, cut into ¼ inch cubes
6 tablespoons olive oil
6 cloves of garlic, minced
1 small yellow onion, chopped
2 tablespoons tomato paste
½ teaspoon dried oregano
¼ teaspoon crushed red pepper flakes
2 cups cauliflower, cut into small florets
8 ounces cremini or button mushrooms, chopped
1 green bell pepper, chopped
1 teaspoon salt
¼ teaspoon fresh pepper
1 teaspoon sugar
1 28-ounce can of crushed tomatoes
Parmesan cheese
Directions
Put chopped eggplant on a tray layered with a paper towel and sprinkle with salt.
Allow to stand 15 minutes. Heat a large skillet and fry the eggplant in 2 tablespoons of olive oil until it is golden brown.
Remove from pan and set aside. Using same pan, heat the rest of the olive oil over medium-high heat, and add garlic and onion.
Stir until golden brown.
Add tomato paste, oregano, and pepper flakes, and cook for a minute, stirring frequently.
Add vegetables and cook at medium heat for five minutes.
Add salt and pepper, and the crushed tomatoes.
Simmer sauce until vegetables are tender and sauce has thickened slightly – about fifteen minutes.
Cook pasta according to package directions, drain and place on a serving platter.
Spoon spaghetti sauce over pasta, and serve with Parmesan cheese.
Serves: 4-6
Prep time: 15 minutes

Ingredients
2 cups spinach
1 cup arugula
2 cups romaine
1 purple onion, sliced into rings and cut in half
5 radishes
Newman's Own Olive Oil and Vinegar dressing
Note: normally I make my own vinaigrette, but it's less expensive to buy one bottle of salad dressing than all the ingredients needed to make the dressing yourself. If you want to make a vinaigrette salad dressing, here's a recipe I like:
Vinaigrette Dressing
Serves: makes enough for one large salad

Ingredients
4 ounces extra-virgin olive oil
1 tablespoon parsley, chopped finely
2 teaspoon Dijon coarse mustard
½ teaspoon salt
¼ teaspoon pepper
2 garlic cloves, crushed
1 tablespoon red wine vinegar
Directions
Whisk ingredients together and taste to check seasonings. (Individual tastes vary, so you may prefer to add more vinegar or mustard.)
For the salad:

Directions
Wash vegetables and pat dry.
Slice onion and radishes.
Tear romaine and add arugula and spinach to onions and radishes and toss.
Drizzle with salad dressing and serve.
Serves: 4-6
Prep time: 15 minutes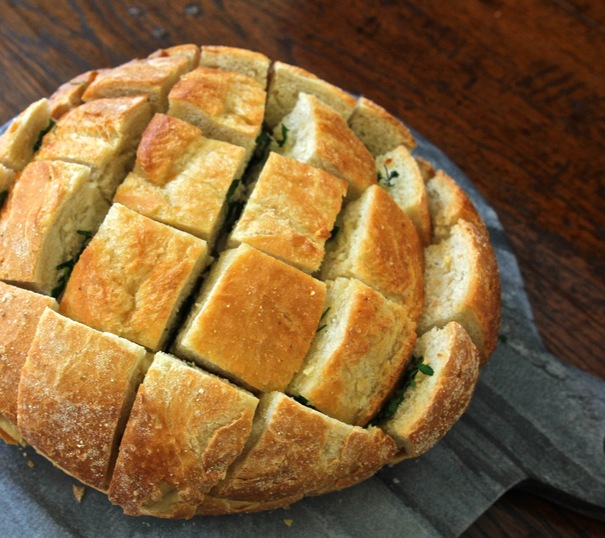 Ingredients
1 round loaf of bread – can be a French boule or sourdough
4 tablespoons butter, melted
2 tablespoons parsley, chopped finely
3 garlic cloves, crushed
Directions
Preheat oven to 425 degrees.
Score the top of the bread, cutting two inch wide strips down into, but not completely through it.
Turn bread and cut two-inch thick strips perpendicular to the first set of slices.
Gently pull the pieces away from each other to make room to pour the other ingredients into the loaf.
Drizzle melted butter into the cuts you have made, and then sprinkle the parsley and garlic over the butter.
Bake in oven for 10-15 minutes until bread is warm and crisp.
Serve immediately.
Serves: 4-6 people
Prep time: 20 minutes to mix the chocolate mixture and clean the berries, one hour for it to set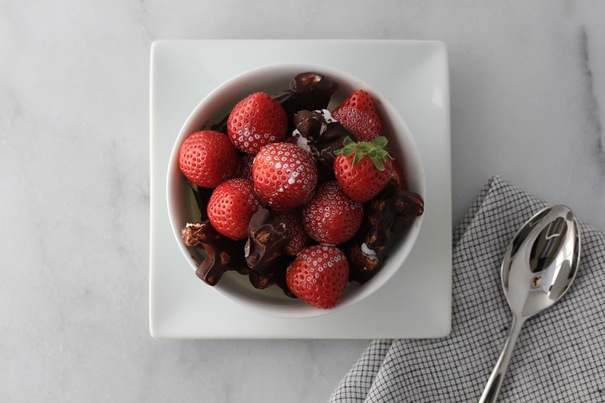 Ingredients
12 ounces dark chocolate (I used 4 bars of Green and Black chocolate, 85% cacao)
3 ounces dried cherries
¾ cup chopped almonds
1 cup mini-marshmallows, chopped into smaller pieces
Cream for pouring on rocky road and strawberries
Directions
Break chocolate into smaller pieces and melt in the microwave – about 3 minutes.
Stir in cherries, almonds and marshmallow pieces.
Line an 8 x 8 inch pan with foil and spread the mixture evenly in the pan.
Allow to refrigerate for at least one hour.
Slice fresh strawberries and set aside.
When chocolate is hardened, break apart into jagged pieces.
Line a small bowl with the rocky road, add strawberries and serve with a small pitcher of cream for pouring on it.

Alternatively, serve bowls of strawberries for dessert, and offer rocky road as a post-dessert sweet with coffee.