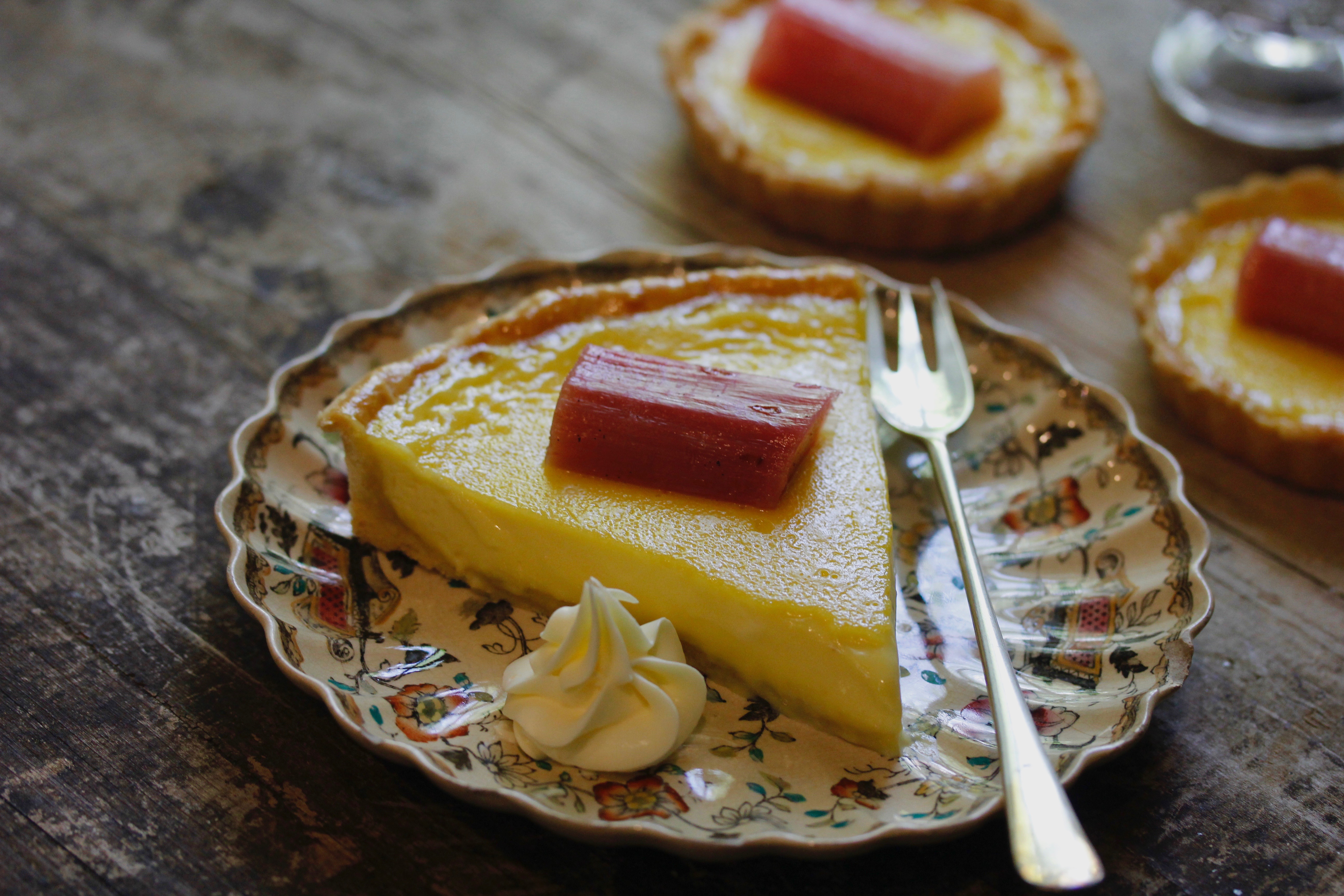 Have you seen the incredibly things people are doing with rhubarb pies these days? They're soooo intricate and elaborate, like Roman mosaics or the Fibonacci sequence lovingly laid out on a pastry base. I admire them but I don't aspire to them because I'll never have that kind of patience – but I do love a slice of rhubarb pie. This recipe for a ginger custard tart with vanilla-infused rhubarb on top is more to my skill level. And it has the perfect sweet/tart flavor twist that has you thinking about another piece before you finish the first.
P.S. The ginger is in the pastry, not the custard – this is a particularly good crust that could be used with any stone or citrus fruits. Lemon-meringue ginger tart, peach ginger pie – just use your imagination!
Ginger Custard Tart with Rhubarb
Adapted from House and Garden UK
Ingredients
For the pastry:
1 cup butter
1 cup sugar
3 egg yolks
1 lemon, finely grated zest
2 cups flour
2 teaspoons fresh ground ginger

For the filling:

4 ounces ginger, peeled and grated finely
1 cup cream
1 cup half and half
4 ounces sugar
10 egg yolks

For the rhubarb:

4 large sticks of rhubarb, washed and trimmed
3 ounces sugar
1 vanilla pod, split
4 ounces crème fraiche for garnish
Directions
Beat butter and sugar until fluffy and add 2 egg yolks. Add lemon zest, flour, ginger and knead lightly into a dough. Roll into a ball and chill for an hour.
Roll out the pastry on a floured board to ¼ inch thick and place in a tart ring, pushing dough into corners leaving a little pastry hanging over the top of the ring. Line tart and fill with baking weights. Bake 25 minutes at 325 degrees.
Remove baking weights and return to oven for 5 minutes. Beat the last egg yolk and use to brush the interior of the tart.
Steep ginger in the creams for 20 minutes. Pour mixture through a sieve and then mix with sugar and 10 egg yolks.
Pour the mix carefully into the pastry shell and slide into oven, baking at 300 degrees for 50 minutes to an hour, until custard is set.
Allow custard to cool completely.
Cut rhubarb into finger lengths. Bring sugar and vanilla to a simmer in two cups of water and add rhubarb and allow to cook gently for five minutes. Let it cool in the syrup.
When pie is at room temperature cut and serve, topping each piece with several pieces of the ginger and garnish with crème fraiche.