Finding a balance in life is one of those things everybody talks about, but very few achieve. I try to do it with recipe posts; for every salty oat cookie, I try to include a healthy recipe, like this halibut and veggies entree. Staying balanced is a lot easier if the healthy foods are just as appealing as the unhealthy foods, so we don't feel we're doing penance for the cookies by eating the fish. Generally I try to mix it up, keep our food varied and not too time-consuming to cook. Time doesn't have to be the enemy of good eating. This dish is very fast, but full of flavor. My husband is not much of a fish lover, but he ate this and immediately declared it should go into the regular meal rotation at home.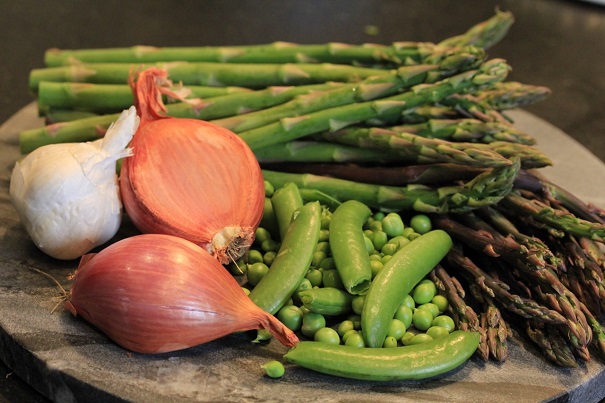 I used halibut because it was fresh, and halibut stocks in the US are generally considered to be well-managed, so they're sustainable. You can use any firm, white fish for this recipe: hake, grouper, red snapper. I would add swordfish to the list, but ever since I read about the worms that get pulled out of swordfish before they're cooked (in one of Anthony Bourdain's books), I can't get the image out of my head – and I can't eat swordfish anymore either.
It's easy to get in a rut when cooking fish. These veggies in its white wine base are bursting with flavor and texture. And the fish sauce gives it extra oomph, so don't leave it out! The original recipe called for dusting the fish in flour before cooking, but that make the sauce too thick and goopy – and I had to start over. And without the flour, this is a gluten-free recipe; a nice meal with the rest of that bottle of white you opened to cook the fish, and some couscous or brown rice. Enjoy!
Halibut with Asparagus, Peas, Parsley and Wine

Recipe adapted from Stella, in the Daily Telegraph
Serves: 4
Prep time: 40 minutes

Ingredients
4 halibut steaks of about 7 ounces each and one inch thick
4 tablespoons olive oil
4 shallots
2 garlic cloves, crushed
1 ½ teaspoons Red Boat fish sauce (available at most grocery stores in the Asian foods section)
3 ounces fish stock
3 ounces white wine
2 ounces dry sherry
20 asparagus spears
6 ounces peas
1 tablespoon parsley, finely chopped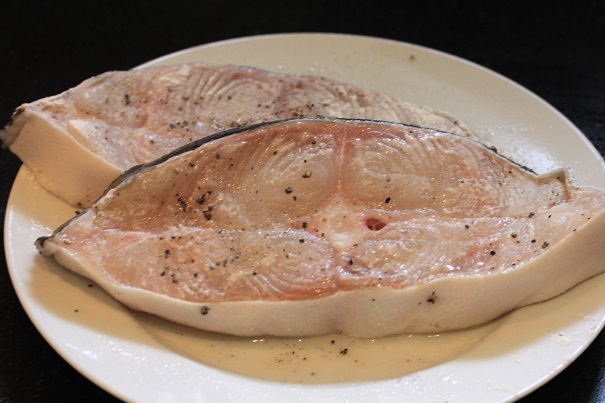 Directions
Heat 3 tablespoons of olive oil in a frying pan and cook the fish for three minutes on each side until gold but not cooked through.
Set aside on another plate and cover to keep warm.
Add the rest of the olive oil and cook the shallots over medium heat until they're soft, and add the garlic and cook for another minute.
Add the fish sauce, fish stock, wine, and sherry to the pan and bring to a boil.
Reduce liquid by a third. In a separate saucepan cook the asparagus tips and peas for two to three minutes until tender.
Run cold water over vegetables to stop cooking.
Lower the heat on the stock and add the fish.
Cook fish through – about five more minutes. Add asparagus and peas, heat through and scatter parsley.
Adjust the seasoning and serve immediately