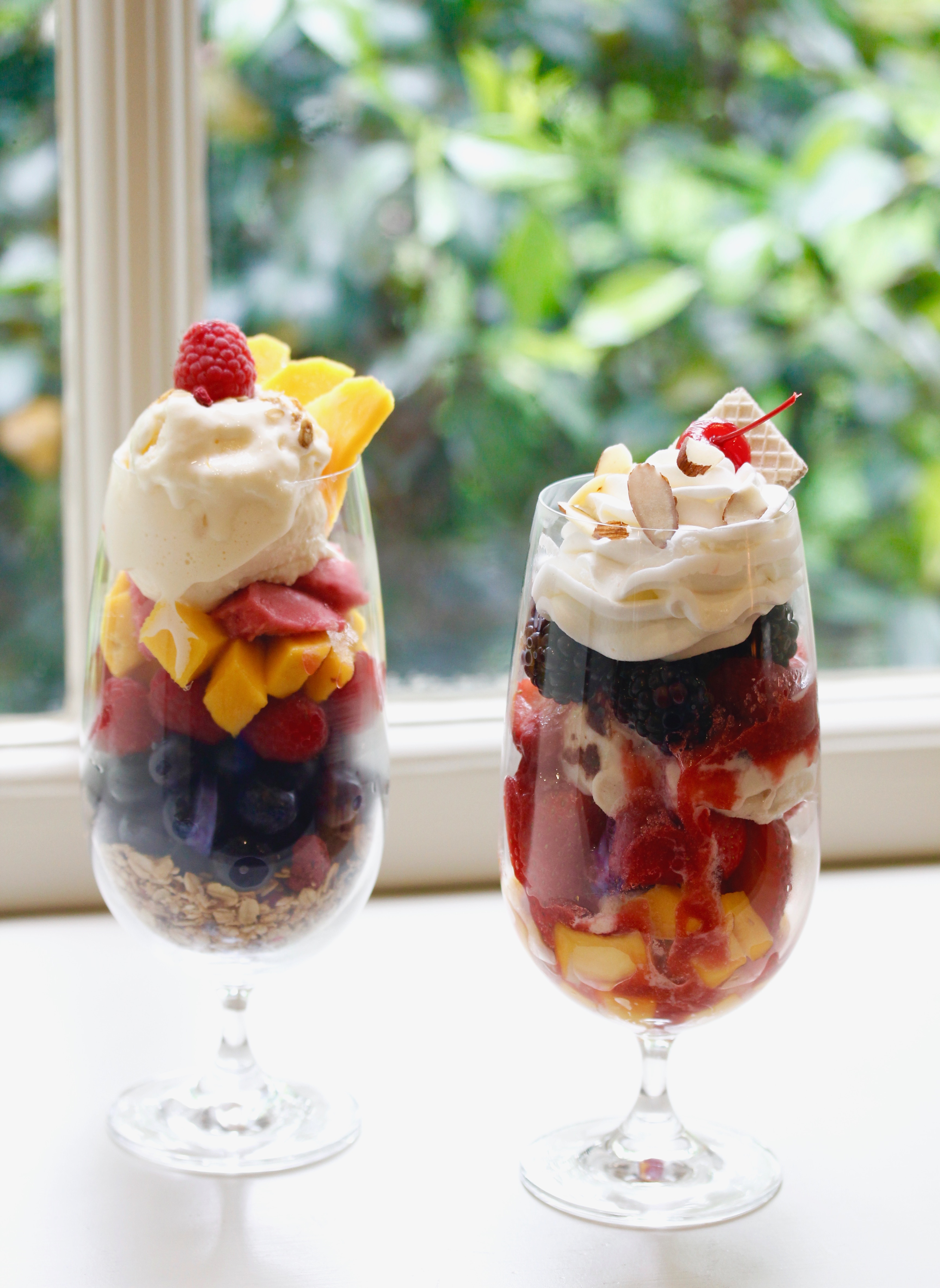 There's an English dessert called Knickerbocker Glory – a lot like an American ice cream sundae but with lots of delectable summer fruits. I came upon Mary Berry's recipe for a Knickerbocker Glory a while ago and filed it away for future reference, and then the other day I came upon a recipe for a healthy version of a Knickerbocker Glory and knew I had to try them both.
So you choose – the gooey, delicious, caloric version with fresh mango and raspberry puree, or the clean eating version: granola, fresh fruit, and froyo. You can see from the photos that it's hard to tell them apart. Honestly, they're both so good!
Knickerbocker Glory
Adapted from a recipe by Mary Berry
Version 1
Serves: 4
Prep time: 30 minutes

Ingredients
1 mango, peeled and diced
½ cup blueberries
½ cup blackberries
½ cup raspberries
½ cup strawberries
8 scoops of your favorite ice cream
Whipped cream to garnish
1 ounce shaved almonds or pistachios
Maraschino cherry – optional

For the raspberry puree:

1 pint raspberries
3 tablespoons sugar
Directions
To make the puree: Put raspberries and sugar in a small saucepan and heat at low heat, stirring regularly. Bring to a boil until mixture is thick. Strain and let cool.
Using a tall glass, begin layering fruits into glass. Top with ice cream and pour raspberry puree over it. Add whipped cream and sprinkle with nuts. Top with a Maraschino cherry, if preferred.
Version 2
Serves: 2
Prep time: 10 minutes

Ingredients
4 tablespoons granola
Handful of blueberries and/or raspberries
2 tablespoons honey
1 small mango, peeled and diced
2 scoops of vanilla frozen yogurt

/ul>

Directions
Divide the granola between the two tall glasses, reserving a little for the top. Layer in berries, honey, and frozen yogurt. Finish with a sprinkling of granola and a drizzle of honey.