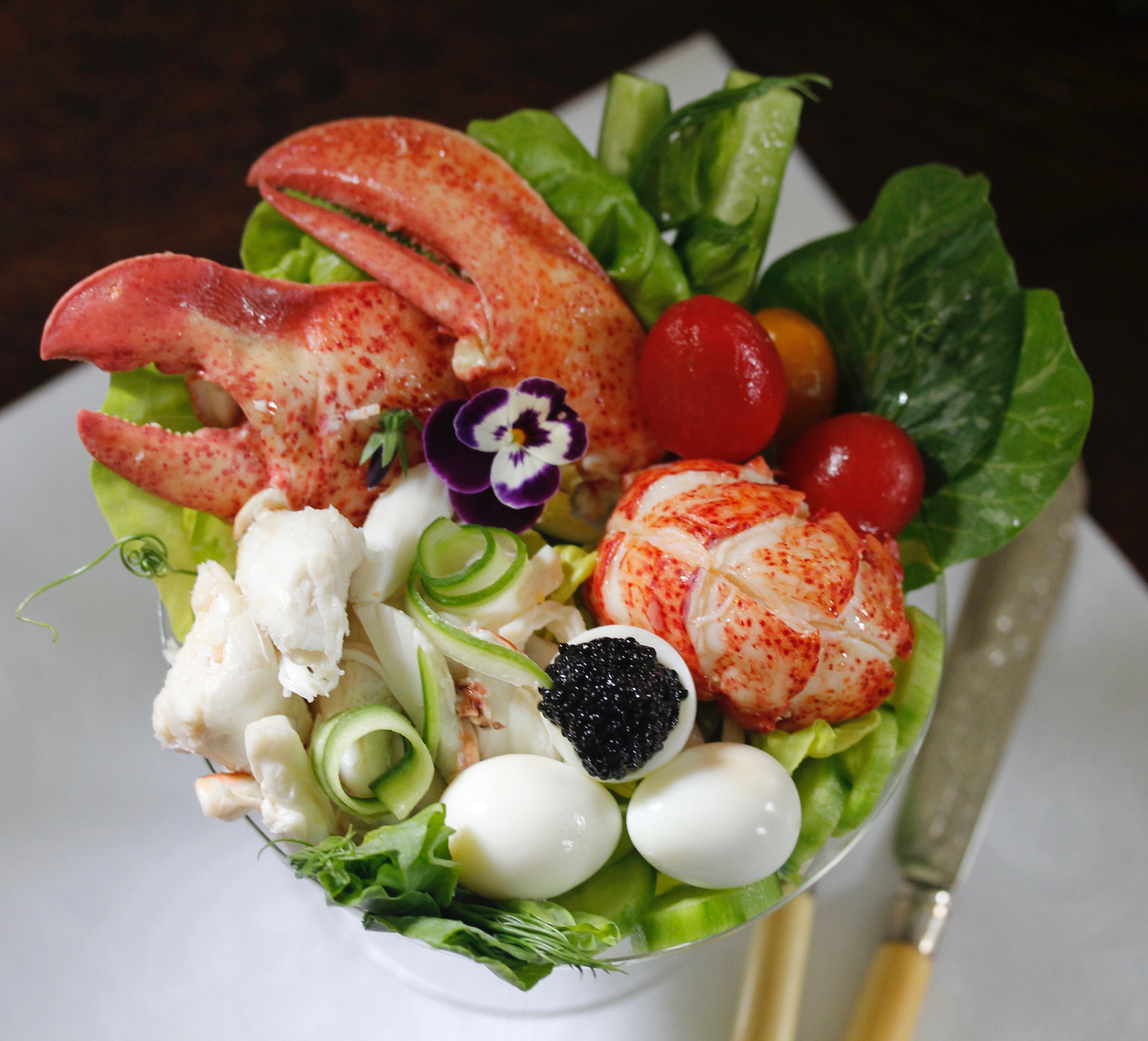 Sometimes you just gotta splurge. There's such beautiful seafood available now and when I saw the fresh lobster in the grocery store, it seemed like the perfect moment for this recipe. And my husband was out of town, so the stars were aligned. (My husband is allergic to shellfish; when the cat's away, the mice will eat lobster!)
This is more of an assembly process than a recipe, and as you probably know, Rosa Marina dressing is basically Thousand Island, but it enhances the seafood beautifully. So simple, yet elegant – and the tiny dollop of caviar for garnish will be the first thing everyone eats. A pleasurable way to welcome the summer!
Lobster and Crab Cocktail
Adapted from Claridge's cookbook
Serves: 4
Prep time: If using pre-cooked lobster and crab, 25 minutes to assemble

Ingredients
10 ounces lettuce, half of it shredded (Boston Bibb or Gem lettuce works well)
14 ounces baby cucumbers, peeled and thinly sliced
1 cooked two-pound lobster, shelled
9 ounces crab meat
4 quail eggs, soft-boiled and shelled
¼ ounce caviar
4 cherry tomatoes, blanched
1/3 cup pea shoots
Pansies for garnish
For the Marie-Rose sauce:
5 ounces mayonnaise
2 ounces ketchup
¼ teaspoon Tabasco sauce
¼ teaspoon Worcestershire
½ teaspoon brandy
Salt and pepper
Directions
To make the sauce: In a medium bowl combine ingredients above and set aside.
To assemble: Put shredded lettuce leaves in a shallow bowl and line with cucumber slices. Add remaining
unshredded lettuce. Add a dollop of the sauce to the top of the lettuce. Arrange the crab and
lobster on top.
Top with whole quail eggs and caviar. Add a cherry tomato to each and add pea shoots and
pansies. Top one egg with a caviar and serve additional sauce on the side.