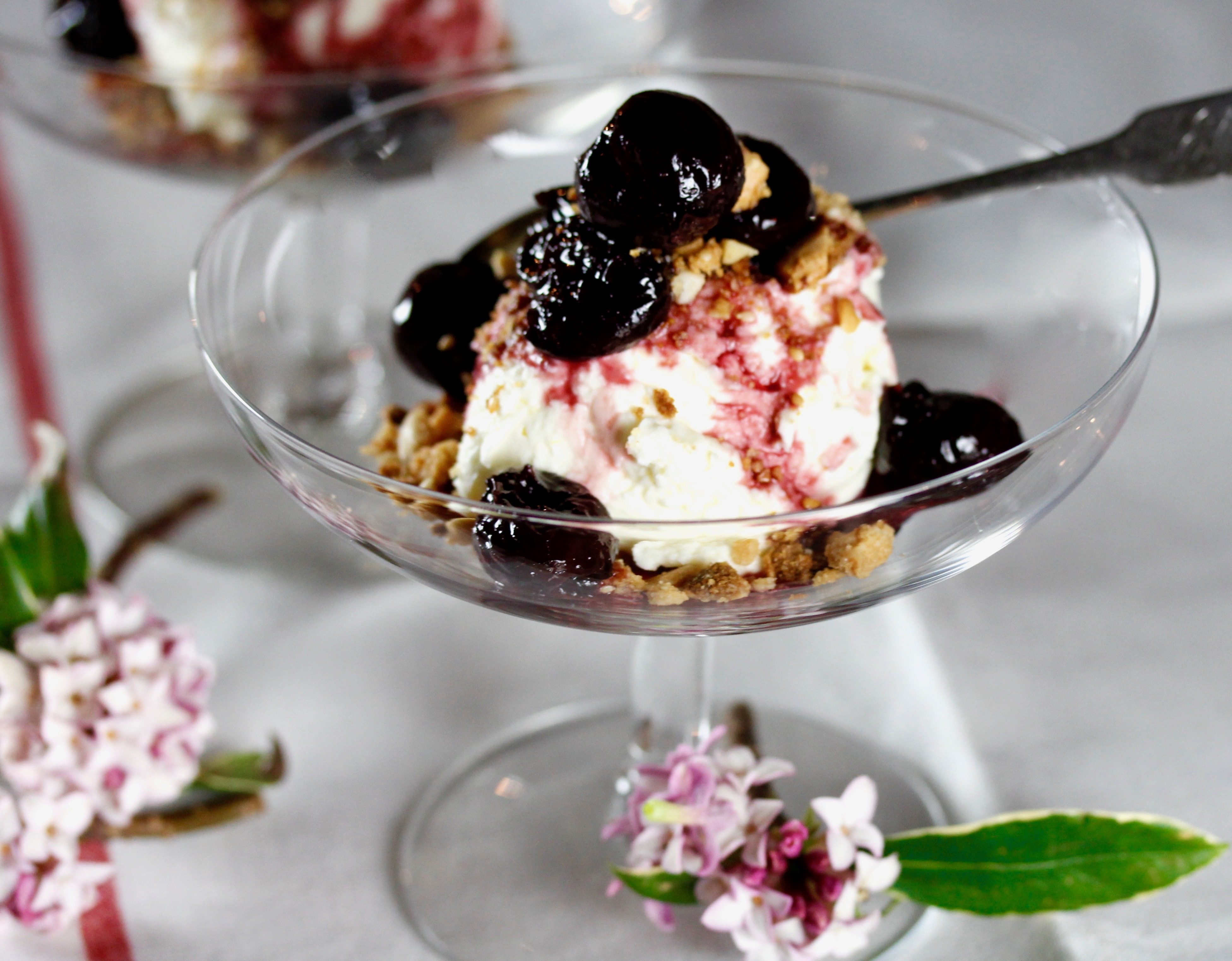 I love simple recipes because they're the ones that keep us cooking. They're faster, require fewer ingredients, and make us more willing to cook because we know we're not getting ourselves into an all-day project – but the final result will still be special and worth the effort.
Studies show that people who cook for themselves have healthier diets, if for no other reason than they're not ingesting the chemicals found in pre-packaged foods. You know the rule of thumb: if you can't pronounce the ingredients on the side of the box, you probably shouldn't be eating them.
This Yotam Ottolenghi cheesecake, from his cookbook Ottolenghi Simple, is going to be our Easter Sunday dessert. He calls it his Sweet and Salty Cheesecake with Cherries, and it's wonderful not only because it's delicious but because you can make it in advance and put it together right before serving. If you're producing a big meal, an easy-to-assemble-yet-still-spectacular dessert is the perfect solution to that feeling when you've been cooking all day and you're starting to run out of steam by the time you get to dessert prep. I tried this recipe with frozen cherries and ripe cherries (it was a fluke that the grocery store had them at this time of year,) and I thought the fresh cherry version was definitely next level. I hope you love it!
Ottolenghi's Sweet and Salty Cheesecake with Cherries
Adapted from Ottolenghi Simple
Serves: 6-8
Prep time: 90 minutes, not including time for cheesecake batter to set

Ingredients
For the cheesecake:
3 1/2 ounces feta cheese
10 ounces cream cheese, room temperature
1 teaspoon lemon zest
½ cup plus 1 tablespoon heavy cream
For the crumble:
¾ cup blanched almonds, chopped
2 tablespoons unsalted butter, cold and diced
2/3 cup almond meal
2 tablespoons sugar
1 tablespoon black sesame seeds (or white)
1/8 teaspoon salt
For the cherry compote:
1 pound, 5 ounces frozen, pitted cherries, defrosted
7 tablespoons sugar
4 strips of orange, peeled finely from fruit
2 tablespoons olive oil, to serve
Directions
Break the feta cheese down in a large bowl to make as smooth as possible. Add cream cheese, sugar and lemon zest and whisk to combine. Gently whisk cream into mixture and leave to set in the refrigerator until ready to use. (cheesecake mixture keeps up to three days.)
Preheat oven to 400 degrees.
To make the crumble, put almonds, butter, almond meal, and sugar in a bowl. Rub the butter into the other ingredients with our fingers until mixture is the consistency of breadcrumbs. Add sesame seed and salt and spread out on a baking sheet. Bake 12 minutes, or until golden brown. (this crumble keeps up to a week.)
To make the compote, put cherries, sugar, and orange peel into a medium pan and bring to a boil over medium-high heat until sauce thickens. Set aside to allow to cool and remove anise and orange peel.
When ready to serve, spoon cheesecake into a dessert bowl and top with some of the crumble. Spoon on the cherry compote and add more crumble. Drizzle with olive oil and serve.
Note: The original recipe called for star anise in the compote, and hazelnuts in the crumble. I opted to leave out the anise, on the basis that I can't stand the flavor of anise, and I prefer almonds to hazelnuts because hazelnuts can be bitter. If you want to go with the original recipe, ad four pods of anise to the compote to cook with orange peel, and substitute almonds for hazelnuts.