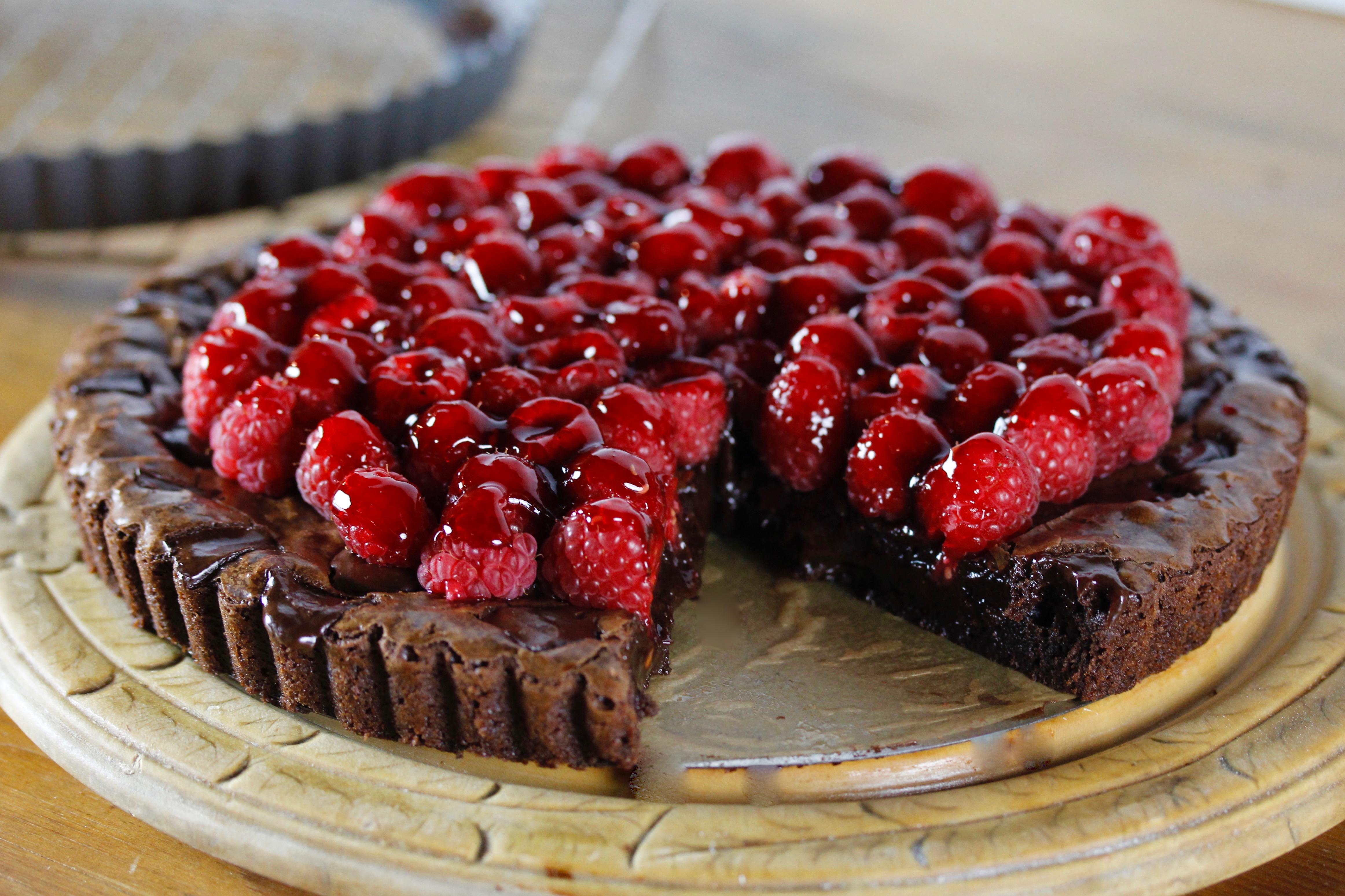 If you like a gooey brownie, then you will love this simple tart. I really appreciate an easy recipe that makes a beautiful presentation and this dessert fits perfectly into that category. It takes about ten minutes and some fresh raspberries to turn an ordinary pan of brownies into a guest-worthy dessert. Sometimes just changing the shape of the pan can make all the difference, and I used a round tart pan with a separated bottom lining to make lifting the tart out of the pan nice and easy.
If you're short on time, you can substitute a box brownie mix for the recipe below and add chocolate chunks – it won't taste as good as the brownie recipe below, but sometimes time is the one thing we don't have – especially if you're putting together a big Memorial Day meal.
Just arrange the berries on the brownie tart, brush with a light jam-based glaze, and you've got a gorgeous (and delicious) treat.
Raspberry Brownie Tart
Serves: 6
Prep time: 40 minutes

Ingredients
1 cup sugar
½ cup dark brown sugar
1 cup flour
¾ cup unsalted butter, melted
3 eggs
1 teaspoon vanilla
¼ cup cocoa powder
¾ teaspoon salt
1 1/3 cups dark chocolate, broken into chunks (I used 66% cacao but use the dark chocolate you like best)
2 pints fresh raspberries
6 ounces raspberry preserves
Directions
Preheat oven to 350 degrees.
Line a brownie pan with parchment paper, or using a tart pan with a separate bottom, spray with cooking spray.
Mix together flour, cocoa, and salt and set aside.
Melt 1 cup of the dark chocolate in the microwave or use a double boiler, stirring until melted.
Combine sugar, melted butter, brown sugar, eggs, and vanilla in the mixer and beat on high about one minute. Turn mixer speed to low and slowly pour melted chocolate into the sugar and egg mixture, then fold in flour. Bake 30 minutes and allow to cool completely. Remove brownies in one piece from pan and top with fresh raspberries.
In a small saucepan, heat the preserves on low heat until melted. Strain to remove seeds from the preserves, and brush light on the raspberries.