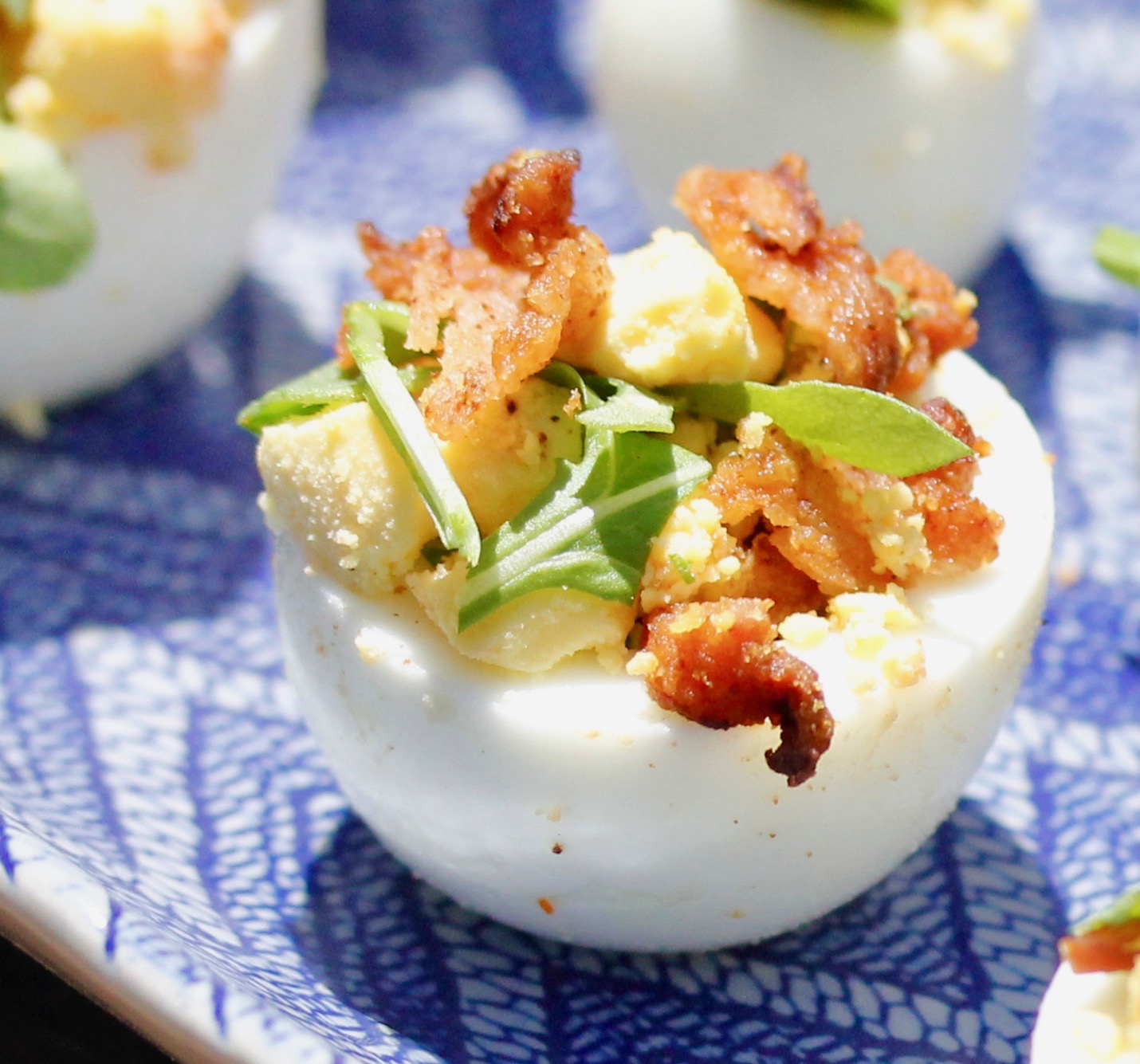 I've always loved deviled eggs, but can't help but think of them as food from the Fifties. Like you'd expect to see a plate of them being artfully arranged by June Cleaver as the Beaver comes home from school and asks if he and Whitey can go outside and ride bikes. Deviled eggs are a classic, and all classics can benefit from an occasional gussying up so I've turned these eggs on their sides – literally.
They're still comfort food, but they look cool. The bit of bacon on top makes them absolutely mouthwatering (full disclosure, I've been trying different types of vegetarian bacon in an effort to be healthy, but none of them are good enough. You need the real thing here.) Add a few quail eggs for variety; they also make a chi chi little pop-in-your-mouth hors d'oeuvre at cocktails.
It's like taking a bite of a particularly good egg salad sandwich, with the sriracha preventing any possible opportunity for blandness. Mrs. Cleaver would approve.
Sideways Deviled Eggs
Serves: 10-12
Prep time: 1 hour

Ingredients
1 dozen hen's eggs
1 dozen quail eggs
5 strips well-cooked bacon
1/3 cup shredded arugula
½ teaspoon sriracha (unless you like it hotter)
Directions
Boil eggs for 10 minutes over low heat. Cool and peel eggs carefully, slicing the hen's eggs in half at the widest place on the egg. Slice the top third of the quail eggs off and set aside. (Eggs are easier to eat when they're cut across the width because they're smaller.)
Remove yolks from the eggs and place in a bowl.
Roughly break up yolks and lightly mix in sriracha. Put yolks back into egg whites, and top with bacon and arugula. Serve.