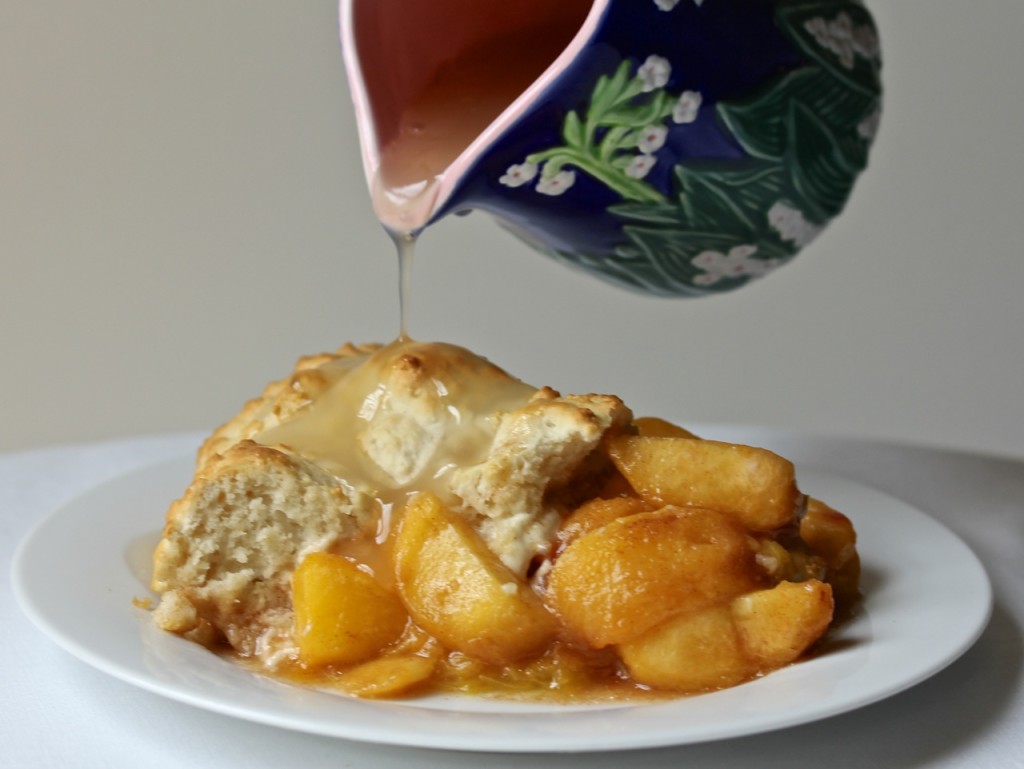 The Peach is the thing.
If you have nice, ripe peaches for this dessert it will be heavenly!  And it's so fast to put together – you can even use Bisquick instead of the shortcake recipe if you're pressed for time (I certainly have done that before).  The vanilla sauce brings out the flavor of the peaches.  And if there are leftovers, it's good for breakfast.
Serves 6
Prep Time: 25 minutes

Ingredients
2 cups all-purpose flour
1 /2 cup hot milk
1 and 1/2 teaspoons baking powder
1/2 teaspoon salt
1/3 cup sugar
10 Tablespoons cold unsalted butter
7 large ripe peaches, peeled and sliced
3/4 cup sugar
1 teaspoon cinnamon
1 Tablespoon cornstarch
Dash of nutmeg
Directions
Mix sugar, cinnamon, nutmeg, and cornstarch into sliced peaches.
Mix flour, baking powder, salt, and sugar.
Cut butter into flour mixture, and add hot milk.
Mix until it forms wet dough.
Pour peaches into a 9-inch pan and top with dollops of dough.
Bake 30 minutes at 425 degrees
Vanilla sauce:
Ingredients
1/2 cup sugar
1 and 1/2 teaspoons cornstarch
1 cup boiling water
1 teaspoon vanilla
2 Tablespoons lemon juice
2 Tablespoons of butter
Directions
Mix sugar and cornstarch together in a saucepan over medium heat.
Gradually stir in boiling water.
Boil one minute, stirring constantly.
Stir in butter, vanilla and lemon juice.
Sauce should be slightly thicker than maple syrup.
Serve sauce hot, in a small pitcher or bowl.
Ladle it over the peach cobbler as it is served.