There are some extraordinarily inventive event planners out there – a whole new generation of people with fresh ideas and great execution, and from time to time I want to share the beautiful work that so many of them are doing.  Ritzy Bee Events is an event design, planning and production firm specializing in custom wedding experiences in the Washington DC area – and also happens to be one of my absolute favorite blogs.  With fifteen years of event experience between them, owners Maria Baer and Kelly Seizart bring intensive focus and fresh perspective to each of their events.  Their style is elegant, understated, and refined, and though weddings are their specialty, the Alice in Wonderland birthday party they planned for one of my girls several years ago left me speechless at the imaginative elements they assembled.
Maria and Kelly are the authors of "The Southern Living Wedding Planner" and their work appears regularly in national publications, including Martha Stewart Weddings, BRIDES, Southern Living, Town and Country Weddings, Washingtonian, and other esteemed online media outlets.  I've asked them to send me photos of some of their favorite entertaining elements, to provide inspiration for your own party plans.
We love Washington event venues because their facades are grand and iconic and they often require very little outside décor.  Simple greenery and floral garlands on doorways and walls soften the stone features and provide color.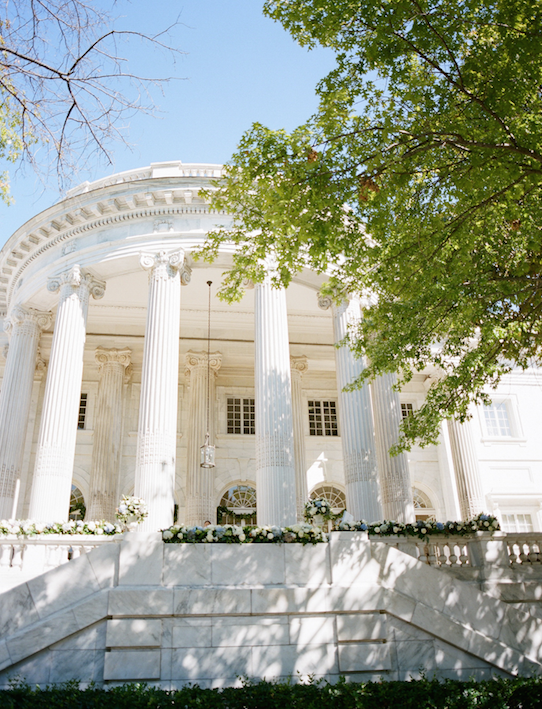 We always like to ensure that food station displays are perfectly styled and decorated; from the linens and the flowers to the china and flatware, every detail should work together flawlessly.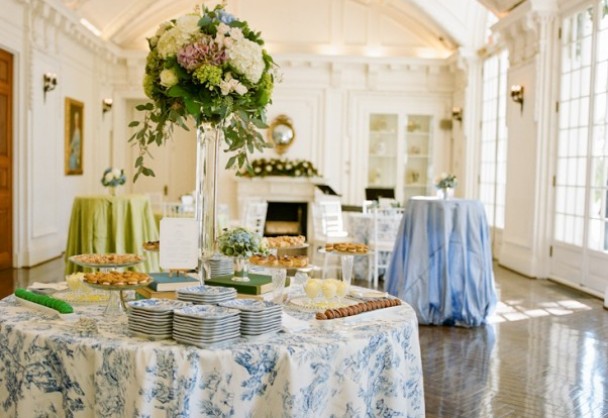 At more casual affairs (like this engagement party, which buffet  stations), we love to display the entire menu so that guests know what's being served and even where the food comes from, if it's local fare.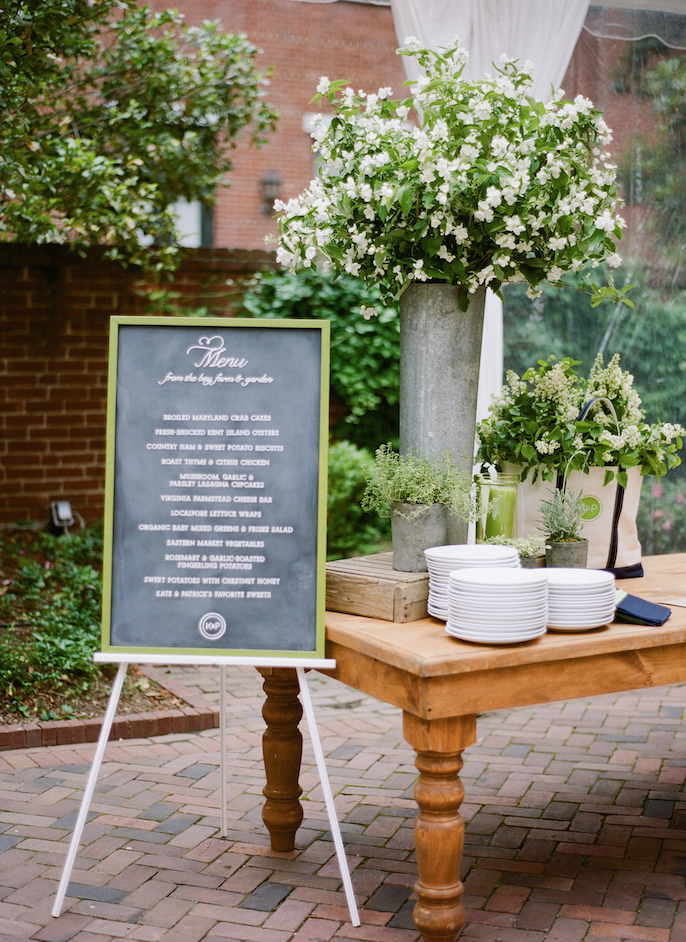 This engagement party dinner was informal but with an upscale flower/farmer's market appeal.  The flowers are simple and displayed in galvanized containers for a rustic feel.  The embroidered, monogrammed tote bags were made by us for the couple.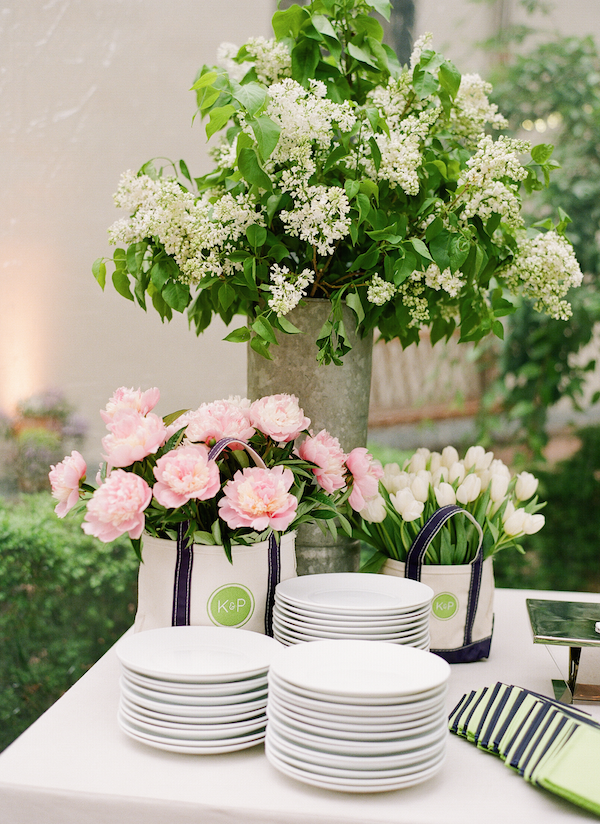 Passed appetizers should have their time to shine!  We love creating interest with different textures, colors, and serving options, as well as including a note on what is being served.  (This is especially important since many people have food allergies.)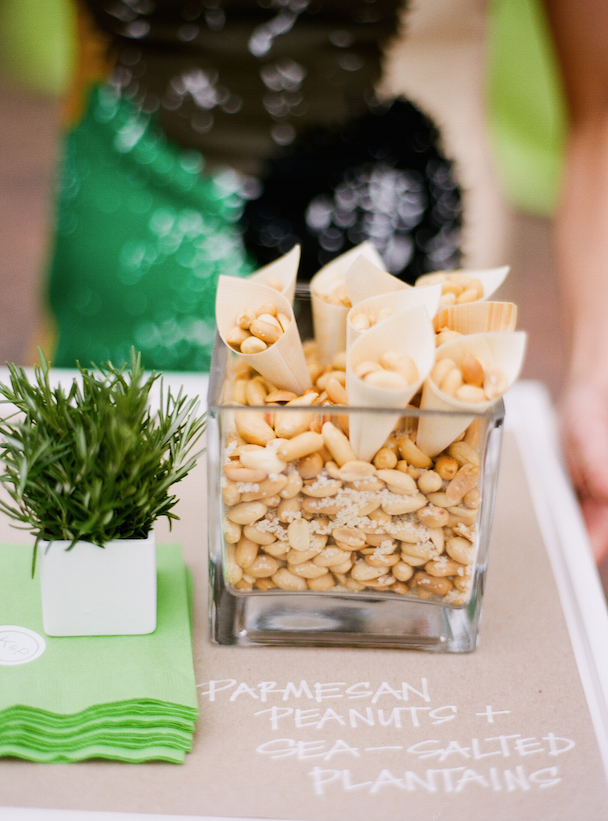 When seating a large guest list, we love to create visual interest by mixing round and rectangular tables.  At this event we also mixed things up with the chair colors, and used a patterned navy linen on the round tables and a solid green linen on the rectangles.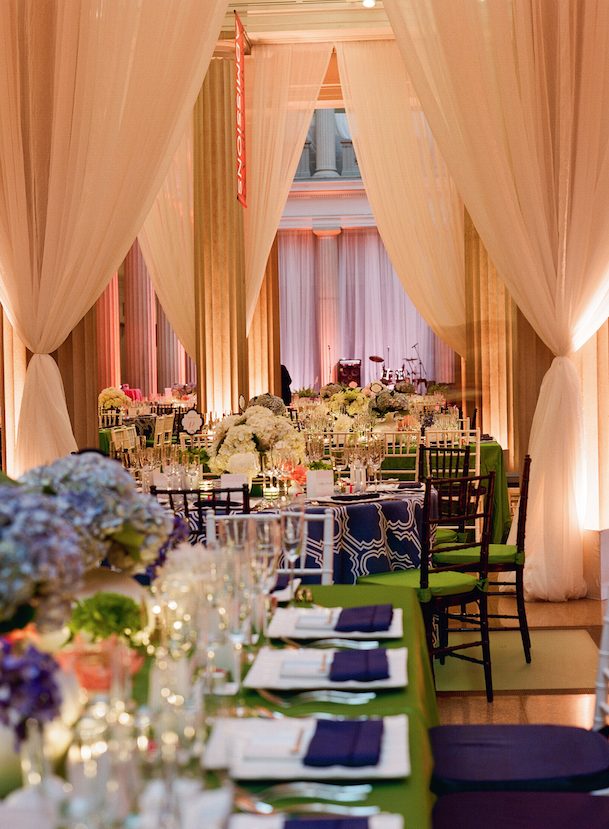 Mixing textures and colors at events is a must!  An accordion-folded menu served a dual purpose by also acting as a place card, with pretty calligraphy on the front.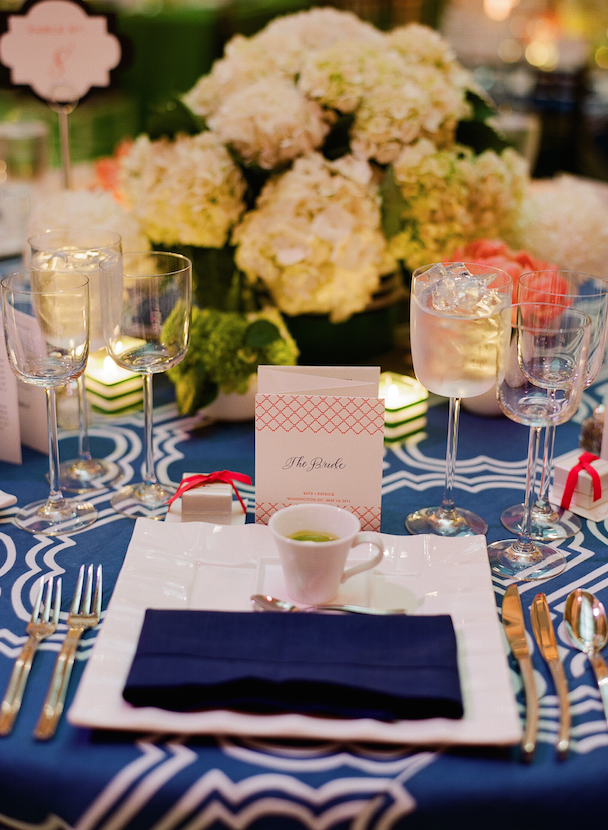 Ritzy Bee website: http://ritzybee.com
Ritzy Bee blog: http://ritzybee.typepad.com
Photos by Kate Headley Photography: http://kateheadley.com