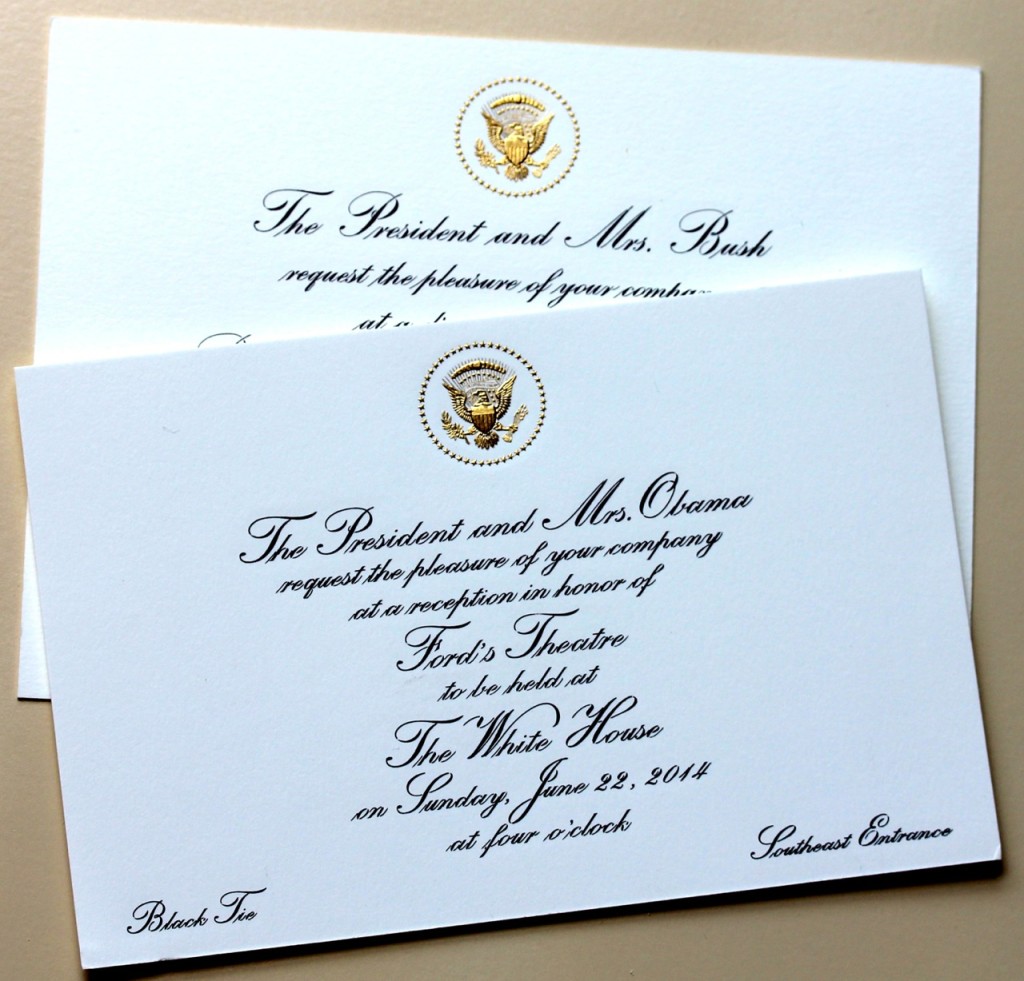 Many people I meet seem to have an unquenchable curiosity about life in the White House.   They ask what it was really like to be around the President and First Lady, what I wore, how I learned about Protocol, how the menus were created, what the best party was – though more often than not they want to hear about the worst party.  (Who doesn't love a good party disaster story?)   So let's dip into the full White House experience, and imagine that you have been invited to a White House party:
One day you open your mailbox and find a thick ecru envelope with "THE WHITE HOUSE" stamped in gold in the upper left corner.  Your name is inked in beautiful script across the front by the White House calligraphers, with each successive line of the address indented a bit until your address covers the envelope like a Victorian love letter.  Inside you find an engraved invitation and an enclosed card asking you to respond to the White House Social Secretary at your earliest convenience.  Of course you respond – because the leader of the Free World just invited you to his home, which is also the People's House, and it is an honor to be asked to visit!   Tish Baldridge, White House Social Secretary to Jacqueline Kennedy, put it this way:
If you are invited to a meal in the White House, it is, figuratively speaking, a command performance.  The only reasons that make it acceptable to regret such an invitation are a death in the family, absence from the country, or illness.  In all cases a White House invitation should be taken seriously.
The day of the party arrives, and you turn up at the White House gate, identification in hand.  There are magnetometers and x-rays – about the same technology you would encounter at an airport.  (We once had a guest who turned to the Secret Service agent as she was about to go through the mags and asked, "Will they be able to tell that I'm wearing two pairs of Spanx?"  If it makes you feel any better, they couldn't.)
Then it's into the East Wing for a stroll down the corridor lined with photos of past first families; the East Garden is visible through the windows on your left and the White House Theater on your right, which is often used as a coat check, so take a peek inside at the red velvet hangings and cushy chairs.  From there, you'll walk into the main part of the White House and find the Library to the right and the Vermeil Room to the left (home of the White House collection of gilded silver and the portraits of several first ladies).  The ladies' room is accessible through the Vermeil Room, where guests sometimes pilfer the hand towels with the presidential seal on them.  A White House Usher once came upon a guest lurching out of the ladies' room, barely able to bend her knees or elbows.  She had stuffed every available presidential paper towel down her pant legs and coat sleeves.   This sort of thing is gently discouraged.  And they will find you when you try to sell that stuff on Ebay.
Assuming you bypass the bathroom thievery, proceed up the marble steps to the Grand Foyer of the White House.  Seeing people come into the Grand Foyer used to be one of my favorite things.  It's often a very emotional moment; people gaze around in awe; some get teary; others giggle giddily.   It would take a tragically blasé person not to feel overawed.  You are realizing that you belong here, and you share in the heritage of this historic place.  It will be an unforgettable moment.
There may be a program in the East Room, where little gold chairs will be placed around a stage.  A printed program is likely to be waiting on your seat.  There will be some "Reserved" cards on the front row seats; don't sit in those.   You may notice that there are attractive young military officers in uniform stationed around the party; these are the Social Aides and they are there to help guests move around the State Floor and to answer any questions you might have.   The President will be announced in, followed by the Marine Band playing "Ruffles and Flourishes," or as it is sometimes known, "Hail to the Chief."  It's a stirring bit of music that gets the heart pumping like a bugle call from an ancient battlefield.  Time and history stand still in that moment, as you imagine how many presidents have been played in before this.  Fast forward through the program  (could be anything from a Helping America's Youth lecture to the Asian-Pacific Heritage Celebration).   While you are sitting there, think about the fact that Abigail Adams used to hang her laundry in this room, and Teddy Roosevelt hosted prize fights in a ring in the middle of it.   President Lincoln's body lay in state in the East Room.  It's a powerful place.
After the program, it's party time!  The State Floor rooms will be open for you to wander about (be sure to take in the view of the Washington Monument from the Blue Room windows), and there will be a buffet in the State Dining Room.  There will be all manner of delicious foods and little round tables where you can sit and enjoy yourself.  At this point you will want to take more pictures (I know you've been doing that all along, but this is a good opportunity to pose in front of the portrait of your favorite modern president.)  The Green Room used to be Thomas Jefferson's dining room, and the window seats there were my favorite place to perch and listen to the entertainment in the East Room at the end of a big party.
Sadly, it will eventually be time to leave.  Social Secretary tip: taking a cookie for the road is a souvenir; cutting a piece of fabric out of the curtains falls more into the category of vandalism, so try to think of your written invitation (and your cookie) as your souvenir.  Most parties last about two hours.  If you see the Social Aides starting to gently steer guests toward the door, it's time to leave.  I know it's hard to go, but there's a decent chance that the Residence staff are about to set up for another party, or put the State Floor back in order for White House tours, so they're not trying to rush you out.  They just have to get on with their day.    The only thing I've left out of this description is the Receiving Line and Photo Op, which I will save for another time because there is so much to tell.