Crust adapted from the Oh She Glows cookbook.
Serves: 6
Prep time: twenty minutes for the cookie crust, 20 minutes to cut and place fruit
For the crust:
Ingredients
1 Tablespoon ground flaxseed
3 tablespoons water
¼ cup vegan butter or coconut oil
¼ cup roasted almond butter
½ cup brown sugar
½ cup coconut sugar or cane sugar
1 teaspoon vanilla
½ teaspoon baking soda
½ teaspoon baking powder
½ teaspoon salt
1 cup rolled oats, blended into a flour consistency
1 cup almonds, blended into almond meal
Directions
Preheat oven to 350 degrees.
Line a baking sheet with silpat or parchment paper.
In a small bowl, mix together the flaxseed and 3 tablespoons of water, and set aside to thicken for five minutes.
Beat vegan butter and almond butter in a mixing bowl fitted with a paddle attachment. Add sugars and beat for one minute. Beat in the flaxseed and vanilla until combined.
Then beat in baking soda, baking powder salt, oat flour and almond meal, one at a time. The dough will be sticky.
Place dough on a baking sheet with a silpat sheet, and form with your hands into the desired shape. Refrigerate for 15 minutes. (Dough will spread, so allow enough space around outside of crust for it to expand.)
Bake for 15 minutes. Allow crust to cool before putting other ingredients on dough.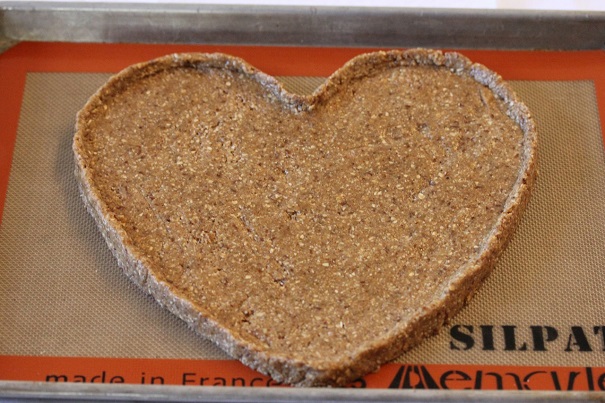 For the acai sauce:
Ingredients
1/3 cup Acai reduction
1 13.5 ounce can of coconut cream (found in Asian markets – or liquor stores for making pina coladas)
Directions
Mix acai and coconut cream together and set aside.
For the fresh fruit:
Ingredients
1 cup each of six different kinds of fruit of your choice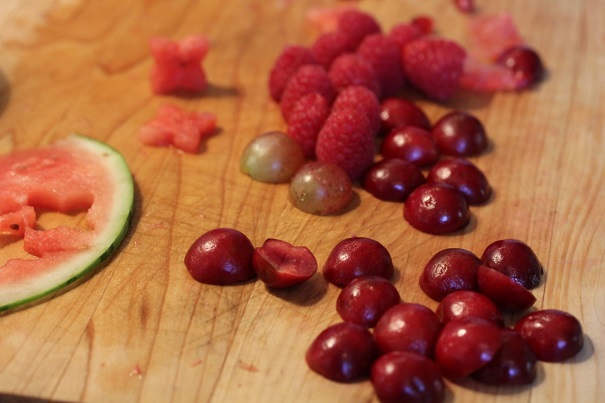 I used:

Ingredients

pink grapefruit, cherries, red raspberries, watermelon, pomegranate seeds and red grapes.

Directions
When all the fruit has been cup up and ready to be placed, spread the acai sauce across the top of the cookie crust.
Layer fruits in any design and serve.