"If I wanted to bring a large number of deviled eggs, but I didn't want to share them with anyone else, can you guarantee fridge space?"
-Ron Swanson, Leslie's House, Season 2, Episode 14
Serves: Ron Swanson
Prep time: 15 minutes, plus 15 minutes to boil eggs and another hour for them to cool in refrigerator

Ingredients
1 dozen eggs
3 tablespoons Miracle Whip mayonnaise
salt and pepper to taste
½ medium white onion, grated finely
Directions
Boil eggs for 15 minutes until they are hardened.
Peel eggs and carefully slice eggs in half, the long way.
Ease egg yolks out into a bowl.
Add mayonnaise, grated onion, salt and pepper to the egg yolks, and whip with hand mixer until egg filling is smooth.
Using a teaspoon, fill hard-boiled egg whites with the egg yolk mixture, and refrigerate for several hours.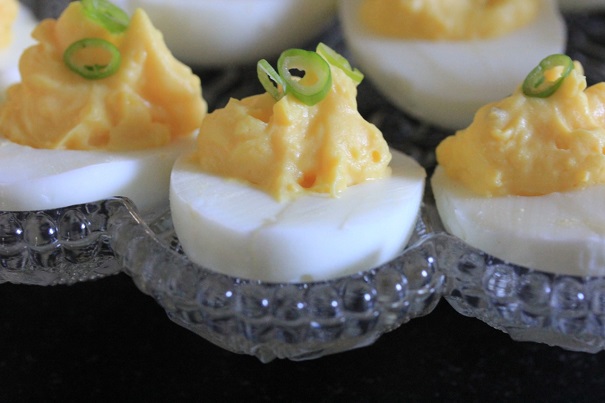 Notes from my mother about this recipe: "Be sure to get one of those cute egg dishes with the little indentations for putting the eggs in. Otherwise they slide all over the plate and you can lose the whole batch if you trip." And "I don't like to put the onion in because it comes up on me."