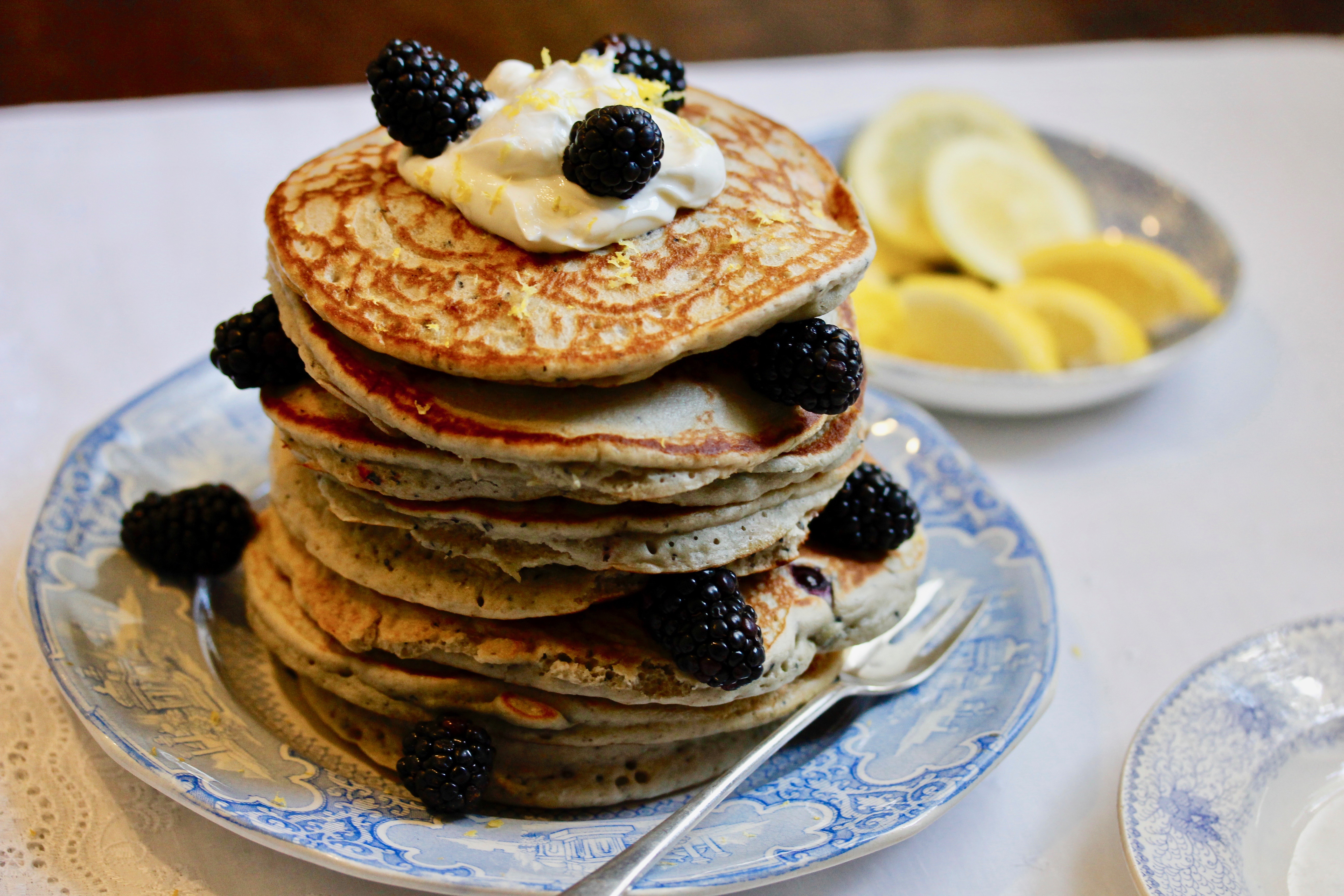 You know what makes good pancakes? Bisquick. There it is – the secret's out. You don't have to make pancakes from scratch every time – I mean, who doesn't have other stuff to do on a Sunday morning, like sleep? I add things to the Bisquick pancake dough to elevate it a bit – in this case, fresh blackberries and a squeeze of lemon juice. The blackberries turn the dough slightly blue, which is pretty and fun, and the lemon keeps it all from getting too sweet (especially if you top with yogurt instead of maple syrup.)
And so much of life is a matter of presentation: a tall stack of same-sized pancakes makes a breakfast statement that has to be appreciated, however simple they might be. So whip up a tall stack, pile on the fruit, and enjoy!
Blackberry Lemon Pancakes
Serves: 4
Prep time: 15 minutes

Ingredients
2 cups Bisquick baking mix
1 cup whole milk
2 large eggs
½ cup blackberries plus another ¾ cup for garnish
Zest of ½ lemon
Squeeze of lemon juice
1 cup plain yogurt to top pancakes, or syrup
Directions
Mix baking mix, milk, eggs and ½ cup blackberries in a food processor (to crush the blackberries and get a nice blue batter.) Add lemon juice and mix in. If you don't care about having blue batter, chop the blackberries roughly and mix into the batter by hand.
Cook pancakes, making them a uniform size as much as possible and stacking up on a hot plate.
Top with yogurt or syrup, blackberries, and a sprinkling of lemon zest and serve immediately.