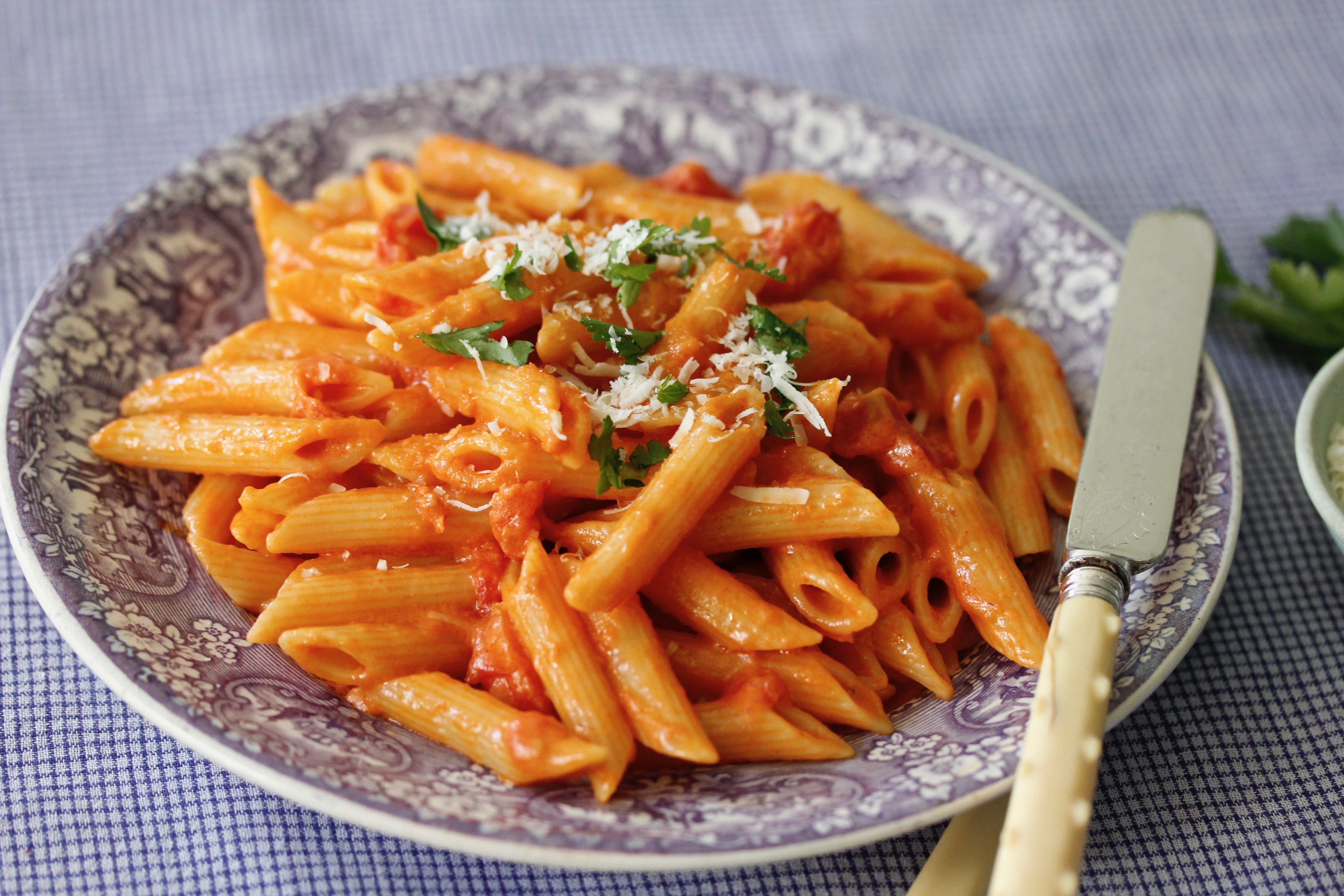 There are plenty of ways to make this ultimate Italian comfort food, but this version is my favorite. It's certainly the simplest! You can add grilled chicken to the recipe if you want it to be more substantial, but as written it's the most deeply satisfying meal imaginable. My favorite time for penne alla vodka is when you've been traveling for a couple of days, skipping meals or eating granola bars for dinner – or worse, inhaling half the (stale) contents of the hotel room minibar. Those are the times when coming home to a meal that soothes your soul and your tastebuds makes home seem like the greatest place there ever was. This is a homey recipe you can relax into and enjoy. The leftovers, popped into a baking dish, topped with parmesan, and baked for 20 minutes at 375, are equally heavenly.
Penne alla Vodka
Serves: 6
Prep time: 40 minutes
Ingredients
28-ounce can Italian plum tomatoes with liquid
1 pound penne pasta
salt for water to boil penne
¼ cup olive oil plus two tablespoons for finishing the sauce
10 cloves of garlic, peeled
¼ cup vodka
¾ cup heavy cream
1 teaspoon red pepper flakes, crushed
3 tablespoons fresh chopped parsley
2/3 cup Parmesan cheese, freshly grated
Directions
Bring 6 quarts of water to boil, with salt, on high heat.
Pour the tomatoes and liquid into a food processor and pulse until finely chopped.
Pour the penne into the boiling water and cook pasta, stirring occasionally, for 8-10 minutes until done.
Heat ¼ cup olive oil in large skillet at medium heat. Peel garlic cloves and add to the hot oil, browning garlic (about 3 minutes). Add tomatoes to pan and bring to a boil. Add red pepper and boil for two minutes. Add vodka and lower heat to a simmer.
Remove garlic cloves from sauce and add cream and two tablespoons of olive oil.
Drain pasta and add sauce, bringing pasta and sauce to a boil and mixing well. Adjust the salt and add more red pepper if desired.
Sprinkle ¾ of the parmesan over pasta and toss to mix, then serve immediately, garnishing with remaining parmesan.