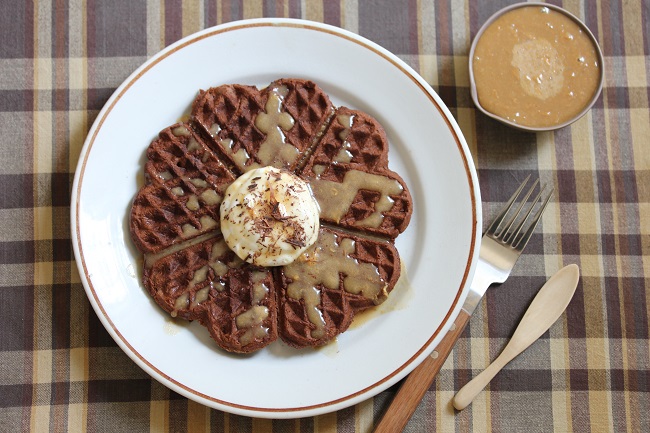 If you love chocolate and you love waffles, this is the perfect, decadent, brunch recipe. It would also be a terrific pre-made food on a brunch buffet; you can easily pick it up and eat it (basically using your hands). You can also adjust the amount of milk and eggs in the recipe to suit your taste: if you like a rich, cakey waffle that the syrup soaks into and imbues with the candy bar-like flavors of maple syrup and peanut butter, use an extra egg and a little more milk in the batter. If you want a thin and crispy cookie/waffle to dip into the yogurt or syrup and eat as a finger food, use the recipe as shown. The thinner the batter, the crispier the waffle.
This is a versatile recipe with the same end result: it's essentially a Reese's Cup reincarnated as a waffle.  It's not the healthiest brunch food I've ever made, but I think of it as an indulgence: a reward for a hardworking week or the centerpiece of a really amazing brunch party.  You deserve it!
Whole Wheat Chocolate Waffles with Peanut Butter Maple Syrup
Serves: Makes 3 large waffles
Prep time: 25 minutes
Ingredients
2 cups whole wheat flour
1 cup semisweet chocolate chips
2 tablespoons cocoa powder
½ cup butter
½ cup milk
1 cup sugar
3 eggs
¼ teaspoon salt
1 teaspoon vanilla
1 cup plain yogurt or crème fraiche
1 ½ cups maple syrup
2 tablespoons creamy peanut butter
2 tablespoons shaved chocolate for garnish
Directions
Melt the butter and chocolate chips in a small saucepan at low heat.
Set aside and allow chocolate mixture to cool.  Add eggs, milk, vanilla and sugar to chocolate mixture.

Sift flour, cocoa powder and salt and add to chocolate mixture.  Batter will be thick, but if it doesn't spread easily on to the waffle iron, add more milk to thin it a bit. (I prefer a cake-like waffle, but if you want more of a crisp brownie, use 2 eggs instead of 3 and don't add any additional milk.)
Preheat waffle iron and spray with nonstick cooking spray.
Pour the batter into the middle half of the waffle iron and spread to the edges with a spoon. Close iron and allow to cook about 3 minutes.

When waffle is done it can be removed easily with a fork and flipped on to a plate. If it sticks, it's not done and needs another minute or two.
In a blender, mix peanut butter and maple syrup  until well-combined.
Serve immediately.