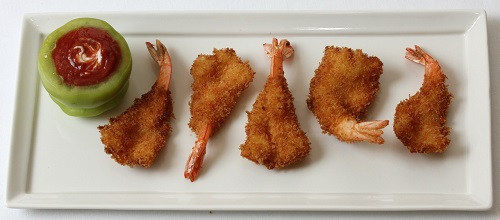 Serves: 4

Ingredients
12 pieces of medium shrimp
1/2 cup flour, seasoned with 1 teaspoon salt and 1/4 teaspoon freshly ground pepper
2 beaten eggs
1 cup Japanese panko crumbs
Canola oil for frying
Directions
Peel and butterfly shrimp.  Run the tip of your knife from the wide end of the shrimp on the underside and slice along, but not through, to the tail.
Season shrimp with salt and pepper.  Coat shrimp in flour, then dip in eggs, and coat with panko.
Heat 1 inch of canola oil in frying pan to medium-high heat, but the oil should not be smoking.
Drop shrimp into oil for a minute, then turn once and remove when golden brown. Allow to drain on paper towels.  Serve immediately with dipping sauce.
Horseradish Dipping Sauce
I'm a little embarrassed to be typing this up because cocktail sauce is such a common thing, but in the interest of thoroughness: take a cup of ketchup and combine with a tablespoon of fresh, finely-grated horseradish.  You can adjust the horseradish to your own taste – a tablespoon is a lot of heat, so start with less and add more until your eyes are watering at the appropriate level.  If you're using horseradish from a jar, I'd use less because it's not as strong as the fresh root.