-from the Primrose Bakery Book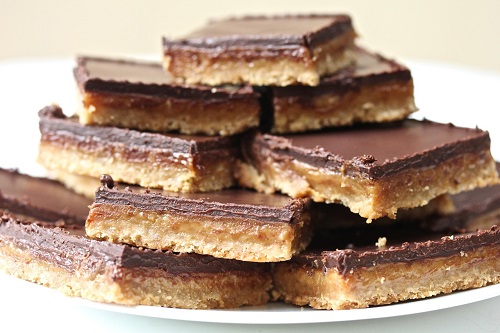 Yield: 12
Prep Time:one hour for preparation, 2 hours waiting for biscuits and caramel to cool
Biscuit Base:

Ingredients
1 ¼ cups flour, sifted
½ cup brown sugar
¾ cup dessicated coconut
Directions
1 cup (or 8 tablespoons) of butter plus 6 tablespoons butter, melted, and more for greasing panCaramel filling:
1/3 cup golden syrup (Golden syrup is a British product, which can be found at World Market, or specialty groceries.
It's a form of pale treacle, and while I have not tried this, it is said that corn syrup can be substituted for it.)
9 tablespoons butter
14 ounces condensed milkChocolate topping:
10 ½ ounces good-quality dark chocolate, broken into small pieces
(chocolate should be at least 70% cocoa solids)
2 tablespoons corn oil
cocoa powder for dusting
Preheat oven to 350 degrees.  Grease large rectangular baking sheet.  Line with parchment paper and extend paper above sides to you can lift out the entire slice when ready.
For the biscuit base, sift flour and sugar into a bowl.  Add coconut and better and mix together with mixer.  Press mixture firmly into baking sheet and bake 10-15 minutes, until golden brown.
To make the caramel, put the golden syrup, butter and condensed milk into a saucepan over low heat until butter is melted.  Continue cooking for 7-10 minutes as the caramel thickens and darkens in color.  Pour over prepared based and put back in oven for 20 minutes.
Remove from oven.  Once it has cooled, prepare chocolate topping by melting the chocolate and oil together in a heatproof bowl set over a saucepan of simmering water, or in a microwave for one minute.
Pour the mixture over the caramel and smooth gently over the top.  Allow to set before removing the whole slab from the baking sheet, then cut into slices.  Sprinkle with cocoa powder over the top before serving.
Keeps in airtight container for 3 days.