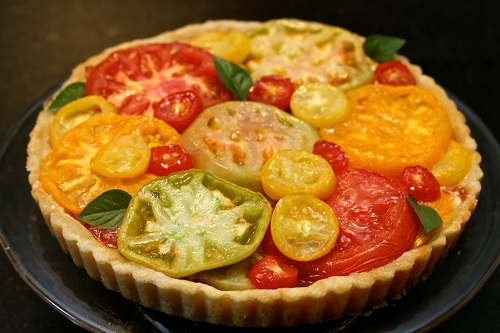 Serves: 4-6
Prep time: one hour, fifteen minutes
For the Crust:
Ingredients
1 teaspoon kosher salt
½ cup flour
½ cup whole wheat flour
½ cup unsalted butter, chilled and cut into 1/2 –inch cubes
2 cups grated parmesan cheese
2 tablespoons ice water

For the Tarts:

2 ½ to 3 pounds mixed heirloom tomatoes, mixed sizes and colors
2 ounces chevre (goat cheese)
1 jar heirloom tomato preserves

For the Garnish:

Handful of fresh basil leaves
Coarse sea salt
1-2 tablespoons extra virgin olive oil
Directions
Preheat oven to 380 degrees. 
Place flours, butter and cheese in food processor; pulse until mixture is loose. 
Add water until dough comes together and holds its shape. 
Turn dough into 9 or 10-inch tart pan, starting at the center and working out, press the dough into a pan in an even layer. 
Refrigerate for 15 minutes.
While dough chills, slice tomatoes thickly, then lay the slices out on paper towels and salt lightly. 
This will draw excess moisture out of the tomatoes.
Remove the chilled tart shell from refrigerator and prick with tines of a fork, then line with parchment and fill with pie weights. 
Bake crust 10-15 minutes, until lightly golden. 
Remove from oven and allow to cool. 
Remove pie weights. 
Spread heirloom tomato preserves in an even layer across the tart crust, then drop dollops of goat cheese across the preserve. 
Layer the cut tomatoes across the top, then return to oven for additional 20-25 minutes, until crust is deep golden brown.
Garnish with basil leaves and sprinkle of sea salt. 
Drizzle with olive oil and serve tart at room temperature.