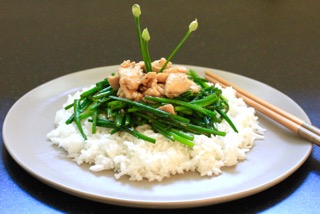 Serves: 4
Prep time: 20 minutes plus 20 minutes to marinate the chicken

Ingredients
2 chicken breasts, skinless, boneless and cut into strips
4 tablespoons peanut or canola oil
2 thin slices of ginger
large bunch of Chinese leeks, cut into 3-inch lengths
2 tablespoons oyster sauce
1 tablespoons soy sauce
For the chicken marinade:
Ingredients
2 cloves of garlic, minced
1 teaspoon cornstarch
½ teaspoon black pepper
1 tablespoon soy sauce
½ teaspoon sesame oil
1 teaspoon sugar
Directions
Mix the marinade ingredients together and add raw chicken strips.
Marinate the chicken for 20 minutes.

Heat 2 tablespoons of oil in wok or large frying pan until smoking hot.

Add chicken and stir fry about two minutes until chicken is cooked through.

Remove the chicken and set aside in a bowl.
Clean the pan and heat the remaining 2 tablespoons of oil until smoking.
Add the ginger and the leeks.

Add the oyster sauce and the soy sauce, while stirring constantly.

Cook for two minutes and add the cooked chicken. Mix well.

Serve with steamed rice.