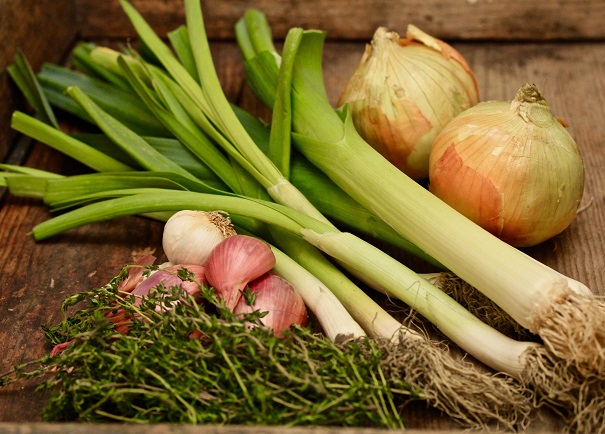 Serves: 4
Prep time: 1 hour 30 minutes
Adapted from House and Garden UK

Ingredients
2 ounces unsalted butter
1 tablespoon olive oil
21 ounces sweet onions, peeled, halved and sliced thinly
300 grams banana shallots, peeled, halved and sliced thinly
2 leeks, trimmed and sliced finely (white and green parts only)
salt and fresh pepper to taste
1 teaspoon sugar
4 garlic cloves, peeled and thinly sliced
2 tablespoons plain flour
8 ounces dry white wine
1 quart and 8 ounces of beef stock
4 slices French bread
4 ounces Manchego cheese, finely grated
1 teaspoon thyme leaves
Directions
Melt the butter and oil in a heavy saucepan. Add onions, shallots and leeks, with a pinch of salt, and cook gently for 30 minutes, stirring occasionally.
Vegetables should be soft and pale.
Sprinkle sugar into pot and cook uncovered for another 20 minutes, until liquid has evaporated and onions and leeks caramelize to golden brown.

Add flour, stirring it into the mixture.

Increase heat to medium and add the wine and beef stock.
Bring to a boil, then cover and simmer for 20 more minutes.
Correct seasoning.
Slice and toast bread on both sides.
Divide the soup between heatproof bowls and put a slice of bread on top of each.
Top with grated cheese and half of the thyme and place under broiler for a few minutes until cheese is melted and bubbly.
Scatter rest of thyme and serve.