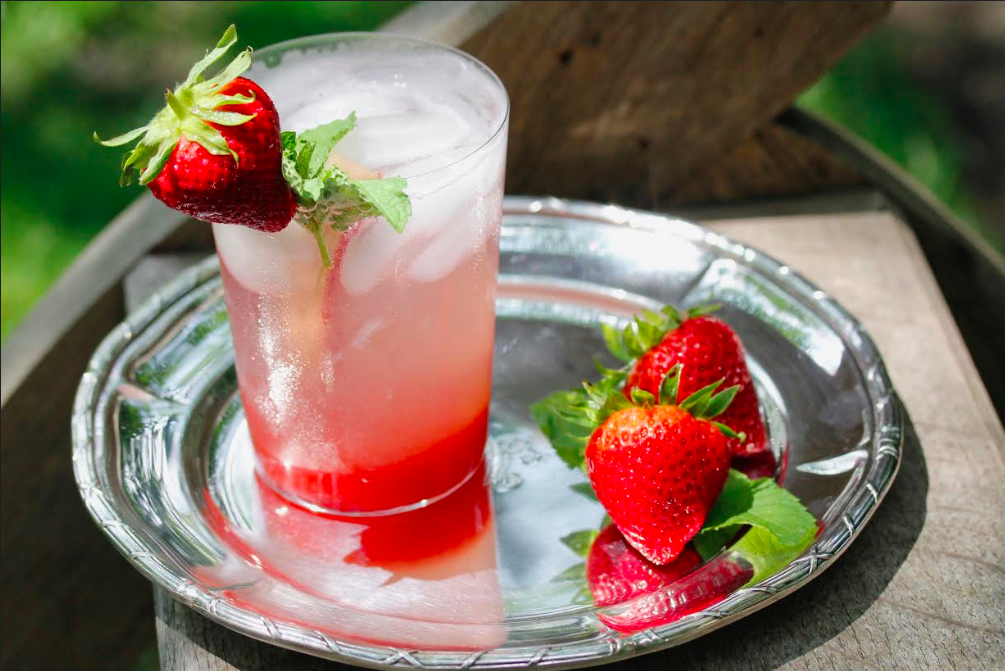 I love a frothy summer cocktail, alcoholic or non, and here are a few I've been testing lately that are unusually delicious. (It's a tough job, taste-testing cocktails, but someone has to do it.) Both drinks have a lovely herbal note to them that's earthy and clean on the palate.
The strawberry rhubarb gin fizz is not too sweet because you can rely on the rhubarb to keep it real, and the lightness of the gin makes this cocktail go down very easily. The lemonade recipe is made with honey and basil, a mingling of two tastes I don't think I've ever had before, but they are a marriage made in cocktail heaven.
It's a lovely after-work way to accompany your late afternoon appreciation of l'heure bleu.
Enjoy!
Strawberry Rhubarb Gin Fizz
Serves: 2
Prep time: 30 minutes (including 20 minutes to make the syrup)
Ingredients
For the simple syrup:
1 pound fresh strawberries, halved and quartered
1 pound chopped into 4 cups
1 cup sugar
1 ½ cups water
For the cocktail:
2 tablespoons lemon juice
2 large mint leaves
4 ounces strawberry rhubarb simple syrup
3 ounces gin
Ice
Club soda
Directions
To make the syrup: Combine strawberries, rhubarb, sugar and water in a saucepan and bring to a boil. Turn down heat and simmer for 20 minutes, allowing syrup to cool. Place a mesh sieve over a mixing bowl and pour the mixture through the strainer, using a spoon to press down to strain pulp. Add syrup to a jar to store in fridge. (The pulp is also well worth saving as an ice cream or yogurt topping.
To assemble the cocktail: Add lemon juice and mint to a glass and muddle gently. Pour mixture into a cocktail shaker and add syrup, gin, and ice. Shake.
Add ice to two old-fashioned glasses and pour in liquid from cocktail shaker, dividing it between the two glasses. Top with club soda and garnish with strawberries, rhubarb and/or mint.
Honey Basil Lemonade
Makes 2 quarts
Prep time: 5 minutes
Ingredients
1 cup honey
6 cups water
1 cup lemon juice
1 handful of basil, leaves only (lemon basil is even better if available)
Directions
In a blender, combine honey, water, lemon juice and basil leaves, and process. Lemonade will be foamy and thick. You can strain to remove basil leaf pieces, or serve as is for additional color.
Garnish with lemon or basil leaves.