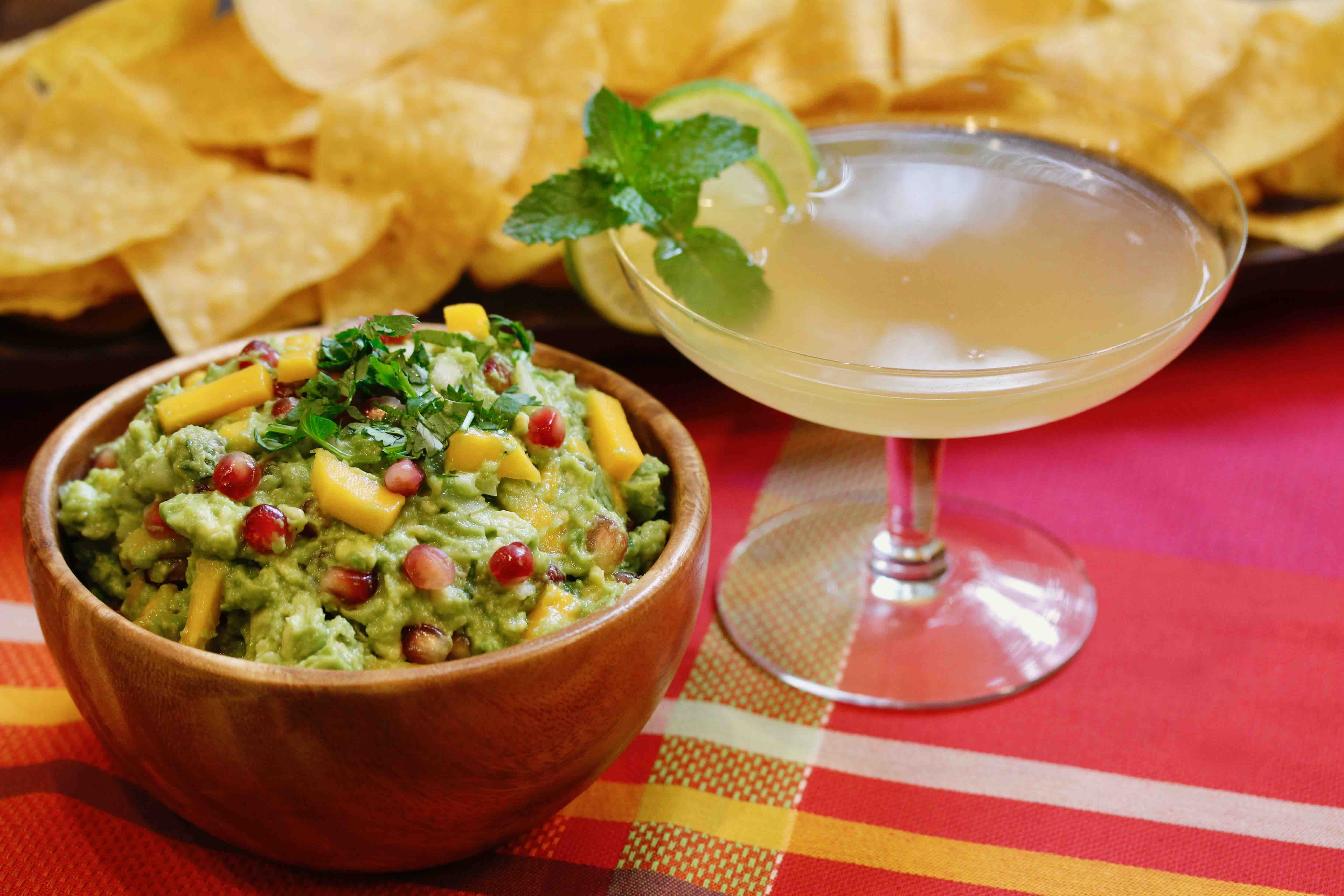 Ah! It's football season and one's thoughts turn to … guacamole. What I like most about watching football is the food, and this is a super-charged guac recipe. As an added bonus, mezcal is big in the cocktail shaker universe these days, often offered as a tequila alternative.
I've included a recipe for a mezcal cocktail with honey and ginger beer and it's particularly delicious. (I've not touched tequila since an unfortunate incident of overindulgence with my suitemate, Sally Yoder, in college. I missed three days of classes and lost five pounds. It was like being poisoned by my own hand.)
Neither of these recipes are dangerous – just delicious. Add some good, salty nachos and you really don't need anything else for the first quarter. Enjoy!
Mango Pomegranate Guacamole
Adapted from Gourmet Mexico
Prep time: 20 minutes
Serves: 6
Ingredients
4 ripe avocados
1 cup white onion, finely chopped
2 serrano chiles (about 2 tablespoons,) finely chopped and including seeds
¼ cup fresh lime juice plus lime slices for garnish
1 ¼ teaspoons salt
¾ cup pomegranate seeds
¾ cup diced, peeled mango
½ cup chopped cilantro
Directions
Nachos as an accompaniment
Peel and pit avocados, and mash coarsely. Stir in onion, chiles, lime juice and salt. Add pomegranate seeds, mango and cilantro, and an additional squeeze of lime juice.
Guac can be made up to four hours in advance if you cover surface completely with plastic wrap or parchment paper, but it must be refrigerated. Bring to room temperature before serving.
Honey and Smoke Mezcal Cocktail
Prep time: 10 minutes
Serves: 4-6
Ingredients
½ cup honey simple syrup
1 cup mezcal
1 cup ginger beer
Juice from ½ lime

To make the honey simple syrup:

½ cup honey
½ cup water
Directions
Boil water and pour over honey. Whisk to mix together.
Put serving glasses in freezer. Combine honey syrup, mezcal and lime juice in a tumbler and shake for ten seconds. Pour over ice and top with ginger beer.
Remove glasses from freezer (they will be frosty) and garnish with lime slice.