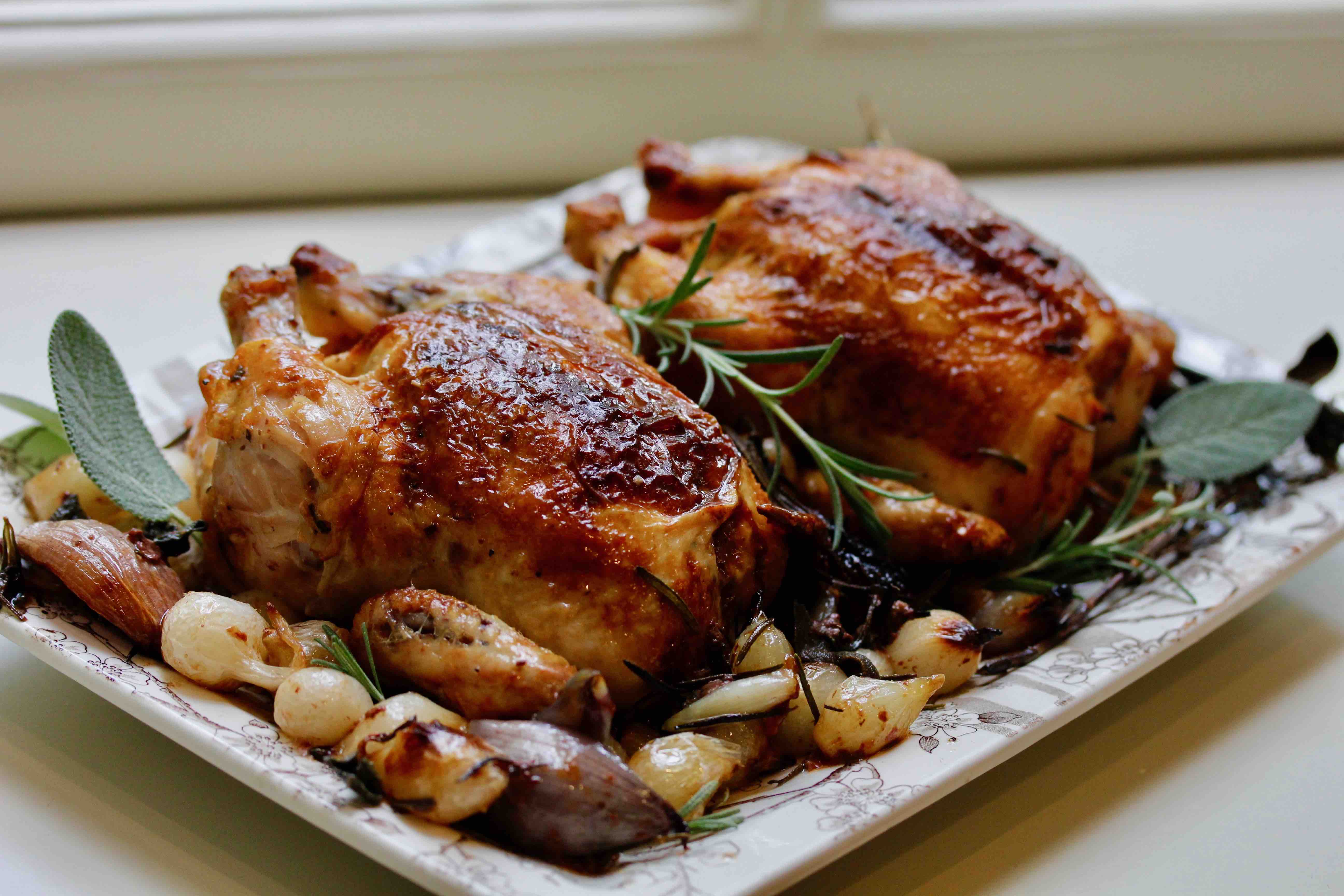 "Autumn…the year's last, loveliest smile." – William Cullen Bryant
It's the time of year when we begin to get cozy at home, staying in to cook seasonal meals and enjoy old favorites. I've always liked game hen because they're so tender, and they take on the flavor of other ingredients so easily. These luscious little hens are plump and bursting with rosemary, sage, three kinds of onions, and the zing of fresh oranges.
I added a savory side dish: sautéed kale with apples. Even if you've sworn to hate kale forever, you'll be swayed by this recipe. It's a lot like cooked cabbage, sweet and tangy, with a touch of vinegar to soften the
kale and punch up the flavor. You're going to love it!
Game Hens with Sage and Rosemary
Prep time: 90 minutes
Serves: 4
Ingredients
4 game hens (about 1 pound each)
2 pounds of shallots, cipolline onions, and red and white pearl onions
1 tablespoon olive oil
3 small oranges, cut in half
8 sprigs fresh rosemary
8 leaves fresh sage
Directions
Preheat oven to 375 degrees. Wash hens thoroughly and pat dry before putting into a roasting pan.
Blanch onions and shallots in boiling water for about 3 minutes, then drain. Remove skins after they have cooled. In a small bowl, toss onions and shallots with olive oil and add salt and pepper.
Season birds inside and out with salt and pepper, squeeze one orange half over each bird and stuff the orange inside the hen's cavity. Divide herbs among the 4 birds, scatter onions and shallots in pan. Roast 45 minutes, brushing with the juices every 10 minutes or so until done.
Serve hens with onions, removing the roasted thyme and sage and replacing with fresh thyme and sage so that the garnishes are green and fresh.
Sauteed Kale with Apples
Prep time: 15 minutes
Serves: 4
Ingredients
1 tablespoon olive oil
1 white onion, sliced
1/8 teaspoon sea salt
1/8 teaspoon pepper
4 cups chopped kale leaves
2 apples, cored and cut into bite-sized pieces
2 teaspoons apple cider vinegar
Directions
Heat olive oil in a large skillet over medium heat. Cook onion until tender, about 4 minutes.
Add apples, vinegar, salt and pepper. Cover skillet and cook until apples are tender, about 3 minutes.
Add kale and cook until kale is tender, 4 to 5 minutes. Serve.