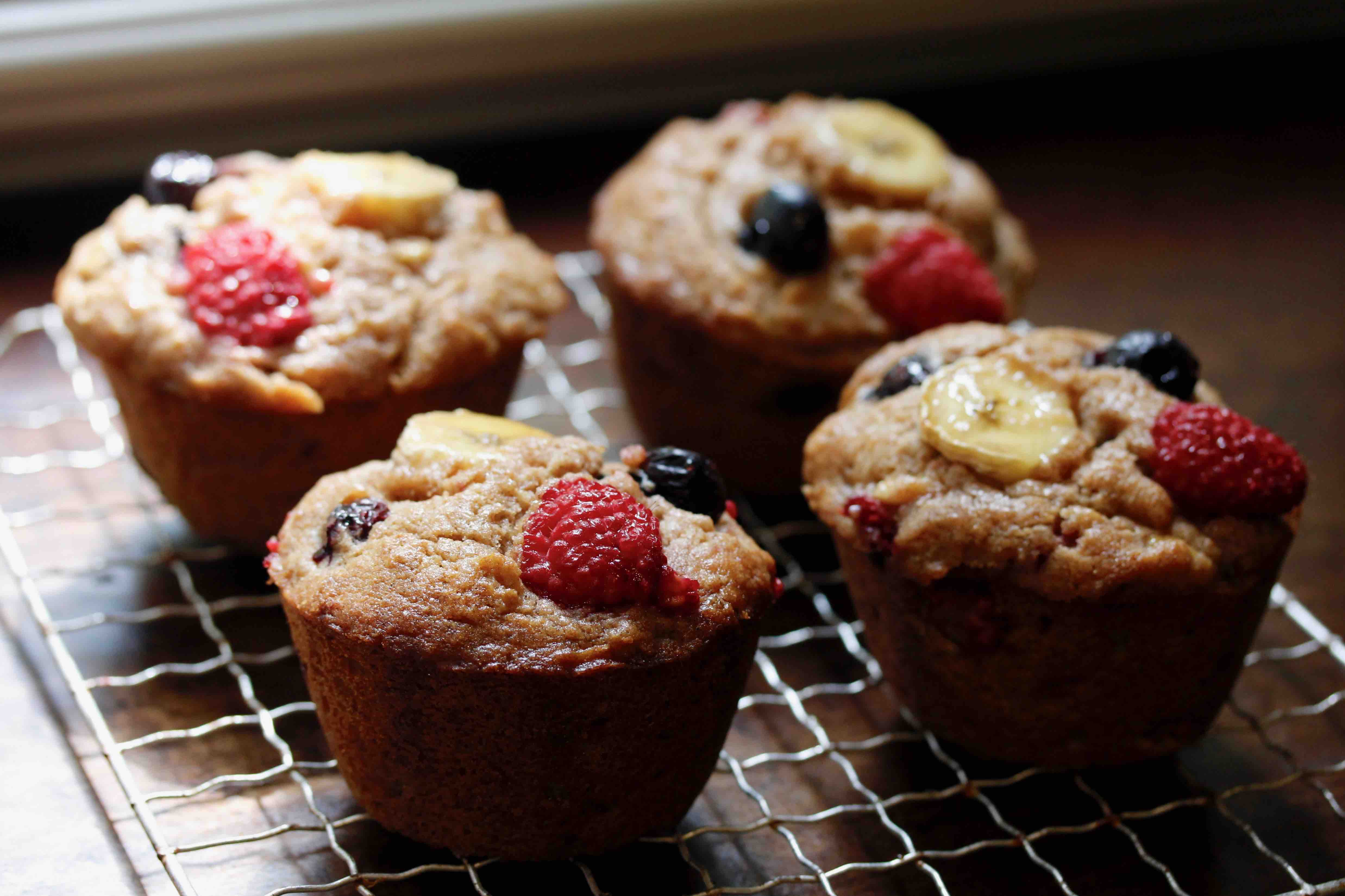 Do you remember the Big Breakfast Cookies from the old Silver Palate cookbook? This is the muffin version of those beloved 'meal-in-a-cookie' treats. These banana/blueberry/raspberry muffins are made with spelt and whole wheat flour to be extra healthy, and sweetened with maple syrup (including a generous lashing of syrup across the muffin tops to assure perfect moistness).
These are the perfect eat-in-the-car-on-the-way-to-school or work muffins. Each bite delivers a mouthful of fresh banana and berries that feels like pure indulgence. They're easy to put together the night before and then zap in the microwave the next morning before heading into your day.
Three Fruit Muffins
Prep time: 35 minutes
Makes: 6 large muffins
Ingredients
1 cup blueberries, raspberries (or blackberries)
1 ½ cups mashed bananas (4)
1/3 cup oat bran
¼ cup milk
½ cup maple syrup
1 cup vegetable or coconut oil
2 eggs
1 teaspoon vanilla
1 teaspoon cinnamon
1 cup whole wheat flour
1 cup spelt flour
3 teaspoons baking powder
Directions
Preheat oven to 350 degrees. Grease inside of muffin tin and set aside.
Put mashed banana, oat bran, eggs, oil, milk, maple syrup, vanilla and cinnamon in a bowl and mix. Add flours and baking powder and mix until combined. Gently stir in raspberries and blueberries, and pour batter into muffin tin. Top with banana slice, blueberry and raspberry.
Bake for 35 minutes for large muffins.
Allow to cool and remove from tin; brush tops with maple syrup and serve.