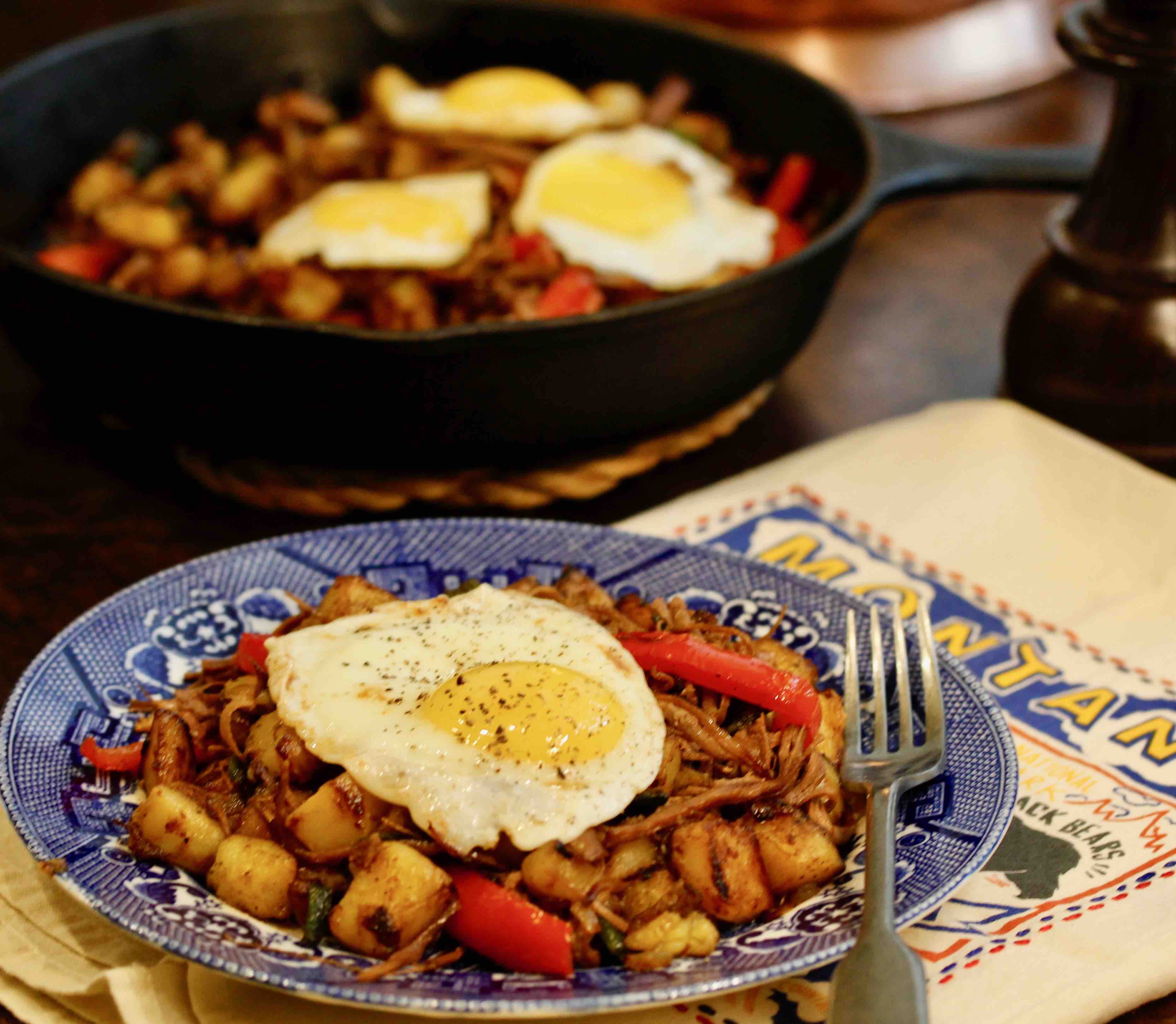 Hash is one of those dishes that, when properly prepared, is the ultimate breakfast of champions. Too often it's a greasy, gamey mess of leftovers that puts people off it forever. But this is not the hash you have may tried and found revolting.
Here is a clean and utterly delicious hash, conceived as it was meant to be: no fat, no mushy potatoes thrown into the mix, or too-hot peppers meant to hide the taste of slightly-off ingredients. It is a perfect cold-weather meal for any time of day, redolent with flavorful beef, fried eggs, and crisp potatoes and peppers.
It's so substantial you can eat it for breakfast and not even think of being hungry until dinner. This American classic deserves some dignity – all it takes is fresh ingredients, cleanly cooked and served up hot and rich, just like you deserve. Enjoy!
Country Hash
Adapted from Gourmet Country Food
Prep time: 30 minutes plus 3 hours for brisket to roast
Serves: 6
Ingredients
4 cups beef brisket, braised (recipe to follow) and shredded
¼ cup Dijon mustard
3 tablespoons Worcestershire sauce
1 large potato, cubed in small pieces
1 apple, peeled and cubed
2 medium poblano chiles
1 teaspoon salt
½ teaspoon pepper
1 stick plus 3 tablespoons unsalted butter, cut into tablespoon-size pats
1 red bell pepper, cut into ½-inch pieces
1 white onion, finely chopped
6 eggs
Directions
Mix shredded brisket with Worcestershire sauce and mustard. Roast poblanos over medium-high heat until skins are blistered and charred (about 5 minutes) Transfer to a bowl and cover tightly. After allowing them to stand for ten minutes, rub off skins with a paper towel, cut open lengthwise and remove stems and seeds. Wipe chiles clean and dice.
Peel potato and apple and cut into cubes, cooking them in 4 tablespoons butter in a heavy skillet, until golden and tender. Transfer to a bowl and add poblanos.
Cook onion in 3 tablespoons butter and ½ teaspoon salt and ¼ teaspoon pepper until golden. Add bell pepper and cook until tender. Combine poblano/potato mixture with onion/pepper mixture and add brisket to mix together.
Preheat oven to 250 degrees.
Heat 1 tablespoon butter in a heavy skillet and add half of hash to cook until brown and crisp in spots. Transfer to a baking dish and keep warm in oven. Cook remaining hash in the same way and add to baking sheet in oven.
Fry eggs in butter over medium heat. Return hash to skillet and top with eggs. Serve immediately.
Hash can be prepared a day in advance and kept in the fridge. Allow it to come to room temperature before heating up.
Recipe for braising brisket:

Ingredients
1 5-pound untrimmed flat brisket
Heavy sprinkling of kosher salt and fresh pepper
2 tablespoons vegetable oil
2 large white onions, thinly sliced
3 stalks of celery with leaves
4 smashed garlic cloves
4 sprigs fresh thyme
2 bay leaves
1 28-ounce can tomato sauce
1 tablespoon tomato paste
8 carrots, peeled and chopped into large chunks
Directions
Preheat oven to 350 degrees.
Put oil into braising pan and heat oil to medium high. Brown meat on all sides (8-10) minutes. Pour off fat and set meat aside. Place brisket, fat side up, in an ovenproof dish and put all other ingredients, except carrots, on top. Cover and braise for 3 hours, stopping every thirty minutes to spoon the juices over the brisket.
Uncover brisket, add carrots around edges and allow to roast another 30 minutes until meat is browned and juices have thickened. Skim fat from the pan and carve against the grain to serve.