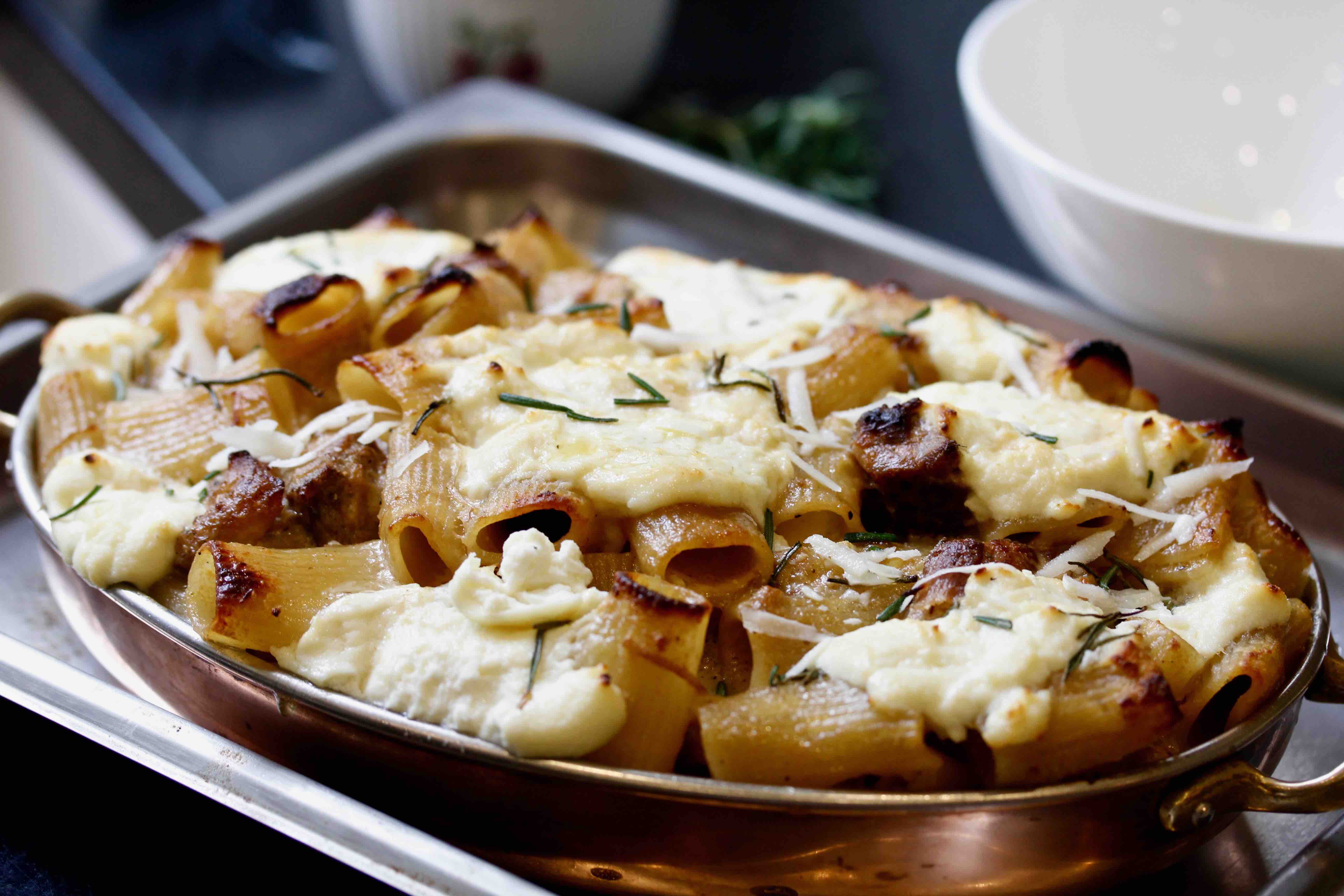 Here's a sumptuous baked pasta dish that will warm you to the bone. No red sauce – just lemon, rosemary, and ricotta in an al dente pasta redolent with the flavor of the most tender pork you've ever tasted. I love this meal! Add a green salad and a nice, light red wine and you have the makings of a feast!
Baked Rigatoni with Pork and Ricotta
Adapted from Food and Wine magazine
Prep time: 45 minutes plus 2 ½ hours to braise the pork
Serves: 6
Ingredients
¼ cup olive oil
4-pound boneless pork shoulder
Salt and pepper
12 garlic cloves
½ cup dry white wine
1 ½ quarts whole milk
6 rosemary sprigs, plus chopped rosemary for garnish
Bay leaf
3 three-inch strips of lemon zest
1 pound rigatoni
2 cups fresh ricotta cheese
Grated fresh Pecorino cheese
Directions
Preheat oven to 375 degrees. In a large casserole, heat 2 tablespoons of olive oil. Rub pork with remaining 2 tablespoons olive oil and season with salt and pepper. Add to the casserole and cook at medium high temperature until browned (8 minutes). Remove pork to a plate and add garlic to the casserole, stirring a minute or two until it's golden. Add wine and cook another couple of minutes until it is nearly evaporated.
Add milk, rosemary, bay leaf and lemon zest to casserole and simmer. Add pork and braise in oven for 3 hours, until meat is tender. Allow pork to cool in the casserole to room temp.
Transfer pork to a cutting board and cut in half. Coarsely chop 1 piece and reserve the rest for another use. Puree the cooking liquids in batches in a blender until smooth and strain through a sieve, pushing down on the solids.
Preheat oven to 425 degrees. Lightly grease a 4-quart baking dish. In a pot of salted boiling water, cook the pasta until al dente. Drain and transfer to a large bowl. Add chopped pork and 3 cups of strained cooking liquid, salt and pepper and combine. Spoon pasta into a baking dish and dollop the ricotta on top. Cover with foil and bake 20 minutes. Uncover and bake another 15 minutes, until golden on top. Garnish with pepper and rosemary and sprinkle with grated pecorino cheese.