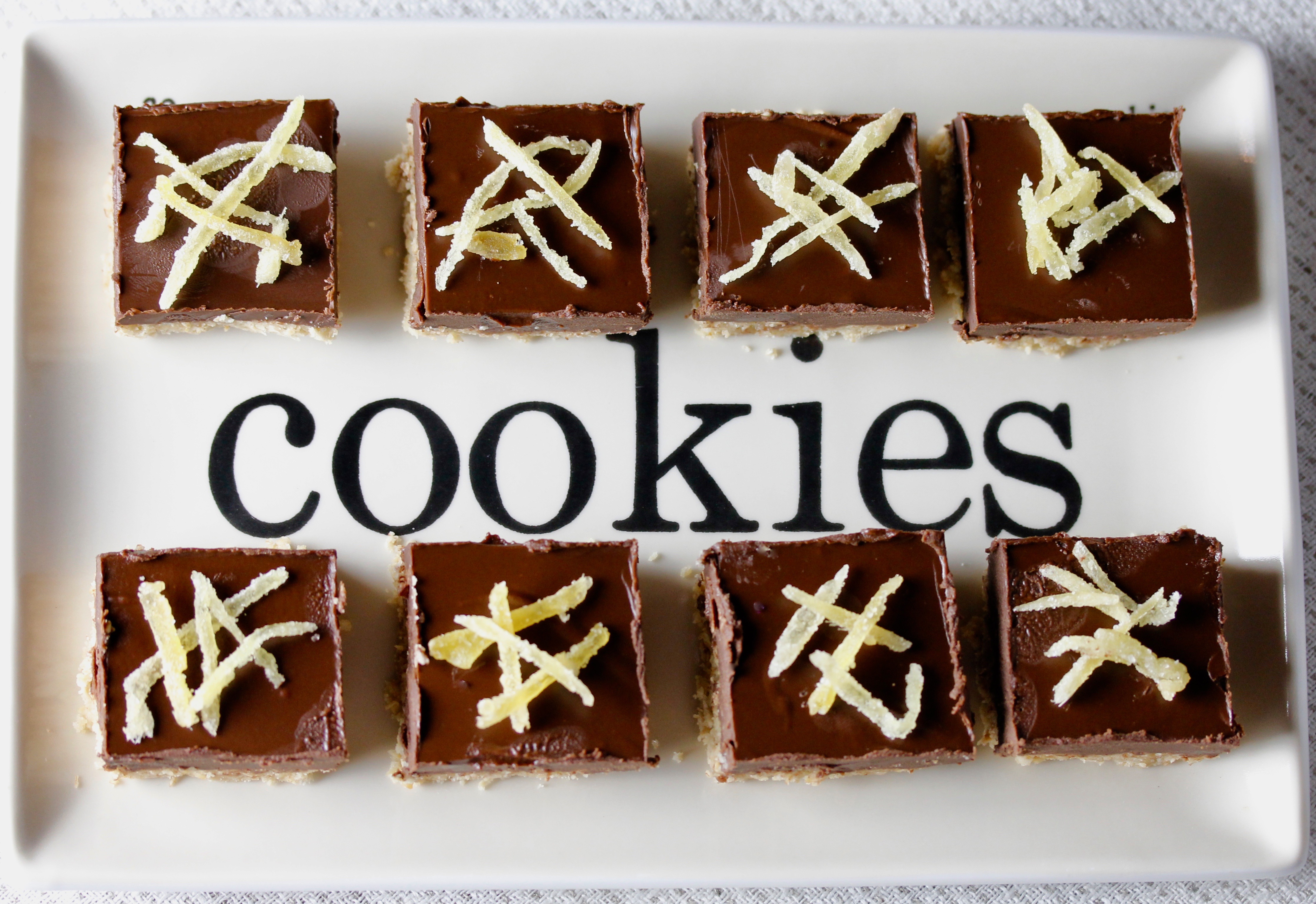 Two of my very favorite flavors in one cookie-like bar: what could be more delicious (and not entirely unhealthy!) If you have a look at the ingredients in the bar, it's oatmeal, coconut oil and other healthy things. How healthy you want to make the chocolate topping depends on whether you use chocolate or cacao. I used a bit of both because as much as I know cacao is healthier, the chocolate tastes better to me.
That's the balance I'm always searching for with the things I make; it's important to try to be healthy, but eating healthy takes a whole new way of cooking sometimes and can be time-consuming and expensive. And then there's how it makes you feel when you eat it – if you feel deprived when you're eating that kale bagel, you're not likely to continue eating healthfully. As my husband says, healthy eating won't make you live forever – you'll just feel like it's forever. And did I mention this is a no-bake recipe? Even better!
Chocolate Ginger Squares
Serves: 6
Prep time: 30 minutes plus 1 hour for base to set
Ingredients
For the base:
2 cups rolled oats, processed in a food processor to coarse flour
¾ cup ground almonds or almond floor
1 ½ teaspoon fresh grated ginger
1 tablespoon honey
3 tablespoons coconut oil
Pinch of salt

For the chocolate topping:

½ cup coconut butter
¾ cup 60% cacao chocolate chips
4 teaspoons caster sugar
Pinch of salt
¼ cup candied ginger, thinly sliced
Directions
Place the oats in a food processor and process until pulverized. Add remaining base ingredients and pulse until combined. Line a small baking pan with paper. Press the mixture into the pan and refrigerate for an hour.
To make the chocolate topping: Melt the coconut butter over low heat, and stir in chocolate chips, sugar and salt until mixture is melted and smooth.
Pour the chocolate over the ginger base and sprinkle with candied ginger pieces. Cut into squares and serve.