I first ate nasi goreng in the late seventies, when I worked as a research assistant at a Washington think tank. I had been befriended by one of the secretaries, a wonderful Dutch lady who had lived an exotic and harrowing life: raised in Indonesia before World War II, she spent her teenage years in a Japanese internment camp in unimaginably horrible circumstances. Later, as an adult, she lived in Saudi Arabia with her husband and children, where one afternoon a month she made bathtub gin – in her actual bathtub – for the expats confined to the Aramco compound. Settled in Washington, she was always immaculately turned out in exquisite lace collars and the latest shade of nail polish, as if to give the lie to the hardships of her past. She would slip into fluent Malay at our lunches at a nearby Indonesian restaurant, where she taught me about the foods of her childhood. What an extraordinary person! I have always treasured her friendship, as well as her introduction to Indonesian food.
This version of nasi goreng is made with forbidden rice. Aren't you intrigued by those words? What makes us want something more than to tell us it's forbidden? And it was forbidden to mere mortals in China, where the emperors reserved this rare black rice for their own personal use. They prized it for its unique flavor and high nutritional content, and now you can buy it at most grocery stores for about four dollars a pound, which is more of a bargain than it appears, because one cup expands amazingly to serve four people.
Nasi goreng is the Indonesian variation on fried rice. It's spicy and hot, bursting with strong flavors, and redolent with the aromas of Asia. I added shrimp, and it made a substantial dinner, with leftovers for lunch the next day. Please note the instructions below on how to cook wild rice; many people don't know the trick to it, and are often disappointed by how rubbery it can be.  If you follow these instructions, you will never have any difficulty with wild rice again.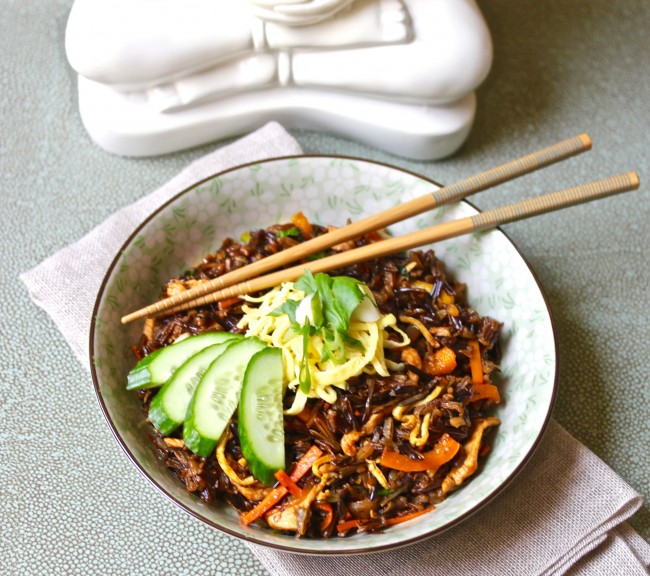 Indonesian Fried Rice
Serves: 4
Prep time: 40 minutes

Ingredients
1 cup uncooked wild (forbidden) rice
3 cups cold water
1 teaspoon salt
½ pound shrimp, peeled and deveined
1 carrot, julienned into long, thin pieces
1 cup green cabbage, thinly sliced
1 onion, chopped into small pieces
2 green onions, thinly sliced into rings
2 cloves of garlic, minced
2 eggs, scrambled
2 teaspoons sambal oelek (or substitute with chili garlic sauce, available in the Asian foods section of most grocery stores)
3 tablespoons kecap manis (sweet soy sauce) – also available in the Asian foods section of the grocery store.  If you can't find the kecap manis, you can substitute with 3 tablespoons soy sauce and ½ teaspoon of sugar
½ teaspoon fresh black pepper, crushed
2 tablespoons canola oil
Sliced cucumber for garnish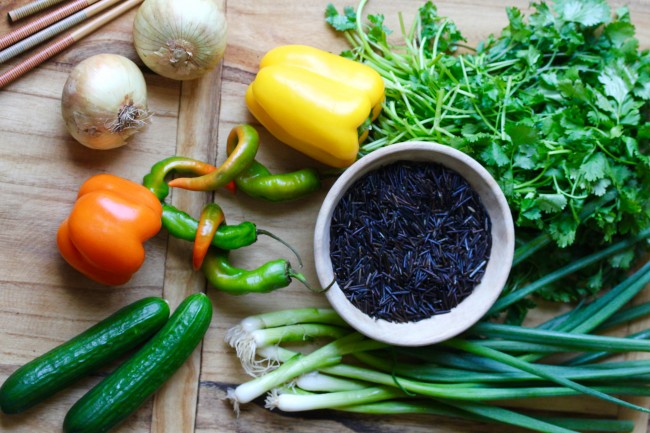 Directions
Rinse wild rice in cold water and drain.
Fill a large saucepan with 3 cups of water, salt, and let rice soak for an hour.
Bring rice to a boil on stove, lower heat to medium low and cover, cooking for 45 minutes or until water is fully absorbed.
Some of the rice will have sprouted. Set aside and allow to cool.
Spray a small frying pan with cooking oil.
Cook one scrambled egg over low heat, without stirring and allowing the egg to cook as you would a pancake.
When it is cooked, roll egg into a cylinder and cut across the rolled-up egg to create small strands of egg.
Set aside.

Heat oil in a wok or deep frying pan to high. Drop in shrimp and fry for about two minutes, until shrimps are cooked through. Remove from wok and set shrimps aside.
Add garlic and onions to the wok and cook several minutes until golden brown. Push them to one side of the wok, and break remaining egg into wok, stirring it vigorously as it cooks.

Add carrots and cabbage, then add pepper, kecap manis, and sambal oelek. Mix in rice and shrimp and combine. Top with egg strands, green onions, or cucumbers for garnish.