I was wandering in the garden, making mental notes of spots that would need planting in the spring, and was surprised to find my sage plants pushing sturdily through the snow. It was such a surprise to see something green and harvest-able at this point in the winter; this sage, I thought, deserves to be appreciated.
Sage makes a particularly aromatic addition to a winter cocktail, so I put this recipe together based on what I had in the fridge. The blueberries add a little pop of freshness to the cherry liqueur, and the ginger ale is a cool, smooth base to support the mix of flavors that make themselves known as you sip and enjoy. This makes a really refreshing herbal mocktail, as well as an invigorating breakfast drink if you want to forego the vodka. I hope you'll give it a try – fresh sage is usually available at the grocery, and if you can find Luxardo maraschino cherries to add as a garnish, you'll love them. They're not the bright red, faux cocktail cherries that are so common, but the real deal – deep burgundy cherries, full of flavor and swimming in a rich syrup that tastes sublime.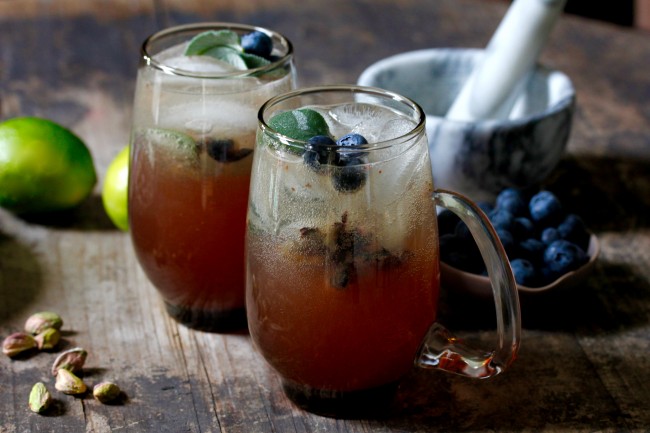 Prep time: 5 minutes 
Serves: 2 

Ingredients
4 ounces vodka
4 ounces Morello cherry liqueur
1/4 cup ripe blueberries
6 fresh sage leaves
1 teaspoon fresh lime juice
1 tablespoon honey water (equal parts honey and water warmed together in the microwave or on low heat in a saucepan until honey has dissolved)
12 ounces ginger ale
Luxardo maraschino cherries for garnish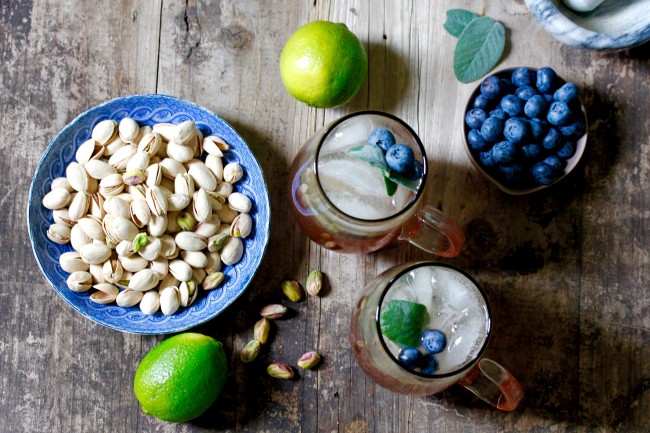 Directions
Place a sage leaf and several blueberries at the bottom of each glass.
Muddle the sage and blueberries.
Pour half the vodka and half the cherry liqueur into each glass.
Divide the honey water and the lime juice between each glass, and add ice to fill the glass.
Pour ginger ale to the top of each glass and stir.
Garnish with blueberries and sage leaves and serve.