Prep time: 20 minutes for the biscuits, one hour for the ham, 10 minutes for the blackberry honey butter
Serves: makes a dozen medium-sized biscuits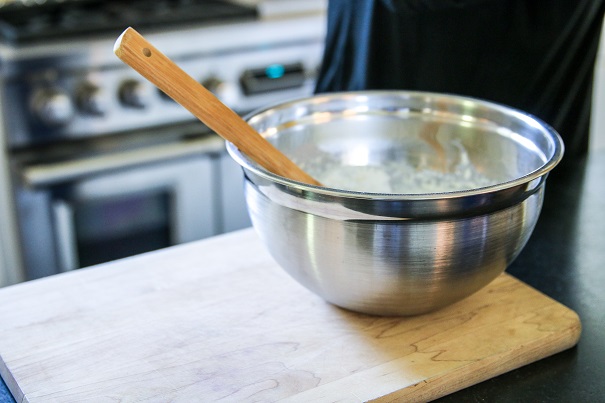 For the biscuits:
Ingredients
4 cups self-rising flour
2 tablespoons sugar
4 tablespoons butter, melted
3 cups heavy cream
Directions
Preheat oven to 500 degrees.
Combine flour and sugar in a mixing bowl and stir in cream to make a wet dough.
Turn the dough out onto a well-floured work surface and press the dough out until it's about ½ inch thick.
You will need to add flour to your fingers to keep them from sticking to the dough.

Cut rounds of dough with a biscuit cutter (I used three sizes: 2 inch, 3 inch and 4 inch, so guests could choose among several different sies.) and place on a Silpat-covered baking sheet.
Press dough scraps back together to cut more biscuits, but try not to overwork the dough, and try not to twist the cutter when pressing down on the dough – both things will make the dough tough.

Brush tops of biscuits with melted butter. Bake for 10 minutes until golden brown.
Brush tops of biscuits again with melted butter after taking them out of the oven, and allow to cool.
For the ham:
Ingredients
1 three-pound ham
2 tablespoons brown sugar
2 tablespoons dry sherry (optional)
Directions
In a baking dish, place ham cut in half and face down and pour sherry over ham, if you are using sherry.
 Sprinkle brown sugar over ham and cover with aluminum foil or pot lid.
I prefer a sugar-cured ham, rather than a salty one, but that is a matter of personal preference.
Bake the ham for one hour at 325 degrees.
Allow ham to cool and slice into small pieces, trimming off any fat or gristle.
For the blackberry honey butter:
Ingredients
1 stick (4 ounces) butter
2 tablespoons honey
1 cup blackberries
Directions
Mix butter, honey and blackberries in a food processor or blender until well-combined.

Split biscuits and pile ham onto lower half of biscuit. Slather top of ham with blackberry honey butter, replace top of biscuit and serve.