Prep time: 25 minutes
Serves: 2

Ingredients
4 grilled chicken tenders
3 strips bacon, well-cooked
2 tablespoons fresh mayonnaise (recipe below)
1 avocado, roughly mashed
1 large round slice of sourdough bread
½ teaspoon butter
parsley for garnish
Directions
Grill chicken tenders until cooked through and set aside.
Roast 3 strips of bacon in the oven at 450 degrees for ten minutes, or until well-cooked.
Mix together the mayonnaise and set aside. Mash avocado pieces into a thick paste.
To assemble the sandwich:
Directions
Cut the top off a loaf of round sourdough bread (cutting horizontally, rather than vertically, as a loaf of bread is normally cut.)
Cut one slice of bread off the top of the loaf, butter on both sides and toast until bread is golden brown in a large frying pan.
Spread mayonnaise and avocado on bread, and top with bacon and grilled chicken.
Garnish with parsley. Cut sandwich round in half and serve.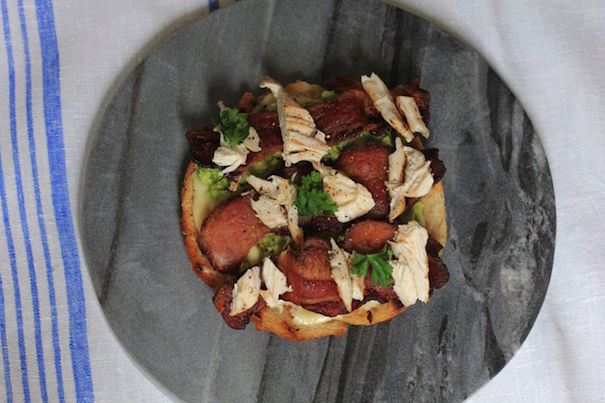 Homemade Mayonnaise
Ingredients
1 egg yolk, room temperature
3 teaspoons lemon juice
½ teaspoon salt
1 teaspoon cold water
1 teaspoon smooth Dijon mustard
¾ cup canola oil
Directions
Using a hand whisk, whisk together egg, lemon juice, salt, water and mustard in a medium glass bowl, until foamy.
Slowly add the oil, a few drops at a time, until oil is mixed into the egg mixture.
As mayonnaise emulsifies, continue to add the rest of the oil, until it is a thick, yellowish mixture.
Correct seasoning to taste; it may need more salt or lemon if it doesn't have enough flavor.