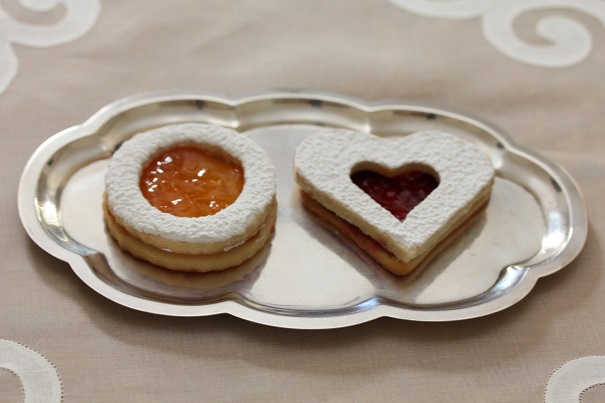 Serves: 2 dozen large cookies
Prep time: 20 minutes, plus 15 minutes per batch to bake

Ingredients
1 cup butter, softened
2 cups sugar
1 teaspoon baking soda
1 teaspoon cream of tartar
1/8 teaspoon salt
3 egg yolks
½ teaspoon vanilla
1 ¾ cups flour
Directions
In a large mixing bowl, mix together butter, sugar, baking soda, cream of tartar and salt.
Beat until well combined.
Beat in egg yolks and vanilla.
Beat in as much flour as you can, then stir in the rest.
Dough will become thick and hard to beat with a mixer as you are adding in the last of the flour.
Wrap cookie dough in plastic wrap and chill in refrigerator for an hour before rolling out dough.
When dough has been chilled, roll dough out into ¼ inch thickness.

Using the larger cookie cutter, cut out 6 cookies and place on baking sheet, using a silicon baking pad.
I like to make them in batches of six, to make sure I have enough dough to match the tops and the bottoms together.
Cut out six more cookies with the large cookie cutter, then, using the smaller cookie cutter, cut out the middle of the cookie, creating a rim-shaped cookie to put on top of the larger cookie when the jam is added and the two cookies are assembled.
Bake for 12-15 minutes at 300 degrees.
Do not let cookies turn brown.

Remove cookies from baking sheet and allow to cool.
Spread jam on the large, whole cookie, being careful not to get the jam on the sides of the cookie.
Set aside. Sprinkle cookie "rims" with powdered sugar, then carefully place powdered cookie on top of jam-covered cookie.


Serve.