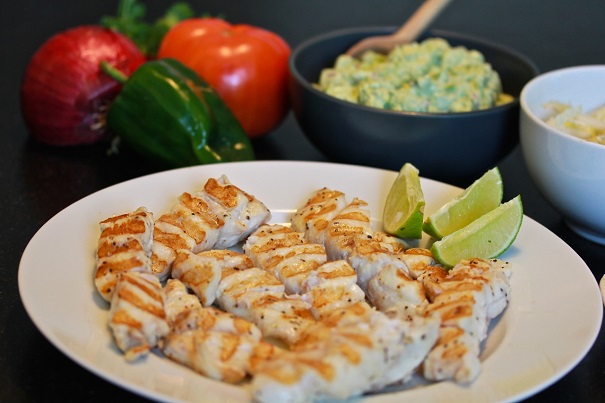 Serves: 4
Prep time: 45 minutes
For the guacamole

Ingredients
1 avocado, pitted and peeled
2 tablespoons low-fat Greek yogurt
¼ small jalapeno, seeded and thinly sliced (you can add more jalapeno if you like the heat)
1 tablespoon red onion, minced
1 small tomato, well-chopped
2 tablespoons chopped cilantro
3 tablespoons fresh lime juice
salt and pepper to taste
2 cups napa cabbage, shredded
2 tablespoons vegetable oil, and more for brushing on chicken
1 pound red snapper, with skin, cut into 2-inch wide strips
10 flour tortillas, warmed
2 medium tomatoes, sliced thinly
lime wedges for serving
Tabasco sauce for serving
Directions
Mash avocados, yogurt, jalapenos, red onion, tomato, cilantro and 2 tablespoons lime juice in a bowl.
Add salt and pepper, cover with plastic and refrigerate.

Toss the shredded cabbage with vegetable oil and one tablespoon of lime juice.

Add salt and pepper.

Brush fish with oil, salt and pepper.

Grill over high heat until cooked through, about ten minutes.
Remove from grill and remove skin.

Assemble tacos by spreading guacamole on tortilla first.
Top with fish, tomato slices and cabbage slaw.
Serve with lime wedges and Tabasco.